The popularity of various social media platforms across different demographics is constantly in flux, as illustrated in this new infographic from Jones PR.
"The Demographics of Social Media in 2019" begins with the revelation that Instagram and Snapchat are rapidly gaining popularity among users under 30, threatening to unseat YouTube and Facebook, which still rank among the most popular platforms.
In fact, Instagram is visited daily by 75 percent of users 18-25, while Facebook is visited by 76 percent. Considering Facebook owns Instagram, Facebook still has this younger demographic right where they want them, despite the social network's decline in trust and traffic.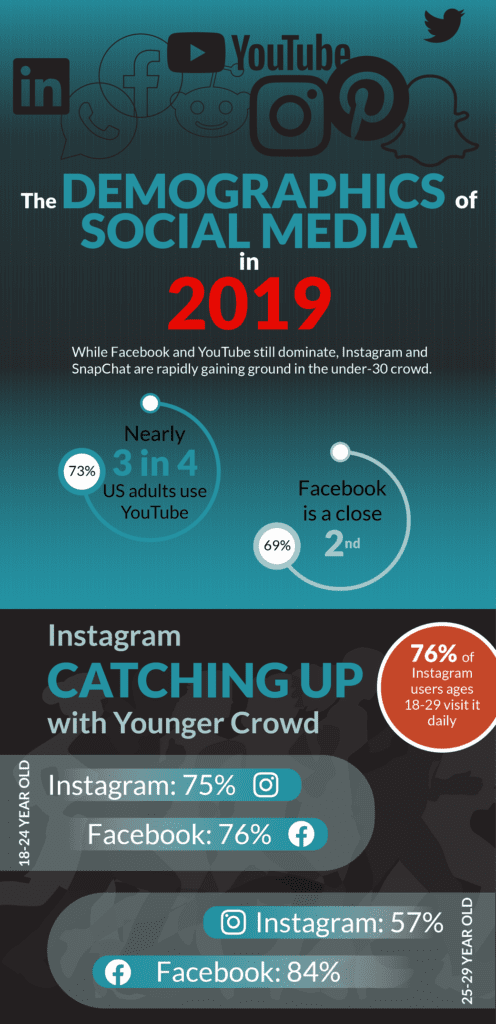 More insightful revelations include the fact that three times as many women use Pinterest as men, and only 27 percent of adults use LinkedIn, further proving its purpose as a niche space for professional audiences.
Considering YouTube is now the second most used search engine in the world, it is no surprise that brands can benefit immensely from bolstering their presence on the platform. YouTube is visited globally and domestically by substantially more users than Facebook, making it a goldmine of potential for both owned and earned visual media production. 
Fans, bloggers, and shoppers use YouTube to explain their product experience or approval of a brand, elevating earned exposure to a newly innovative standard. Brands that want to compete in this visually oriented climate must embody the relevancy and technical skill that is appreciated by YouTube's young demographic.
Using YouTube in addition to the other highly impactful platforms shown in this infographic, companies can draw users into an individualized experience and infuse brand value into their everyday lives, augmenting both loyalty and SEO performance.