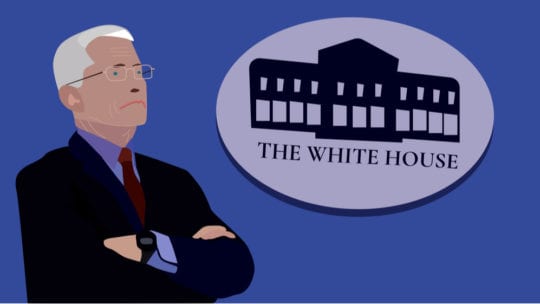 The White House turned up the gas on a campaign to discredit Dr. Anthony Fauci, director of the National Institute of Allergy and Infectious Diseases. The Washington Post published an article July 11 outlining ways the White House has silenced Fauci over the past several weeks. The report aired a statement from the Trump administration claiming "several White House officials are concerned about the number of times Dr. Fauci has been wrong on things," which, according to the Post, "included a lengthy list of the scientist's comments from early in the outbreak."
What Led to the Smear
The back-and-forth media scuffle became pronounced over the past week, beginning with Fauci's July 7 appearance on Facebook Live with Sen. Doug Jones (D-Ala.). Fauci called President Donald Trump's proclamation of virus progress due to the lower COVID death rate "a false narrative."
Trump appeared on Fox News with Sean Hannity July 9, responding that Fauci "is a nice man, but he's made a lot of mistakes." According to The Washington Post, the White House followed up by cancelling three of Fauci's scheduled interviews, with PBS NewsHour, a CNN town hall with Dr. Sanjay Gupta and NBC's "Meet the Press."
In the midst of that media firestorm, the Financial Times released an interview with Dr. Fauci where he revealed that he has not seen President Trump in person since June 2, or briefed him in two months, even as cases surge around the country. 
Why a Smear Campaign Will Not Work
Fauci takes the high road when it comes to PR, rarely firing back at opponents. While some may wish to silence him, Fauci showcases many of PR's best practices. 
Reputation and Credibility: Fauci maintains a proven track record, serving since 1984 under six presidents, Democratic and Republican. He worked on the Reagan Administration's response to the AIDS crisis, served during the Ebola outbreak under President Barack Obama, and received the Presidential Medal of Freedom from President George W. Bush in 2008 after overseeing the federal response to the anthrax scare. Fauci's body of knowledge positions him as a reigning expert in all things public health, building on a bedrock of public trust.
Poor Timing: As of July 12, Florida topped all other states in single-day COVID case records, surpassing New York during its darkest times this spring. This is probably not the best time for the White House to launch a campaign against someone who has worked continuously to inform the public about containing the virus. The fact that President Trump hasn't spoken with Fauci in weeks is a bad look. This could lead the public to believe that Fauci, rather than the White House, was the weak link in the fight against the virus, causing a surge in cases. In any case, entities that embrace consistent, data-driven communication with the public are more likely to be well-received than those who stay silent.
Cool as a Cucumber: In light of everything, Fauci remains calm and speaks with authority, earning the public's trust. A recent New York Times/Siena College poll showed 67 percent of those surveyed trusted Fauci for COVID information, while just 26 percent trusted President Trump. Compared to a first-term president without a federal track record, Fauci has served the government for years. This career longevity has helped him communicate with authority and transparency around the virus. On a recent podcast with FiveThirtyEight, Fauci admitted, "As a country, when you compare us to other countries, I don't think you can say we're doing great. I mean, we're just not." In this case, providing an honest viewpoint does not come off as a fear tactic, but rather shows Fauci engaging with the public on an even plane. People know when they are being pandered to. Authenticity wins every time.

Nicole Schuman is a reporter for PRNEWS. Follow her @buffalogal