Politics & Communications Webinar
How Communicators Can Adapt to Our Divisive, Polarized Era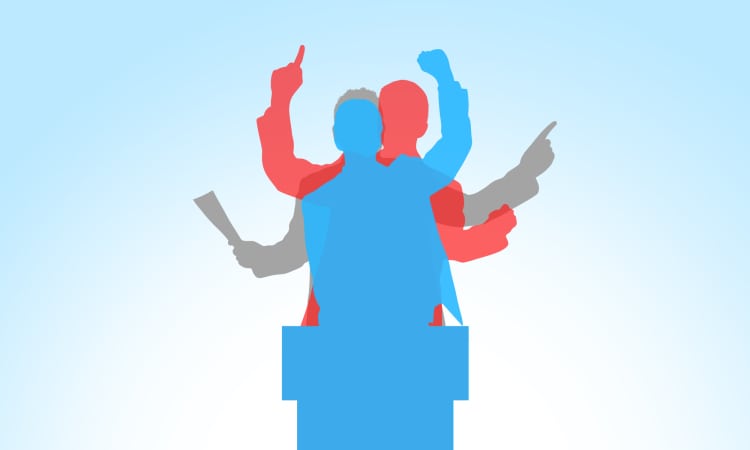 On-demand webinars are available for one year after the live webcast.
The president is slamming brands in tweets; #MeToo is exposing harassment in the workplace and tarnishing brands along the way. As the communications climate grows more heated, the pressure to be both proactive and reactive and to weigh in on topics that may have a direct impact on your brand, employees and customers has never been greater. Are you adequately prepared to do so?
Join PR News' roster of experts on Nov. 7 for this of-the-moment, must-attend discussion on how brands are finding new ways to advance their corporate responsibility and brand activism goals, even as the fires of controversy rage on all sides. You'll learn how brands are handling the balancing act, and the factors you should consider before wading into a heated debate.
Speakers will share real-life case studies of how incorporating political and ethical stances into business practices has met with success in terms of image, profit, hiring, marketing and more. We'll be asking these communications pros what their plan is if the lens of a current political controversy is turned on them; we'll also bring data into the picture as presenters discuss how doing the right thing doesn't just feel good, it's a rising tide that lifts all ships.
What You'll Learn
How to respond if the president tweets negatively about your brand
How to coordinate with HR and develop a plan to proactively address sexual harassment in the workplace in the wake of #MeToo
Communicate your core values and manage brand reputation amid political turmoil
Determine which corporate responsibility goals should be prioritized in the current climate
Anticipate employee and customer sentiment about charged political issues
Integrate government relations into your communications
Approach the media consumption habits of a public that increasingly distrusts traditional news channels
Determine your organization's mission and principles, and tie statements specifically to them
Navigate the crowded media landscape to ensure your message reaches your audiences
Come to terms with changing consumer demographics and their expectations
Empower employees and other stakeholders to take action
Who Should Attend?

If you spend at least a quarter of your time in any of these areas, you should attend this webcast:
Digital PR and Social Media
Communications
Community Relations
Content Creation
Crisis Management
Marketing Communications
Media Relations
Public Affairs/Issues Management
Public Relations
Research and Analytics
SEO
Video
Business Development
Register Now
Registration Fee: $399 per site - CDs available for purchase
For questions regarding this webinar, contact Client Services at clientservices@accessintel.com.
If you are having any technical difficulties or need assistance meeting these requirements, please contact our Technical Support Center at 1-866-709-8255 or click here.
Each "Webinar Only" registration comes with access to the archived version of the program for one year, the materials provided by the speakers and a personalized certificate of completion for attending the Webinar. Should you wish to retain access to the training for more than one year, the CD is also available on its own or as a package with the online access.
REGISTER NOW On-demand webinars are available for one year after the live webcast.
Questions
Webinar Questions
For questions regarding this webinar, contact:
Jessica Placencia
jessica@accessintel.com
301-354-1641
Technical Difficulties
If you are having technical difficulties or need assistance, please contact:
Technical Support
support@bigmarker.com
View the list of complete requirements and instructions for how to access webinars here.