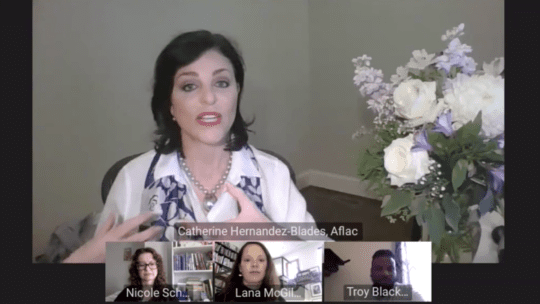 It seems a good bet that many PR pros will work virtually, long after the pandemic ends. The pandemic has proven businesses can exist in a virtual setting. Even newspapers will exist without newsrooms. The concepts of remote working and limited budgets permeated today's PRNEWS webinar, "How to do More with Less: A Holistic Approach to PR." The pandemic will end, and "a new normal will emerge, a better normal…but I don't think things will go back to the way they were," said panelist Catherine Hernandez-Blades, SVP, chief ESG and communication officer at Aflac, which sponsored the webinar.
As such, panelists discussed ways to stay connected with staff and the customers as well as energize them. The consensus was that technology paired with human creativity is the best route. While the panelists mentioned tools and vendors—Slack, Google Hangouts, Talkwalker, Meltwater, Muck Rack, Zoom—as Lana McGilvray, co-founder & CEO, Purpose Worldwide, said, creating a successful business "comes down to the human factor…thinking outside the box…solve the problem don't decorate it." McGilvray also urged consideration of fractional employees. The pandemic has hastened the demise of the old model of PR pros based in NY and "sleeping in the office," she said.
Added Troy Blackwell, public affairs director of trips/surrogates for the Biden-Harris Campaign, "How do you plan a four-day convention virtually? The show goes on...you rely on creativity" and technology.
In the end, customers want to do business with companies they have a relationship with, Hernandez-Blades said. Creative, purpose-driven companies build relationships despite the pandemic. An example is that Aflac is augmenting its relationship with child cancer patients, upgrading its My Aflac Duck. The sophisticated toy designed to calm children with cancer now will include a carrying case that turns into what looks like an MRI machine. Kids facing an MRI can put their Aflac Duck into the toy MRI and feel more comfortable, she said.
Remote Ideation and Food
As such, the panelists' ideas about encouraging staff engagement and ideation were particularly useful. Hernandez-Blades suggestion to spice up remote meetings was literally spicy: "I send food" to employees' homes before remote sessions. "It's one less thing off their plate," she said—no pun intended. "We try to re-create what we did in the office…and food is a huge part of that." Staff is even encouraged to eat while colleagues are talking, she said.
Added Blackwell, "We have wine-down Wednesdays" that include wine and music as well as virtual potlucks. "Breaking bread, even when it's virtual, normalizes things." We know "we're gonna eat good food and exchange ideas."
McGilvray had an interesting take on boosting creativity remotely. She likes to begin meetings with a staffer performing, either singing, playing an instrument or acting. "We have our team members take center stage and do a bit of performing before the work begins…you never know where the talent is and when and where you can apply that talent to the work."
Note: For much more on remote working and building camaraderie during and after the pandemic, watch the free webinar here.
Seth Arenstein is editor of PRNEWS and Crisis Insider Follow him: @skarenstein