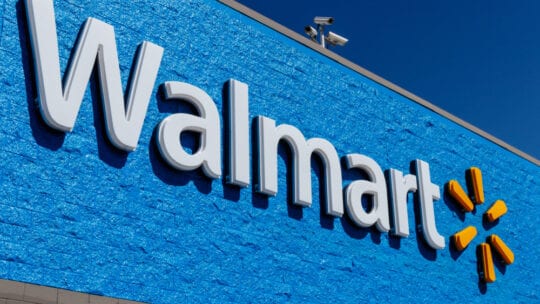 Walmart announced it will close on Thanksgiving this year, breaking an annual tradition that draws large crowds of shoppers for holiday sales.
Bringing together thousands of customers indoors is not advisable in a pandemic—or even legal, in many states, as things currently stand—still the move comes as somewhat of a surprise given the massive financial losses retailers have suffered as a result of quarantine orders and store closures.
In a statement that also unveiled a $428 million bonus plan for Walmart workers this summer, U.S. CEO John Furner thanked employees for working "at an incredible pace" and for problem-solving, noting a "trying year" for associates.
Business Insider obtained an internal memo to employees where Furner gave credit to employee Kevin Carlyle, a manager at a store location in Round Rock, Texas, for the Thanksgiving closure idea. "He recently wrote us and suggested that we close for Thanksgiving during this unusual year, so that our associates could spend the day with their families," Furner wrote.
Though it may seem like a missed opportunity to communicators who prize employee-focused messaging, the press release from the company makes no mention of Carlyle. Instead, the release uses up most of the word count on the bonus program, which will offer employees between $150 to $300 this summer.
Mike McDougall, president of McDougall Communications, argues the company's move is smart. He calls the announcement "the latest in a series of responsible decisions in a challenging year."
While individual bonuses topping out at $300 appear paltry in light of employees' financial hardships in the pandemic's wake, Walmart orients its message toward the cumulative spend on its employees this year. To date, the company has spent $1.1 billion in bonuses in 2020, including two previous payouts. A small infographic in the press release offers a timeline of bonus payments.
There's a business case for Walmart's decision, of course: "Operationally, it's acknowledging the realities of a holiday season that will still require reduced store capacities, contending with shopper uneasiness, and the continued moves to online commerce and multi-month buying timeframe," says McDougall. And it follows a trend of other major retailers allowing employees to spend Thanksgiving with their families.
As to messaging, McDougall thinks the decision is sound.  "On the human front, the move to acknowledge employee voices, put the focus on family and reward dedication of full- and part-time team members will be welcomed," he predicts.
The reception is encouraging for Walmart so far. "Early response from customers, analysts, pundits and the Street has been positive," observes McDougall. And communicators at other brick-and-mortar establishments may want to start readying a plan of their own: "We'll likely see other physical retailers follow, now that they have permission from the industry giant," he adds.