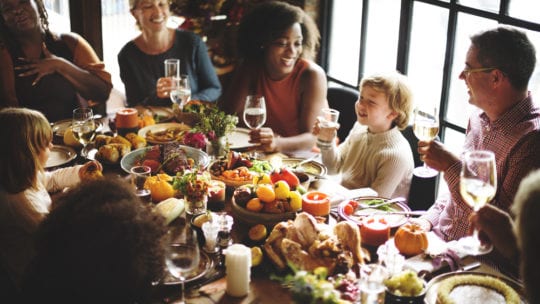 [Editor's Note: This essay first appeared in PRNEWS on Black Friday 2016. We've updated it in certain places and kept the original text in others.]
The turkey has been picked apart, the wishbone wished upon, and the rounds of coffee are morphing into a Manhattan or two. With the family finally gathered after a tumultuous year, all seems well with the world.
But cousin Ed is missing; same for your stepsister and her teens. They've all snuck out the side door. The promise of amazing deals and store hours that would have been unimaginable a few years ago are the culprits. Of course, part of 'the bargain' is dealing with throngs of rabid bargain hunters.
Welcome to the new Thanksgiving reality, brought to you by the likes of Macy's, Kohl's, Best Buy and J. C. Penney. To many, these aggressive retailers are savvy, expertly reading market demand and grabbing share.
Flip the coin and you'll find Staples, REI, T.J. Maxx and even Mall of America closed, with their choice celebrated as the right thing to do for employees, mom and apple pie (or pumpkin, in this case).
Who's right? It's a matter of perspective, much like the dilemmas PR pros face daily. What's certain is there will be polarized audiences that, while divided for a time, will need to reunify to support brands over the longer term.
So how are retailers setting their messaging table to ease customer reunification after the tryptophan haze has passed?
Speak to Customer Needs
"In response to significant, ongoing customer interest in shopping on Thanksgiving, both at Macy's and at many other retailers, we will be opening our full-line department stores at 5 p.m. on Thanksgiving Day," Macy's spokesperson Holly Thomas says, responding to a CNBC query.
In other words, customers' needs are driving management's actions. Voice-of-the-customer research goes well beyond informing product marketing needs. PR can incorporate it into primary messages, making a more compelling, valid argument as to the rationale behind a decision.
For even greater effect, deploy data. The National Retail Federation (NRF) surveyed 8,000 adult consumers in Oct.-Nov. 2019. It found a  nearly 50-50 split for those who say they plan to start shopping in-store (47 percent) vs online (41 percent) during what's become a 5-day Thanksgiving weekend tradition, beginning with Thanksgiving evening and ending with Cyber Monday. This split seems to argue for opening brick-and-mortar stores.
NRF estimates November's retail sales will increase 4 percent vs. Nov. 2018. The number of people shopping on Black Friday this year is expected to be off slightly, down 2 percent, vs. 2018 (114 million vs 116 million).
As the holidays approach, incorporating corporate values into messaging is just as essential as it is during other times of the year—perhaps even more so.
A family-focused culture compelled mall operator CBL & Associates to shutter its properties. "It's a family holiday and we just felt strongly as the property owners that we are responsible for a lot of people's well-being during that holiday," CEO Stephen Lebovitz told USA Today. He positioned competitors as jumping on the bandwagon, then predicted Thanksgiving hours eventually will fade away.
But if they don't, can a brand thrive while competitors pull in customers? Yes. Your store is closed owing to the brand's values. PR should celebrate it.  Take Chick-fil-A, whose closed-on-Sundays approach is as much a part of its identity as its poultry.
Discuss Business Realities
Traditionally, retail is a volatile, high-risk business, with profits back-end loaded as the holiday season gears up. This the origin of the term Black Friday. It's the day when many stores finally "go into the black" for the year. Add the dynamics of online commerce, and brick-and-mortar establishments have an even tougher uphill climb.
Openly discussing business realities plays a part in explaining the choice to keep the lights blazing on Main Street while leftovers are making an appearance across town. It's a lesson that PR pros can take to heart, regardless of the season: Understand what levers make your industry and company tick, then educate your audiences.
Steve Goldberg, president of consultancy at Grayson Co., notes operating realities for the likes of Macy's. "All those businesses are scrambling for sales in a very, very difficult year," Goldberg says.
If others are open, there's an incentive to do the same, says Tom Arnold, a University of Richmond finance professor. Remaining closed cedes customers to another storefront, Arnold says. "I think [stores being open] will bother people, maybe for the next three years, but eventually I think it's just going to become status quo," he adds.
Stay Open
And if you're suddenly believing the "we must be open" storyline because it was voiced not by Macy's but by a consultant and an academician instead, take note. Third parties add validity to your narrative; seek them out and find ways to help them enter the conversation.
Retailers are forced to pick up the pieces from their Thanksgiving exploits in short order.  Disappointing Turkey Day sales produce disgruntled customers. Quick, bring them back into the fold. The secret is not being conciliatory, but focusing on aspects of the shopping experience that create brand loyalty the rest of the year.
That means having a pressure-tested PR plan in place to remind customers why they came to the brand in the first place. It also means avoiding unforced errors throughout the remainder of the holiday season.
Of course, there are things PR pros have little control over on Thanksgiving. There's Aunt Jo being more worried about scoring a dust buster than a second piece of pie. A fail-proof solution: Pass the whiskey and vermouth, add bitters, and send around the Manhattans. Make mine a double.
NOTE: This content appeared originally in PRNEWS Nov. 2016. For subscription information, please visit: http://www.prnewsonline.com/about/info
Mike McDougall is president of McDougall PR. He will remain rooted at the extended Thanksgiving table, but he'll be up before sunrise today, Black Friday, to join the merry masses in scoring a deal or two.