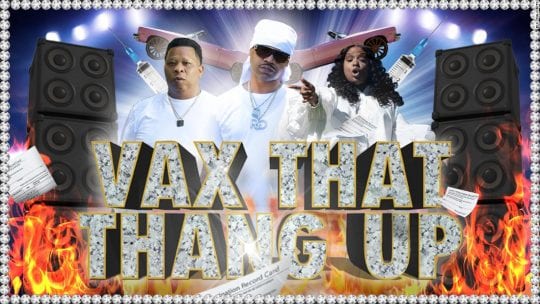 As the COVID-19 Delta variant starts to spread throughout the United States, particularly among the unvaccinated, it seems time is of the essence to promote the benefits of vaccination to those who remain skeptical. 
You may have heard about the newest song of the summer, which went viral across social media this week—"Vax That Thang Up." The song showcases late 1990s-early 2000s rap star Juvenile, with a remix of the 1999 hit "Back That Thang Up," featuring pro-vaccine lyrics. The song emerged through a partnership with BLK, a dating app geared toward connecting Black men and women. 
BLK issued a statement expressing hope that the video and song help ease vaccine hesitancy. 
"Black adults under the age of 40 are the most likely group to avoid the COVID-19 vaccination, according to the U.S. Census Bureau," the statement read. "Distrust of doctors and government, less access to vaccination centers, and online misinformation each play a role. We hope this video is both entertaining and actionable."
The Juvenile remix is one example of several brands and public figures who might surprise the public with their pro-vaccination stance. PRNEWS found several recent examples attempting to deliver a pro-vaccination message.  
1. Teletubbies. Yes, remember those colorful, alien-looking beings? You thought Teletubbies were just for kids. Well, they've been vaccinated and shared the proof for their Tubby Hot Summer.
We're all vaxxed! Just in time for a Tubby hot summer ☀️ Who's ready to come out & play pic.twitter.com/AtXTExaCMs

— Teletubbies (@TeletubbiesHQ) July 7, 2021
2. Axe Body Spray. In late June Axe created a program targeting younger males called #GetAXEinated. Axe distributed kits with free body spray for those vaccinated, to promote the confidence to get on living life again. It also promoted a Snapchat lens to show off users who were vaccinated.
"The pandemic disrupted life as our Gen Z guys knew it, leaving many anxious about getting back out there. So as a brand rooted in attraction, we saw a unique opportunity to play a role in encouraging vaccinations tied to this interesting and evolving dating moment," said Mark Lodwick, AXE Brand Director. "We want guys to get informed, get their shots and feel confident doing it, and if AXE can help along the way, even better."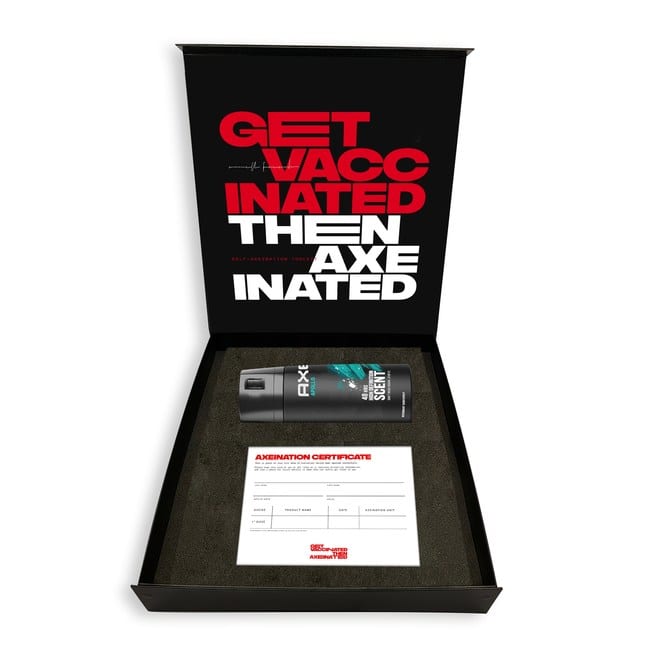 3. Colleges and Universities. University of Nevada, Las Vegas (UNLV) on Twitter urges students, faculty and staff to receive free vaccinations. Other educational institutions may follow in its footsteps to curb outbreaks during the coming academic year. 
FREE COVID-19 vaccines for #UNLV students & employees at @UNLVRebelRec!

Students can #GetVaxxed at the Student Health Center. Faculty, staff, & dependents 18+ go to the FAST Center. An easy way to protect yourself & those around you!

📞 for appointments: https://t.co/qIptHdJ9z3 pic.twitter.com/tFUbnsj5ER

— UNLV (@unlv) July 8, 2021
4. The Military. Who knew that Lieutenant General Ron Place, director of the Defense Health Agency, used Twitter? Lt. Gen. Place tweeted a picture of military personnel receiving vaccine, calling on service members, their families and veterans to join the cause, and included a link with more information.
We have realized unprecedented progress in ridding the world of this #Pandemic, but it will take a total team effort to attain mission success. Get off the sidelines, and into the fight. #GetVaxxed https://t.co/rnTvG1hisn pic.twitter.com/wYNxIutRib

— Lieutenant General Ron Place (@DHADirector) July 7, 2021
5. Beer. It's summer, and after this year, who couldn't use a cool, crisp one? Many breweries, including SaltFire Brewery in Salt Lake City, Utah, are encouraging patrons to get vaccinated at their establishments, and get a free beverage in the process. Budweiser celebrated the Fourth of July by recreating actor Bill Pullman's "Independence Day" speech to bring the country together, and promote its free beer giveaway to vaccinated Americans. 
View this post on Instagram
6. Dating Apps. If anything is hot this summer besides the temperature, it's canoodling and enjoying human contact after being holed up in a year of solitude. Bumble promoted the vaccination movement by introducing a new vaccinated badge for user profiles. 
View this post on Instagram
It's yet to be seen if the promotions encouraged positive movement on the vaccination front, so you can bet we'll continue to see pro-vaccination messaging for the remainder of the summer if not beyond, until—fingers crossed–variants are brought under control.
Nicole Schuman is senior editor for PRNEWS. Follow her @buffalogal