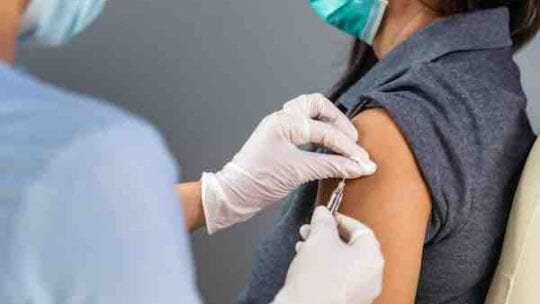 At the start of coronavirus, poor resource allocation and coordination contributed to widespread infections and unnecessary deaths. One victim was my college roommate, who died when NYC was the epicenter of America's outbreak.
Now, our challenge is to increase vaccination rates across the country. As communication professionals, we understand effective targeting and persuasive messaging. But a big part of vaccination success requires dealing with toxic politics and distrust about the disease, its transmission and control. Nearly everything is politicized, including getting vaccinated.
This isn't the first time politics has interfered with public health. Dr. Reed Tuckson, a colleague who was health commissioner for the District of Columbia during the outbreak of HIV/AIDS, notes that epidemic was part of the culture wars of those times.
But today it's not just politicians attacking each other. The media is regularly assaulted and has lost credibility. In a 2020 Gallup survey, people were asked about their trust in mass media: 27 percent said "not much," and 33 percent reported "none at all."
Trust Issues
In addition, Americans lack trust in elected officials, the institutions of government, science and even nonprofit and religious organizations.
The White House said June 22 the county will narrowly miss President Biden's July 4 goal of 70 percent of U.S. adults receiving at least one vaccine dose. As we know, vaccination confidence and levels differ substantially across the country. Some 15 states and D.C. have reached the President's target. In some others, only about one-third of adults have had one shot. And take-up rates have been falling after initial successes.
First Lady Jill Biden and Dr. Anthony Fauci recently visited Harlem, NY, where anti-vaccine protestors shouted and waved signs proclaiming "Freedom over Fear," "All Test Animals Died," "Don't Rush to be Next" and "No masks, No vaccines, No fluoride."
Racial Differences
In Harlem, as in other NY communities of color, the vaccination rate is lower than in white areas. In mid-June, NYC reported 29 percent of Black New Yorkers and 37 percent of Hispanics received at least one shot. Yet the average across Manhattan is much higher, at 64 percent.
What accounts for these differences?  'Vaccine hesitancy' doesn't capture the complexity.  Twenty percent of adults say they will definitely not get vaccinated, or will do so only if required, a recent Kaiser Family Foundation study found. Misinformation about COVID-19 and the vaccines is rampant.
It appears there are several segments resisting vaccination:
Black Americans: Many lack trust in the system. This often is attributed to experiences like the infamous Tuskegee experiment. Moreover, there are many examples of Black Americans not receiving the same level of healthcare as whites, including in maternity situations, pain management and palliative care.
Latinx: Similar to Black Americans, mistrust is widespread, as is misinformation.
Low-income individuals: Concerns include missing work to get vaccinated/recovering from the vaccine, lack of transportation and confusion about vaccination costs.
Youth: This sector is proving tough to persuade, perhaps because they believe their good health will protect them from serious consequences.
Conspiracy Theorists: Concerns include fatal side effects, computer chips in the vaccine, fear of infertility and other issues.
Political Objectors: Friends of mine are refusing the vaccine because they don't want to be "government serfs."
Some of these concerns and segments overlap. What can we do to overcome their concerns and increase vaccination levels?
Takeaways
Here are tips to increase effectiveness.
Factual arguments probably are not the answer. Those who oppose vaccinations usually have a trusted source of information. Beating people over the head with your facts is unlikely to move them.
Fear arousal also is unlikely to work. Scaring people may get their attention, but it's unlikely to motivate them, research suggests. People would rather ignore your message than alter their behavior.
Messengers may be as or more important than the message. Showing politicians getting their jabs is of dubious effect. However, in some neighborhoods, faith leaders are convincing, especially when they speak to the issue in houses of worship.
Generally, there are three kinds of messengers who may be effective, depending on target audience and circumstances:
Celebrities, such as entertainers, athletes and others who are well known and admired
Experts, such as physicians, scholars and others with subject expertise
People like those in the target audience: average people with no ax to grind, just 'people like you and me.'
Solution vs Risk
Clearly, vaccination persuasion is complex. People tend to react more positively when they:
believe there is a viable solution, as opposed to just avoiding risk
consider the messenger is credible and
are comfortable and validated within their peer groups (social connectedness)
As mentioned earlier, our toxic political environment has greatly exacerbated the COVID-19 crisis. Good research is necessary to find the right appeals and messengers and the best way to counter opposing viewpoints.
A related challenge is messaging when vaccination is required. Schools, universities and businesses are dealing with this, and the courts are looking at mandatory vaccination cases. Here again, effective communication is needed, and it probably won't improve morale to announce: 'Get your shots or don't show up.'
Americans are not very good at long-term planning. We rally when faced with disasters, but then put them out of mind and get back to everyday life. We have to get beyond the present pandemic before preparing for the next one. But maybe by then we will have worked our way out of our current political mess.
Bill Novelli was president of Porter Novelli and CEO of AARP. He is a professor and founder of Business for Impact at Georgetown University's McDonough School of Business and author of "Good Business: The Talk, Fight, Win Way to Change the World."