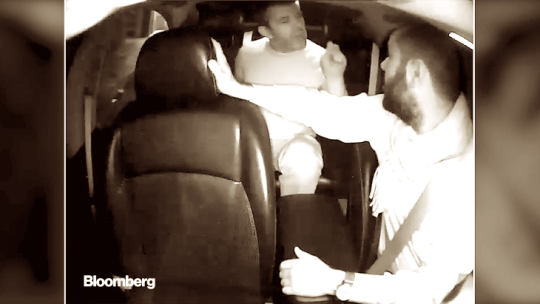 A video showing Uber CEO Travis Kalanick lashing out at an Uber driver put the company back in the media spotlight last evening. In the video, pulled from Uber driver Fawzi Kamel's dashboard camera on Super Bowl Sunday, Kalanick is questioned by Kamel about Uber lowering its rates in the face of competition. The conversation rapidly escalates, with Kamel saying, "I lost $97,000 because of you, I'm bankrupt because of you," and Kalanick responding "bullsh--" and slamming the door after growling,"You know what? Some people don't like to take responsibility for their own s‑‑‑. They blame everything in their life on everyone else."
Kamel sent the video to Bloomberg, which published it on Feb. 28.
With Uber already in full-on crisis mode, Kalanick and his team responded to the incident swiftly, drafting an apologetic email to some 11,000 employees and posting the text to the company newsroom. Kalanick takes personal responsibility for his actions in the statement, writing, "I must fundamentally change as a leader and grow up. This is the first time I've been willing to admit that I need leadership help and I intend to get it."
Will Kalanick's response be effective from a reputation management perspective, given the company has already faced four separate PR crisis in the last three months alone? Ernest DelBuono, senior strategist at Levick, says it depends on the action the company takes next. "This story breaking has made it even harder for Kalanick to deliver his message of what the company is doing to change their culture," DelBuono says. "When you're under a microscope, you can't communicate your way out. It's not just what you say in public statements, it's what you do and say when you don't think anybody is listening."
The next steps, says DelBuono, need to focus on the treatment of Uber employees. "Kalanick will  have to answer the question, 'How do we treat our drivers?' Uber will need to conduct a large initiative to investigate drivers' work environment and compensation and ensure they're treated with respect and dignity. After that, it's a matter of Kalanick maintaining message discipline and starting to move his company out of harm's way."
In the meantime, rival ride-service company Lyft might consider saving some money and suspending all advertising expenditures. Uber's CEO might as well be on their payroll.
Follow Ernest: @ErnestDelBuono
Follow Sophie: @SophieMaerowitz