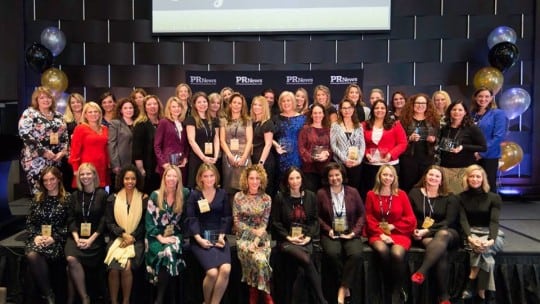 On Jan. 23 in New York, PR News celebrated its 2018 Top Women in PR. These inspiring women have risen above the crowd to make a difference in their workplaces and in their communities, both as communications professionals and as mentors to other women.
The winners of PR News' 2018 Top Women in PR Awards span a wide variety of organizations, from brands like Nissan, Prudential, Dell, World Wildlife Fund and FedEx to agencies such as Weber Shandwick, Burson-Marsteller, Ogilvy and Ruder Finn. The winners were judged on the strength of communications campaigns they've led in the last 18 months and on the positive influence they've had on their teams and peers.
We took time out at the luncheon event to speak with keynote presenter Melissa Bernstein of Melissa & Doug, as well as some of the Top Women honorees, to learn more about what inspires them to do great work every day, and what advice they can offer to young communicators.
Melissa Bernstein, Co-Founder and Chief Creative Officer, Melissa & Doug
Nisha Morris, Executive Director, Communication & PR, Providence St. Joseph Health
Lauren de la Fuente, Vice President of Marking & Communications, Boingo Wireless
Tiffany Guarnaccia, CEO, Kite Hill and founder of Communications Week
Barbara Moreno, Executive Director, Communications, San Diego Convention Center
Lori Steele, Community Educator, Louisiana Organ Procurement Agency
Mónica Echeverría, Deputy Director, Media Relations & External Communications, World Wildlife Fund
Sarah Evans, Partner, J Public Relations
See profiles of all of PR News' 2018 Top Women in PR.
Connect with Samantha: @samantha_c_wood