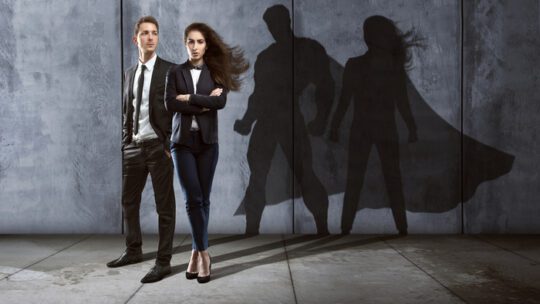 Most marketing organizations say, 'The customer is at the center of everything we do.' But how can your social media reflect that value in a consistent and engaging way? Spotlighting customers on social is, of course, nothing new, yet it remains a highly underutilized content strategy. When done with strategic intent and thoughtful execution, the customer's voice can cut through the marketing noise on social, especially in B2B storytelling.
So how can social media leaders create a steady cadence of fresh, customer-centric social posts, especially when formal case studies are resource-intensive and can take months to produce?
Celebrate Your Customers' Successes
Once you have a list of nameable customers, create a Twitter list or Google Alert to keep track of their earned media mentions, announcements and other relevant news. Then, look for opportunities to give them a shout-out if they receive positive news that resonates with your audience.
Here's one example related to the Emmy Awards last summer, but there are many other examples that you can determine based on your users. It's a fun, low-maintenance way to recognize your customers that will often turn into some of your best-performing content.
Re-share Your Evergreen Stories
The fast-paced nature of marketing can result in a 'what's next' mindset, with older content getting overlooked after its initial publication. If you have previous case studies or blog posts that are still relevant, they deserve a longer shelf life since your audience can still get great value from them.
A benefit of re-promoting content is that it allows you to plan your publishing calendar in advance. For example, you could create a serialized campaign such a customer-of-the-week series. Or, you could highlight a customer on a particular holiday or cultural event. By mapping out a calendar, you can optimize evergreen content in a way that it is timely, genuine and engaging.
Engage Your Customers Directly
Remember that social media, at its best, can unlock conversations that don't require intensive planning or high production value. Yet these conversations often generate the same or greater impact than your 'planned' posts. The key is to be agile and use judgement to identify the right opportunities. A few examples:
If a customer mentions thee brand in a positive way, retweet/re-share it along with a comment of appreciation or a heartfelt emoji.
If your customer makes a major announcement (e.g., they've received an accolade or achieved a milestone), the simple gesture of liking and/or commenting on their post will amplify it to your followers
Surprise and delight: Reward your fans by sending some fun branded swag, at your discretion or as part of a contest. This often leads to spontaneous social moments that can also scale.
Package Up The Best Tweets
If you have a passionate customer base on social, you can curate tweets and share them in various digital formats–from a sales deck, to a blog post, to your company website.
Get Creative
Here are a few other clever ways to keep your customer content fresh:
Resharing customers' job postings related to your product or service. This works particularly well in the B2B SaaS world, where companies will often hire experts to help implement and maintain your technology.
Resharing go-live celebrations of your product or service. This again works well in B2B tech, where there is often a projected "go live" date to deploy your solution.
Asking your employees to post photos/videos alongside their favorite (nameable) customer logos. This is a great way to showcase your culture, increase user-generated content, and help your employer brand for recruiting purposes.
Chris Kim is Director of social media at Airtable. What other ways have you showcased customers on social? Share ideas by tweeting Chris at: @ChrisKimCloud or connecting on LinkedIn.