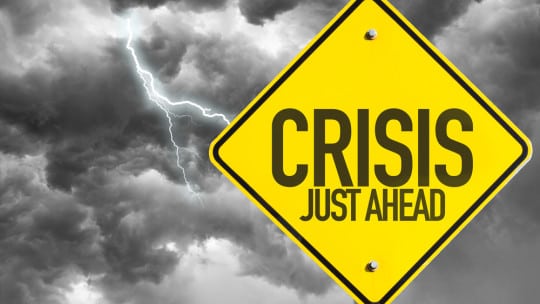 Savvy communicators know that having a crisis plan in place before a situation emerges is crucial for any brand's survival. But not every negative comment requires a full-scale mobilization of the proverbial troops. Some social media crises can be mitigated before they gain widespread attention.
Many companies, though, view every potential crisis (regardless of size) as a call to action to put out a statement, to prevent it from becoming a problem. Ironically, drawing attention to a minor issue on social media can sometimes do major reputation damage. Knowing how to identify the type of crisis and the proper response it requires can help brands save face after incidents big and small.
In PR News' recently updated Crisis Management Guidebook Vol. 9, Katie Goodale, associate director of PR and social media at agency Hiebing, explains that taking a tiered approach to crisis management strategy is important for avoiding blunders. By examining your company's audience and vulnerabilities ahead of time, you can create protocols for each of the following three tiers:
Tier 1: Multi-Channel
A multi-channel crisis carries the most potential for harm because it attracts the most publicity. If a brand is dealing with an extreme situation—such as workplace harassment allegations, product recalls or corporate impropriety—it can expect extensive negative feedback on social media and in the traditional media.
Prepare by having a robust crisis management plan that is regularly practiced and updated. In situations like these, a swift and authentic response can make all the difference. Make sure that all messages are posted not only on the company website, but also on any social channels that are receiving negative feedback. And though consistency in your messaging is key, the wording should vary so as not to appear canned.
Tier 2: Emerging
An emerging crisis in your social community does have the potential to escalate and become a real problem, but it can likely be diffused if tackled quickly. Most emerging crises take the form of customer complaints about service issues or changes to the brand's products, and usually begin on social media.
Though it may be tempting to get in front of these complaints with a community-wide post, a one-to-one approach with the complaining customers is a better option to keep the problem from getting out of hand. Always monitor all social channels so that when criticisms emerge you are prepared to respond immediately to that specific person, or people. This way, your company can remain in charge of the narrative and can ensure the issue stays small. 
Tier 3: Industry-Adjacent
Industry-adjacent crises are typically crises by association. When a vendor or competitor is experiencing a social media crisis, your followers may question that company's relationship with yours, and whether your brand had knowledge of the issue causing the crisis.
The key here is to be proactive. While you are monitoring your own social channels, make sure to monitor those of any competitors or vendors whose crises could reflect negatively on your organization. Once you become aware of such an incident, release statements as quickly as possible that distance your brand from the problem, and make sure to evaluate any planned social posts to confirm they won't conflict with your response.
"By throwing out a one-size-fits-all approach to crisis management on social media, you can protect your brand and keep the focus of your digital community on your content," Goodale concludes.
---
Learn more about crisis management from companies like Edelman and Johnson & Johnson at PR News' Crisis Management Workshop on April 16 in Philadelphia.
Follow Hayley: @that_hayley