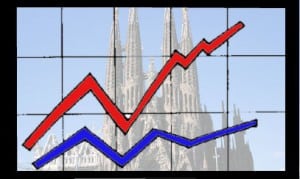 By now you're aware of the Barcelona Principles, the communications measurement system developed by five major PR industry associations. PR professionals, of course, tend to favor storytelling over analytics, which makes dissecting crucial metrics a daunting task.
As we kick off our PR Measurement Conference this morning in Washington, D.C., Sandy Malloy, senior information specialist at Business Wire, managed to distill the Barcelona Principles into several simple takeaways for all of us whose eyestend to glaze over in a typical metrics discussion—not an easy task.
Here's a glimpse at Malloy's Barcelona Principles cheat sheet:
The importance of goal setting and measurement:
"You cannot do effective measurement without setting a goal," Malloy says. The key is setting the right kind of objective. For example, "Put out one press release per week" is not an ideal target because it's an output goal measuring productivity and not PR activity. A better directive is somethinglike this: "Increase the number of registration for our online MBA course by 2% in the first quarter of 2013 over the first quarter."
Measuring the effect on outcomes > Measuring outputs:
Outputs could and should support the measurable goal. "In fact, you can take your outputs and tweak them so that you are producing better measurement," Malloy says. Trying to increase registrations to an event? Construct outputgoals that support your initiative: Create press releases to drive traffic to the registration website and tailor your social activity to promote the event, even enticing potential attendees with a contest or raffle.
Clicks are not the end all, be all:
"Counting clicks isn't a bad thing to do," Malloy says. "But it's not enough by itself to show how your efforts are paying off." Issues to factor in: Benchmarks, share of voice and sentiment and messaging.
PR News' Writing Bootcamp is being held at the National Press Club in Washington D.C.
Follow Sandy Malloy: @BWInfoDiva
Follow Lucia Davis: @LKCDavis