Thursday, August 9 | Hyatt Regency San Francisco
Get the essential social media communications strategies and tactics at this
one-day PR News conference
Registration Closed
Is social media a big deal to you and your stakeholders? Then join us on August 9 in San Francisco (the day after PR News' SEO Workshop) when we zero in on the Big 3 social media platforms: Pinterest, Twitter and Facebook. We'll show you how you can make the most of your time and resources to unleash the power of these networks and take your social media communications to new heights.
The goal: To make you the Facebook, Twitter and Pinterest expert in your organization.
Facebook and Twitter are the essential social networks for communicators seeking to actively take part in ongoing conversations about their brands, but Pinterest is gaining fast, with 10.4 million registered pinners who love to buy products by clicking through pins. This one-of-a-kind conference gathers leaders in the Big 3 social networks for just one day in beautiful San Francisco.

In one day you'll become an expert in:
Aligning social media activity with your organization's business objectives
Leveraging the latest Facebook updates for PR
Reaching new audiences on Pinterest
Empowering employees & protecting your brand with smart social guidelines
Twitter strategies that produce positive business results
Getting people to "Like" your brand and become part of an engaged community
Measuring the impact of your social media initiatives
Mastering Facebook's latest features
Using social tools to manage your time more efficiently
Cultivate relationships with journalists on Twitter
Launch games and contests on Facebook and Twitter
The Big 3 Conference session leaders will share in-depth case studies of their Facebook, Twitter and Pinterest strategies-from concept to creation to execution-and will leave ample time to answer all of your questions. And, best of all, you'll get to engage with these leaders and your peers in the inspiring City by the Bay, close to where the social media age took root.
Don't miss your opportunity to attend this information-packed day of interactive learning and networking. Join your fellow communicators in San Francisco and become part of the community of social media leaders.
Speakers:
Keynote Speakers
Shel Israel, Author, Twitterville and Naked Conversations – How Blogs Are Changing the Way Businesses Talk With Customers
Jon Swartz, Technology Reporter, USA Today
Conference Speakers:
David Anderson, SVP and Head of Digital, Shine America
Jon Bird, Creative Manager for Social Media, American Airlines
Susan Chang, Senior Social Media Manager, LEWIS Pulse
Joe Ciarallo,Vice President, Communications, Buddy Media
Nick Cifuentes, Director, Global Social Media, Ancestry.com
Allison Fitzpatrick, Partner, Davis & Gilbert LLP
Amy Gilmer, Social Media Manager, Stella & Dot
Dan Gould, Manager of Digital Public Relations, Sourcefire
Callan Green, Senior Social Media Specialist, Sony
Shannon Greevy, Social Media Communications Strategist, Esurance
Krisleigh Hoermann, Community Manager, American Heart Association
Lindsay Kniffin, Community Manager, Global Corporate Communications, Cisco
Dallas Lawrence, Chief Global Digital Strategist, Burson-Marsteller
Brad McCormick,Principal, 10 Louder Strategies
Chris Metinko, Media Relations Specialist, Business Wire
Walter Neary, Public Relations Director, Washington State, Comcast
Staci Perkins, Senior Director, Marketing & Communications, Dave Thomas Foundation for Adoption
Laura Perry, Director, Communications, UCLA School of Nursing
Maria Poveromo, Director, Social Media, Adobe
Claire Tindall, Brand Manager, Crocs Inc.
Samantha Willems, Brand Marketing Manager, Old Navy
Conference Moderators:
Agenda:
Pricing:

Regular Rate

Per Person
$895
Group of two or more
$845
2 Day Package (SEO Workshop: 8/8 Conference: 8/9)
Per Person
$1320

2 Day Package (SEO Workshop: 8/8 Conference: 8/9) Group

$1170
Group = Two or more from the same company. Group price is per person.
>>Questions?
Contact Saun Sayamongkhun at saun@accessintel.com.
Sponsored by:
What we'll cover:
8:30-8:45 a.m.
Opening Keynote Presentation: The Big Picture on the Big 3
In this opening session, you'll get the inside scoop on new business developments at Facebook, Twitter and Pinterest, and on how those new directions will transform the platforms and create new opportunities for communicators to engage their audiences.
---
8:45-9:15 a.m.
Must-Have Social Tools for Your PR Toolbox
There are some tools that all PR pros must have to manage their social media programs efficiently—and the good thing is not all of these tools have a price tag. Learn which social media dashboards are best at managing all of your social platforms and which activation platforms are best at enabling PR pros and marketers to motivate audience participation in polls, discussions, product trials and more.

In this session you'll learn:
How these must-have social tools can help you manage your time more efficiently
Which free dashboards are best at managing all of your social accounts
Which dashboards are best for maximizing multiple Twitter accounts
When it makes sense to upgrade to a paid social media dashboard
How to use social dashboards in a crisis
How to use social activation platforms to engage social influencers in niche audiences
Which activation platforms are best at encouraging advocate-driven content and conversations across Facebook, Twitter and Pinterest
---
Pin for Success: How to Engage Your Audience with Pinterest
Pinterest, the two-year-old image-based network, is now the third-most-popular social network in the world. It drives more referral traffic on the Web than Google+, YouTube and LinkedIn combined, and 79% of Pinterest users rate themselves as more likely to purchase an item seen on Pinterest than one seen on Facebook. Food, fashion and media brands have notably tapped into Pinterest's rapid growth and ability to drive sales, but brands of all kinds can leverage its power. This case-study-driven session will give you the soup-to-nuts story of how different brands found new and passionate audiences on Pinterest.

In this session you'll learn how to:
Set up a Pinterest account and create boards
Drive traffic from Pinterest to your Web site
Write pin descriptions and use hashtags to drive repins
Use the $ sign and numerical values to drive traffic
Promote your presence on Pinterest on other social media channels
Repin other sites to increase reach
Share your boards to attract contributors
Drive sales by linking to owned e-commerce sites
Encourage users to share their tastes/interests with your brand
---
---
Proven Twitter Tactics to Gain and Retain Followers
Refresh your Twitter engagement strategies by learning how consumer, b2b brands and nonprofits are successfully growing their legions of Twitter followers—and keeping the ones they already have. Our Twitter experts will share best practices you can put into practice immediately to grow your following—from tech tips like linking to your Twitter profile from your other social media accounts and smartly applying the use of hashtags, to content tips like adding links that your audience will respond to and replying to your followers in an authentic voice.

In this session, you'll learn how to:
Experiment with different kinds of tweets to learn which ones are likely to be retweeted and inspire engagement
Research keywords and hashtags to find followers who will engage with your brand
Find and comment on conversations related to your brand
Use direct messages with your followers to build brand trust and loyalty
Create goodwill by recognizing your new followers and brand advocates
Integrate Twitter with Web metrics and your overall content strategy
Leverage Twitter during a crisis to cement brand loyalty
---
Facebook's Top Developments and Features for PR Pros
It's been a busy year for Facebook (and not just because of the IPO)—it launched Timeline brand pages, promoted posts for brand pages, the Reach Generator paid ad product and its revamped ad platform. This session will show communicators how to leverage each of these free and paid developments for their organizations. You'll learn how to tell your brand's story on your Timeline, how Facebook's relaunched ad platform blurs the line between paid and earned media, how to boost the reach of a page post with Reach Generator, how to leverage Facebook's new "People Talking About This" metric to measure engagement and more.

You'll learn how to:
Curate company history and milestones for your Timeline brand page
Understand how Timeline affects the news feed
Create customized tabs to engage users
Use promoted posts to display posts more prominently in news feeds
Use Facebook's ad platform to extend the distribution of the content that attracts the most engagement
Identify which content is most effective for ads
Leverage Facebook's mobile ads
Use Reach Generator to amplify your most engaging posts
Measure engagement with the "People Talking About This" metric
---
Luncheon and Keynote Presentation
Network with your peers and make new connections during this luncheon, which will feature a thought-provoking keynote presentation by Shel Israel, author of Twitterville and Naked Conversations - How Blogs Are Changing the Way Businesses Talk With Customers.
Keynote Presentation: The Age of Context
Even as many brands are just beginning to integrate social media across their organizations, big changes in technology and social platforms are on the horizon. In this keynote presentation, Shel Israel, who writes The Social Beat blog for Forbes.com, provides insight into the driving forces behind these changes and what communicators can do to adapt to them.
Shel Israel
Author
Twitterville and Naked Conversations - How Blogs Are Changing the Way Businesses Talk With Customers
@shelisrael
---
Resource Management Clinic: Manage Your Team, Time and Budget for Social Media Success
Regardless of your own digital expertise, it can be a challenge to lead a communications team on multiple social media platforms and stay within budget. In this hands-on, interactive clinic, Big 3 Conference attendees will be presented with three mock scenarios and will work in groups to create staffing, budgeting and scheduling plans. These plans will be shared with all attendees, and the clinic leader will add his insights and lead Q&A sessions.

You'll learn how to create resource management plans for:
Responding to a crisis on Twitter
Revamping a brand's Facebook strategy
Exploring emerging platforms like Pinterest on behalf of senior leaders or a client
---
How to Avoid the Legal Land Mines of the Big 3
Advances in the use of social media for PR and the rapidity of information flow through all digital channels leaves PR practitioners and their organizations open to charges of copyright infringement and other legal issues. In this session we break down the risks inherent in using Pinterest, Facebook and Twitter, including important regulatory issues that may affect your initiatives; intellectual property and fair use issues; and the threat of lawsuits and how to avoid them.
In this session, you'll learn:
Who owns user-generated content posted on Twitter and Facebook
How to differentiate the legal issues of trademark and copyright
The scope of liability of material posted by organizations
How to comply with the rules of contests on games on Facebook and Twitter
How to credit sources of images that you pin on Pinterest
How to protect your brand's images from copyright infringement
How to decipher Pinterest's revised terms of use
How to craft media policies that will help protect your organization against liability
---
Setting Tangible Key Performance Indicators for Your Big 3 Initiatives
Developing a social media measurement strategy can be a challenge for PR pros trying to convey the value of likes, followers, reach and engagement to senior management. One of the best approaches to proving value is by defining key performance indicators (KPIs). Unlike the often fuzzy concept of ROI, establishing KPIs for your measurement program will clarify which digital metrics to measure and provide clear, concise stats needed to convince data-driven C-level executives that your social media efforts are driving the business needle. In this session, measurement experts will show you how to establish KPIs for Facebook, Twitter and Pinterest that are tied to your organization's business objectives.
In this session you'll learn how to:
Align your social media activity with your organization's business objectives
Determine if likes, followers and pins are being converted into leads, customers or sales
Determine which content is working and adjust strategy accordingly
Focus on strategic business outcomes rather than PR activity
Demonstrate PR's contributions and value to the bottom line
Present the results of your social media activity concisely to senior management using the metrics that matter to them most
---
---
Use Twitter to Gain a Competitive Edge in Media Relations
More than 90% of journalists use Twitter or another social media platform as part of their job, and 85% of journalists say they welcome PR contact through their Twitter profiles—so it's clear that Twitter has come of age as a media relations tool. This session will show you how to best use Twitter to make all of your media relations initiatives more successful, forge new connections with media pros and strengthen your existing ties. You'll learn how to provide a clear description in your Twitter profile so media professionals will know they've found the right contact, use Twitter to build working relationships with journalists, pitch stories on Twitter, use direct messages to move a conversation to e-mail or to the phone and make Twitter an organic extension of your media relations strategy.
You'll learn how to:
Identify and engage with influential media professionals on Twitter
Determine when and how to engage with media pros directly on Twitter
Decide when it's proper to pitch journalists on Twitter
Cultivate relationships with journalists
Avoid Twitter tactics that turn off media pros, like mass-tweeting the same pitch
Integrate Twitter with traditional media relations tactics
Measure the ROI of your media relations efforts on Twitter
---
Launch Successful Games and Contests on Facebook, Twitter and Pinterest
Launching contests and games can be a great way to rapidly increase your fan and follower base and even get media coverage for your brand. This session will show you how to leverage games or launch contests on Facebook, Twitter and Pinterest to build an audience and inspire engagement. You will hear successful case studies and get step-by-step directions in how to determine what kind of contest or game is right for your audience, how to execute your contest and how to stay in compliance with a platform's games and contest guidelines. You'll walk away with fresh ideas to build upon the success of your digital strategy and keep your new fans and followers engaged.
In this session, you'll learn how to:
Use Facebook's promotions app to create contests, sweepstakes and games
Use crowdsourcing techniques to determine which kind of contest would be right for your audience
Launch and execute a successful contest using Twitter hashtags
Drive people to your Web site with contests and promotions—and vice versa
Create an advertiser campaign on Pinterest
Measure the results of your contests
Comply with the rules for contests and games on Facebook, Twitter and Pinterest
---
4:15 - 4:45 p.m. Networking reception
Join us for cocktails and hors d'oeuvres to cap off a great day of learning and networking. Pick up your attendance certificate, exchange the last round of business cards and mark your day at the Hyatt Regency San Francisco as an expert in the Big 3 social networks!
Who Should Attend?
If you spend at least a quarter of your time in any of these areas, you should attend this conference:
Audience Development
Brand Marketing
Business Development
Community Relations
Corporate Communications
Crisis Management
Digital and Social Media
Employee Communications
Fundraising
Human Resources
Information Technology
Lead Generation
Marketing
Marketing Communications
Measurement
Media Relations
PR Budget Creation/Management
Public Relations
Public Affairs/Issues Management
Publicity
Research & Analysis
SEM/SEO Management
Social Media
Video Production
Web Marketing
Word of Mouth Marketing
PRSA Accreditation:
PRSA APR Accreditation Maintenance Credits Approved: 1.0 Registrants that are Accredited by PRSA need to keep track of their points and submit their activities every three years. Please keep a copy of the event description with the date/time listed and submit when you are required to.
Pricing:
Registration Fees:

Regular Rate

Per Person
$895
Group of two or more
$845

2 Day Package (SEO Workshop: 8/8 Conference: 8/9)
Per Person

$1320

2 Day Package (SEO Workshop: 8/8 Conference: 8/9) Group

$1170
Group = Two or more from the same company. Group price is per person.
>>Questions?
Contact Saun Sayamongkhun at saun@accessintel.com.
Location/Hotel Room Block/Questions:
Conference Location:
Hyatt Regency San Francisco
5 Embarcadero Center
San Francisco, CA 94111
>>Hotel Room: Hyatt Regency San Francisco.
Go here to book your room.
>>Local San Francisco Attractions
Questions?
If you'd like to register by phone or have questions regarding the program, please contact Saun Sayamongkhun at saun@accessintel.com.

Justification Letter to Attend:
The PR News Big 3 Conference will help you discover and implement ideas that deliver results. It will train you to search for innovative solutions. It will provide opportunities to make valuable connections with other PR and communications professionals who have solutions you need. And, it will prepare you for the road ahead.
You probably already recognize the value of attending this conference, and we'd like to offer some assistance to help you convince your supervisor and organization to approve the costs. Download the "Justification to Attend" letter—everything you need to present your business case. The template is simple to fill out and drop off with your supervisor for approval.
PR News' Certificate in Social Media:
Earn 8 points toward your PR News Certificate in Social Media
Get 32 points (4 PR News digital/social media conferences) and you'll become a PR News Digital PR Master!
About the PR News Certificate in Social Media: The Certificate in Social Media is a new program offered by PR News in response to a growing need by PR professionals like you to prove your worth and knowledge within your organization, among your peers and to your business partners. Being a digital leader today means constantly staying ahead of the curve and gaining the requisite knowledge and tools to execute smart and effective digital communications initiatives. By attending PR News' Digital PR/Social Media Conferences, you can do both.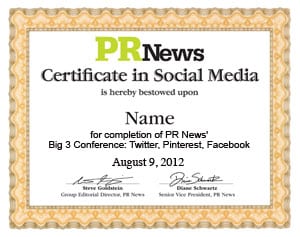 Each PR News Digital PR/Social Media conference you attend will come with points toward your Certificate in Digital PR. Once you attend 4 PR News conferences within a 24-month period, you will earn your Certificate and become a PR News Digital PR Master. This elite group of PR Professionals, PR News Digital PR Masters, will receive industry recognition as being one of the top Digital PR Pros. PR News will honor an annual class of Digital PR Masters at one of its signature events. As a PR News Digital Master, you will also receive exclusive benefits, such as discounted rates on all PR News products and events.
There is no additional fee to earn points or to receive your Certificate. It is the goal of PR News to provide this one-of-a-kind opportunity to our PR community while raising the bar on digital communications excellence and showcasing top talent in this key area of PR.
PR News holds a minimum of 3 conferences each year focused on Digital PR and Social Media. Simply attending these conferences (and learning while you're there!), you will receive 8 Points toward your Certificate in Social Media.
Each registration comes with the materials provided by the speakers and a personalized certificate of completion for attending the PR News Facebook Conference.
Testimonials from Past PR News Conferences:
This was a great event. Not only were the speakers knowledgeable and engaging, but the attendees were awesome. And networking was great! --Communications Manager, CIGNA

My favorite speakers were Eliason, McCormick, Miller, Perkett and Roth. Great content; great presenters. – Media Relations Manager, ACT

I thought it was incredibly relevant to the audience. I walked away with several key ideas that I can't wait to implement on my clients behalf. – Chief Public Affairs Officer, Clemson University

Great topics. Good variety. - President, Andrea Obston Marketing Communications

It was a fantastically event, and many of the strategies delivered today will inform our company's social media policies moving forward. – Online News Producer, Education Week

Very good, well organized. – Director eRecruitment & Social Media, Sun Life Financial

Great conference, speakers and venue!! Loved the clean, candid approach of all speakers towards the challenging environment of social media. -External Relations, US Operations and Marketing North America, Procter & Gamble

I thought it was a wonderful event and I learned a great deal. It was an incredibly valuable seminar.
-VP of Marketing, Retirement Living TV

I was also so impressed with the overall event. The quality of the presentations was top-notch, and the ability to network with like-minded people during the breaks and at lunch was invaluable. -Director, Global Media Relations, SAP AG

This was one of the best conferences I've ever attended. - Social Media Manager, Nautica

I learned more in one day than I've learned all year! -Director, New Media, American Heart Association

Fantastic keynote. The energy was perfect for a mid-day pick-me-up. Loved that PR is so well represented - rarely the case at other social media conferences. -Executive Director, PR & Communications, Jackson Spalding

Great information and speakers. -E-Marketing Specialist, Ruud Lighting, Inc.

Extremely helpful program and I learned a lot. -CEO, Alongi Media Solutions

Wonderful and insightful event in which I would like to have my entire team participate, including some clients. -Account Executive, Digital Brand Architects

Great event! I'm taking away valuable information and am excited to put the new knowledge to use! Well executed. Thanks! -Communications and Organizational Effectiveness Analyst, Hostess Brands, Inc.

Fantastic and inspiring! -Program Marketing Manager, Pacific Gas & Electric Company

Very helpful ideas that I will be able to use right away. Thanks! -Staff Services Manager, CalPERS

Great speakers. -General Manager, KXLY Radio Group
Sponsorship Information :
Presented by PR News, this conference offers a limited number of sponsor and exhibitor opportunities to connect with these communications professionals. To find out how to become a sponsor, contact Diane Schwartz, SVP & Group Publisher, PR News at dschwartz@accessintel.com or 212-621-4964.
Meet Our Sponsor:
About PR News:
The PR News family of products includes the weekly publication PR News, PR News Webinars and Workshops, the Platinum PR Awards, PR People Awards, CSR Awards, Nonprofit PR Awards, The 100 Best Case Studies Book, Guidebook to Best Practices in CSR, Guidebook to Best Practices in Measurement, Digital PR, Crisis Management and Media Training Guidebooks and PR News Webinars.