Social media platforms Twitter and TikTok made the decision to completely ban political advertising to spare users from bots and misinformation and create an open space for political conversation. Google edited its policies to limit targeting, and Facebook initiated new guidelines for candidates utilizing political memes. With all of these rules and regulations, one might think that political advertising on social media would achieve true transparency and candidate supporters would join together creating a harmonious media environment, as opposed to the current fervent universe.
If anything, the remaining candidates are throwing everything they've got into Super Tuesday, launching digital strategies from all corners of the democratic universe. You'd be hard-pressed not to open Instagram or Facebook and yes, even Twitter, without seeing some sort of political trend, video or paid advertisement.
We took a look at the diverse social media strategies each candidate harnesses. Some feel forced, while others emerged organically, completely separate from the official campaign team. Will they make a difference on Super Tuesday? We'll wait and see.
Michael Bloomberg: Memes, Instagram, Influencers
Former New York City Mayor Michael Bloomberg captured the attention of social media users in recent weeks by working with paid influencers to share what looked like an approachable strategy of humorous, organic memes. According to The New York Times, Bloomberg's Instagram following increased by 50,000 during the process, and it became the center of most business stories that week. While one can applaud the effort, it fell short with its intended audience—the youth vote. Adrienne Elrod, a Democratic strategist who worked on Hillary Clinton's 2016 campaign, told NBC News she thought Bloomberg's account had been hacked.
"I don't really think it worked," Elrod told NBC. "Because for Bloomberg, you want to come off looking presidential."
Sen. Bernie Sanders: Twitter, Facebook, Reddit
The Sanders campaign certainly exhibits one of the most established, passionate fan bases on social media, thanks to his strong 2016 campaign and digital outreach. Swarms of supporters vouch for Bernie on social—nearly 300,000 on the SandersforPresident Reddit page, 5 million likes on his Facebook campaign page and 10 million followers on Twitter, leading the democratic field in social media followers. Sanders may be the strongest Facebook candidate because of the grassroots support groups that began there in 2016 and have sustained since. However, Sanders himself has had to take to social to remind his followers to be civil at times, as Sanders swarms can get downright nasty towards non-supporters. The campaign sent a statement to CNN saying Sanders has said "there is no room in the political revolution for abuse and harassment online."
Unlike Bloomberg, Sanders' memes have worked fantastically well, and they appeared organically thanks to these swarms. Case in point? The "I am once again asking for" viral meme that followed a video of Sanders saying "I am once again asking for your financial support."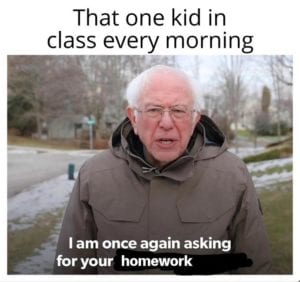 According to Jake Levy-Pollans, vice president, strategic services at Trilogy Interactive, the best social media strategies focus on authenticity.
"In the digital age, online communities have a great 'BS meter,'" Levy-Pollans said. "Smart campaigns get that: From her calls to small-dollar donors to her selfie lines, Sen. Elizabeth Warren clearly enjoys her one-on-one connection with voters -- this has the added benefit, like a snowball growing as it rolls down a hill, of encouraging people to post their selfies with her on their own social networks. Bernie Sanders sees his campaign as part of a bigger movement, so you see him organizing "supporter swarms" -- this has the risk of giving up control and having some supporters who post negative or angry content about competitors. And we saw that with Mayor Pete and his husband Chasten, two digital natives clearly more comfortable using social media -- and especially Instagram -- to have more direct conversations with the community.
"Those authentic, energized digital programs are the ones building the biggest followings of engaged and active supporters."
Sen. Elizabeth Warren: Twitter, videos, gifs
Sen. Warren has a plan for everything and many could argue, the most organized messaging of the campaign. When you google "Warren social media," the first result to pop up is a step-by-step guide to encourage supporters to engage on social media. The site even includes a link to her exclusive gif collection on Giphy.com.
The second search result? A link to her site that covers her stance on fighting digital disinformation. Warren's digital team has the SEO game down.
But for Warren, a real linguist and conversationalist, Twitter is her bread and butter, showcasing her authenticity and quick zingers. She even trolled Facebook in the fall, saying their attempt to ban disinformation was useless.
Former Vice President Joe Biden: Instagram? Facebook? Partnerships
The Biden campaign seems more elusive in regards to a direct strategy on social media, as the team is usually fighting off viral gaffes. Long gone are the days when Biden could get away with posting feel-good ice cream memes. Where Biden will now succeed is through his endorsement partners, who can now engage their millions of followers and act as his own team of influencers.
View this post on Instagram
Rep. Tulsi Gabbard: Twitter, video, podcast
And yes, Tulsi is still running for president, utilizing Twitter as her number one sharing platform. She released a new campaign policy video on Super Tuesday. She also touts her podcast with some of entertainment's latest and greatest including musician Dave Navarro of Jane's Addiction.
New Episode! Check out my conversation with Dave Navarro (Jane's Addiction) vía Skype on everything from election security, corruption and war. https://t.co/S60IX5qyra #StandWithTulsi pic.twitter.com/geQNU51CrX

— Tulsi Gabbard 🌺 (@TulsiGabbard) March 3, 2020