Insights, Strategies and Analyses for Brand Reputation Management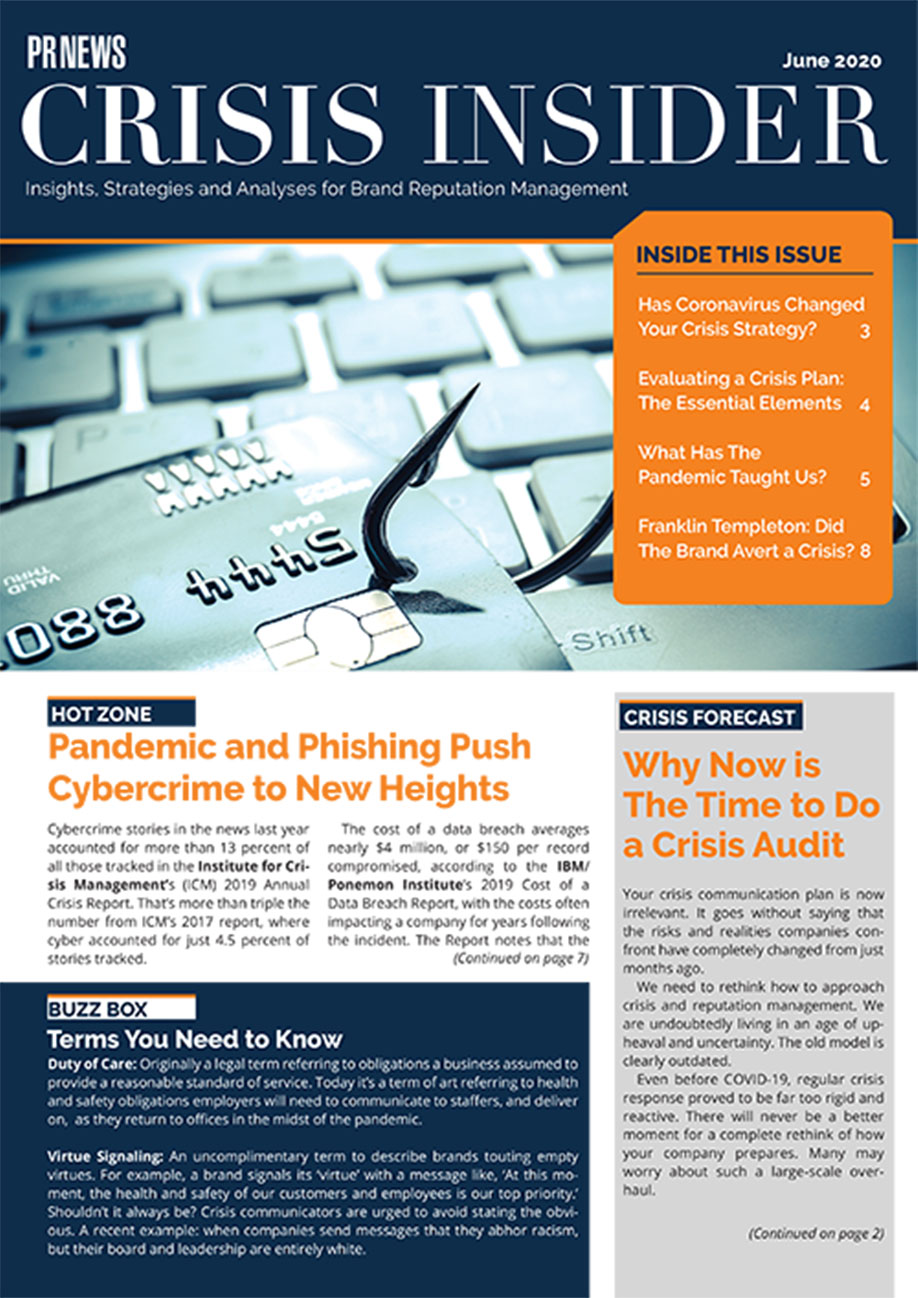 Crisis Management Trends. Containment Strategies. Recovery Blueprints.
For PR, communications and marketing professionals, crisis is always lurking. And while no one can predict exactly when disaster will strike, knowing what to expect—and what to do if it does—can buy you precious time. Time, it turns out, is crucial…
Research shows that within five days of a crisis, your customers and employees judge your response—the clock is ticking faster than ever before to protect the brand, manage perception, stabilize trust and maintain relationships.
Your Premium Benefits
Monthly Crisis Insider Report
Crisis Hot Zone: A "heat map" of business sector crisis rates
Crisis Forecasts: Vital crisis trends
Crisis Data Vault: Exclusive data
The Crisis Toolbox: Overview of crisis management tools
Crisis Averted: Profiles of organizations containing/recovering from crises
Crisis Dialogues: Roundtables with crisis experts
2021 Crisis Tracker Report
The industry's first and only annual data briefing on crisis management in the U.S.
Tracks overall average number of crisis and geography of crises
Top 10 "Crisis Types" of the year, broken down by key sectors
Incident and Response Times: how quickly crises happen, average response time—and how long to overcome crises.
Data segmented across three key audiences types—brands/corporate, government/nonprofit and education/academia.
Quarterly Analyst Briefing
Four times each year, our editors provide you with an exclusive "state of crisis" podcast that covers the industry's last 90 days. Includes conversations with leading crisis executives. Crisis Insider subscribers send in questions for analysts in advance that get answered during the briefing.
$250 Discount to 2021 Crisis Management Virtual Summit (March)
Your Crisis Insider subscription nearly pays for itself
$250 Discount to 2021 Crisis Management Virtual Summit (March)
Get facetime with hundreds of colleagues and crisis experts
Gain access to two days of classes and workshops
Subscribe Now, Cancel Anytime
$29 per month for your first year
Cancel anytime with our worry-free guarantee
Stay ahead of the curve and up to date on trends, best practices and research
Become a PRNEWS Crisis Insider Today—Cancel Anytime
Annual Subscription
$299
(Best Value! Saves 16%)
Team Subscription for 5 People
Site Licenses
Build a Crisis Preparedness Culture at Your Company
Subscriptions renews monthly/annually. Cancel anytime.
Join Companies Such As…
Corporations
Adobe
Bae Systems
Choice Hotels International
ESPN
FedEx Freight
Food Lion
Hallmark Cards Inc.
J.M. Smucker Co
Johnson & Johnson
Mercedes Benz
Red Lobster
Rolex Watch Usa
Southwest Airlines
Tennis Channel Inc
Agencies
APCO Worldwide
BBDO New York
Brownstein Group
Devine & Partners
Fleishman-Hillard
Hill And Knowlton Strategies
Jaffe Associates
Jones Public Relations Inc
Ketchum Public Relations
LMI
M&C Saatchi PR
Moore Communications Group
MWW Group
Ogilvy & Mather Worldwide
Non-Profits
American Medical Association
Blue Ridge Elec Membership Co
Charleston County Aviation Authority
Ct Housing Finance Authority
Danville Community College
Department Of Energy & Environment
Goodwill Industries Inter.
Mammoth Lakes Tourism
National Park Service
National Transportation Safety Boar
Texas A&M University
University Of Florida
VisitNorfolk
World Wildlife Fund
---
For questions about PRNEWS subscription services or if you need assistance with your order, please contact Client Services at ClientServices@accessintel.com or 888-707-5814.