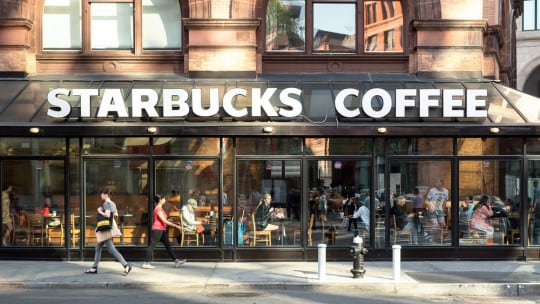 Starbucks has had a rough week after an incident at one of its stores in Philadelphia made national headlines. It seems to be trying to learn from its mistakes: The coffee chain announced it will close more than 8,000 stores across the U.S. for one day for antibias training for its employees.
Following the April 12 incident in which a Starbucks employee called police because two black men were sitting in the store without making purchases, CEO Kevin Johnson released a statement and subsequent video on the Starbucks news site apologizing to the men and promising the company "will learn from this and do better."
But in this climate, where seemingly there's a different corporate crisis every week, an apology is no longer enough. So, in another press release, the company said all of its company-owned stores will close on the afternoon of Tuesday, May 29, so "[employees can] go through a training program designed to address implicit bias, promote conscious inclusion, prevent discrimination and ensure everyone inside a Starbucks store feels safe and welcome."
The release also explained the curriculum for the training "will be developed with guidance from several national and local experts confronting racial bias," including the Equal Justice Initiative, the NAACP Legal Defense and Education Fund and the Anti-Defamation League. To ensure the training is useful, "Starbucks will involve these [organizations] in monitoring and reviewing the effectiveness of the measures we undertake." The company also said it will make the course available to other businesses.
When dealing with a crisis, it's important not only to acknowledge it and apologize, but also to demonstrate your organization is taking action to rectify the situation and ensure it doesn't occur again. Whether the education program will be successful remains to be seen, especially since implicit prejudices are notoriously hard to overcome.
Follow Hayley: @that_hayley