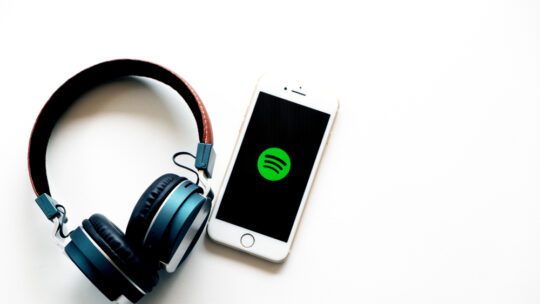 Move over, Facebook.
The executive headline headache du jour is the Spotify-Joe Rogan controversy. It features legends Neil Young and Joni Mitchell fleeing the streamer as cries for Rogan's de-platforming escalate. Calls to #DeleteSpotify and #CancelSpotify trended over the weekend.
Misinformation concerns
At the center of the controversy is an open letter from more than 200 members of the medical community expressing concern over COVID-19 misinformation Rogan's guests have shared during his show, "The Joe Rogan Experience."
Young and Mitchell pointed to misinformation as their reason for exiting the platform. "Irresponsible people are spreading lies that are costing people their lives," Mitchell wrote in a post Jan. 28. "I stand in solidarity with Neil Young and the global scientific and medical communities on this issue."
Worth the risk?
When a well-known brand is home to a divisive but highly popular creator like Rogan, one of the first questions its executives ask is whether the creator's short- to mid-term reputation risks outweigh his financial benefits. So far, Rogan is staying, and Young, as promised, is gone.
It's a high-stakes decision given Rogan's massive audience. His show is Spotify's most popular podcast. Rogan's exclusive deal is worth $100+ million; per Quartz's Lila MacLellan, he attracts about 11 million listeners each episode. In 2019, Rogan said he had 190 million user downloads each month. In contrast, Young has 6 million users per month; his music is not accessible exclusively on Spotify.
The Spotify share price was by no means in a healthy place at the start of 2022—already down 25 percent year over year as of Jan. 25, a day before Young pulled his catalog.
Bryan Cannon, CFP, CEO and chief portfolio strategist at Cannon Advisors, thinks the Rogan affair may have influenced the share price, though much of Spotify's stock plunge is linked to tech sector uncertainty. Fellow streaming giant Netflix's poor showing after its sell-off hasn't helped.
It's Rogan's game
Even though Spotify has made its choice clear, the company doesn't exactly hold all the cards. As Columbia Journalism Review's Jon Allsop writes, "Rogan is huge on Spotify with Spotify's help, but he doesn't need Spotify to capture people's attention. He was doing that fine on his own, and would doubtless do so again should Spotify kick him off."
Cannon agrees. "Joe Rogan's popularity has skyrocketed over the last year as a direct result of cancel culture, and to cancel him carries a lot of risk, which Spotify must weigh. If Rogan takes his show to another platform, you could see his listeners follow."
A non-apology with a twist
Rogan responded to Young's and Mitchell's departures in an Instagram video. The 9-minute retort included an admission of fault: Rogan said he doesn't always do a lot of prep for his shows.
It was also, in part, a non-apology apology. ("If I pissed you off, I'm sorry"…"I'm very sorry that they [Young and Mitchell] feel that way.")
Crisis communication specialist Daniel Roberts calls Rogan's video a "skimp apology" and an "example of what not to do when you're facing a crisis." Apologies should "never include qualifiers like, 'If I offended you', or even worse, 'If I pissed you off,'" Roberts says. "Qualifiers discount what you're communicating and are counterproductive to your goal of receiving forgiveness."
At least Rogan discussed his planned action to course correct: he promised to "balance out these more controversial viewpoints with other people's perspectives so we can maybe find a better point of view."
A proposed creative solution
Adam Ritchie, principal, Adam Ritchie Brand Direction, says Rogan's game plan was the right move. "Joe Rogan's even-keeled promise to do better research, and balance out contrarian guests with non-contrarian guests, was what he needed to do."
Ritchie proposes a creative solution: Spotify should "launch a sister podcast to 'The Joe Rogan Experience' called 'The Joe Rogan Fact Check.' It would be a post-game for every episode, breaking down any fact errors and unproven information presented on the show."
Finding the right talent could be tricky, as its host would need to be "as compelling to Rogan's audience as Rogan himself." But such a move could pay off, holding Rogan "and the platform accountable to their promises and policies. And it would encourage Rogan to self-police his interviews in real-time, depriving the 'Fact Check' of material until its existence became unnecessary." Ritchie adds that "if Spotify is for creators, this is how they could invent their way out of the problem."
Spotify's 'Facebook Moment'
To its credit, Spotify heard the groundswell of ire from subscribers and took seriously those who said they'd cancel their subscriptions.  Spotify deemed the fallout worthy of a lengthy response from CEO Daniel Ek on its blog yesterday (Jan. 30).
"Though Spotify received negative coverage about artists pulling their music from the platform, this is a small moment in the broader news cycle that can be shifted to how the company listened to their users and artists," Roberts argues.
Publish or perish?
In the post, Ek got things off to an eyebrow-raising start: "It is important to me that we don't take on the position of being [a] content censor." The press pounced, with CNBC's Ryan Brown coining the conundrum Spotify's 'Facebook moment.'
Ek then said Spotify would share its "long-standing" but as-of-that-moment unpublished Platform Rules. The rules now live in its newsroom. In addition, the company will test ways to make the rules more obvious to Spotify creators.
While clearly a long time coming, it's 'curious' that it took this long for Spotify to issue its guidelines. Such rules are table stakes for platforms. Tech reporter Casey Newton tweeted that Facebook's content guidelines already were "100x more detailed than this."
In this case, "Spotify took a page from Facebook's crisis communication playbook by showing actionable change on an issue that impacts the bottom line," says Roberts. "The CEO's statement followed by policy changes that are now public demonstrate the 'show and tell' approach of backing your words with action."
Spotify said medical- and COVID-19-related content will carry a label with an advisory and redirect to a hub featuring content from health authorities. "This is a very similar approach to what Facebook did at the beginning of the pandemic, when they received backlash around COVID-19 misinformation," Roberts notes.
Rogan said he supports the platform's new content advisory policy and COVID-19 hub.
What next?
For Ritchie, simply sharing the new rules would not be enough to stave off misinformation's spread. "Spotify needed to disclose its policies, but the inclusion of a warning label is like the RIAA putting the Parental Advisory Label on music in 1985. It only made those recordings more appealing to the audience it intended to protect."
About the de-platform or not conundrum, Cannon argues that "in a free society, opposition is simply a part of culture…Swinging one direction over the other...could backfire if the pendulum swings too far." Cannon says Spotify should listen to subscribers and partners, but work hard to find a middle ground that can make both sides happy. If a middle ground exists, perhaps it can be found through something like Ritchie's 'Fact Check' proposal.
If Spotify's core priority is to leverage popular yet controversial creators like Rogan, then it needs a strong communication plan "to figure out how to avoid future reputation damage from podcast hosts like Joe Rogan," Ritchie says. Until then, perhaps it's best if we stop expecting the streamer to act like a traditional music company.
Sophie Maerowitz is associate director, event content and writer for PRNEWS. Follow her @SophieMaerowitz.