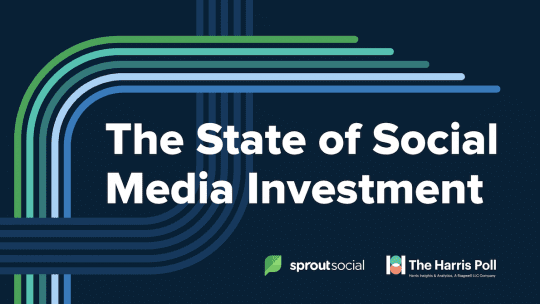 For many stuck at home in 2020, social media provided one of the only ways to continue exploring the outside world. According to a report by Hootsuite and We Are Social, social media usage increased by 13 percent this past year. 
It should come as no surprise that new research by Sprout Social shows that 91 percent of executives anticipate their social budget will continue to increase over the next three years. Nearly half expect to bump spending by 100 percent. 
Social Data As the New Business Intelligence
While social media is not a new messaging strategy in theory, it continues to evolve in practice. Long gone are the days of spray-and-pray posting. Businesses have become increasingly reliant on social data to inform their strategic planning, which provides important business intelligence to impact decision-making. 
The Harris Poll surveyed more than 1,000 U.S. consumers and 250 business executives to understand how people and businesses use social media today, and how they plan to use it in the future. "The State of Social Media: After a Year of Transformation, Executives Are All-In on Social," reveals the importance of social media as a business strategy, its role as a cornerstone of customer experience and the challenges facing brands in achieving success.
As the report states, executives anticipate the use of social media data to inform strategy and business decisions not just in the marketing department, but throughout an organization. Executives say social data points will influence decision-making across sales (67 percent), customer service (61 percent), product (53 percent), research and development (48 percent) and human resources (43 percent).
"There is no doubt this past year served as a catalyst for the digital transformation happening across businesses, but what I find most compelling from the report findings is that this transformation is disproportionately unfolding on social media," said Ryan Barretto, president of Sprout Social. 
Consumers Choose Social
Consumers, particularly younger generations, show no slowing down in their savvy social usage when it comes to finding, recognizing and supporting brands. 
"Consumers are clear—social media is where the customer experience should start, develop and end," Barretto said. "Compared to a year ago, consumers have increasingly used social media to discover new brands (43 percent), recommend brands to their friends and family (33 percent) and make a purchase (36 percent). These numbers become even more pronounced for younger generations."
Listening to followers and consumers has become an essential part of social strategy, and a weak presence will hurt a brand. According to the report, "62 percent of consumers believe businesses that don't have a strong social presence will not succeed in the long run."
Relevance strikes a chord with the consumer experience. Consumers expect companies to use social media to provide a more personalized experience based on previous interactions (61 percent), read and analyze what customers post on social media (59 percent), and know them better based on their activity on social media (51 percent). 
And a positive social media experience will make a lasting impact on a customer. The survey states that 78 percent of consumers are more willing to purchase after a positive experience with a brand on social, with 77 percent willing to choose that brand over the competition, and 72 percent will even increase spending. 
However, executives feel there is work to do and do not have confidence in their companies' abilities on social media. Fewer than half of executives describe their current social media strategy as 'very effective,' while 90 percent of executives agree their companies need to more effectively use social data to understand their customers. Sounds like social media expertise will continue to be a good investment in the years to come.
Nicole Schuman is senior editor for PRNEWS. Follow her @buffalogal