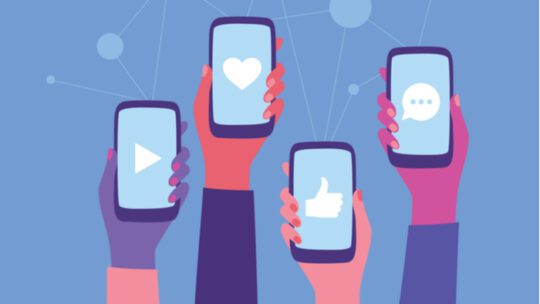 This month, we examine topics that garnered the most engagement in B2B and B2C posts last year.
The leading eight topics in each business type across Facebook, Instagram, Twitter and YouTube are shown in the charts below. While B2B and B2C companies posted about topics related to sustainability, DEI and the pandemic, consumer engagement varied between the B2C and B2B brands, according to Shareablee data provided exclusively to PRNEWS.
For example, sustainable, pride and diversity were top eight keywords for both B2B and B2C companies' posts. Yet sustainable was the second-most engaged-with keyword in B2C posts. It was sixth with B2Bs. Diversity was fifth-most engaged with both B2C and B2B posts.
Engagement, or actions, is the sum of likes, shares and comments.
Posts from B2C brands mentioning pride had 17.3mln likes in 2021, and posts mentioning LGBTQ had 4mln (including posts from Oreo, Apple, Calvin Klein and Nike). B2B brands saw 835K likes on content around pride and 659K likes when mentioning LGBTQ. B2Bs such as Instagram for Business and Salesforce posted, as did Pantone and IBM.
Words in B2B and B2C posts related to the pandemic saw a huge decrease in year-over-year engagement. COVID saw an 80 percent decrease in likes on the B2C side, most likely because it dominated conversations in 2020 with the onset of the pandemic, says Madison Busick, an analyst with Shareablee. The keyword pandemic similarly had a 75 percent decrease in likes.
On the B2B side, keywords such as vaccine and vaccination saw an 1132 percent increase in likes as vaccines became widely available in 2021.
Vegan Tops the Charts for B2C Brands; Sustainability on the Rise
Posts from B2C brands mentioning vegan topped the charts in 2021, with 45.3mln actions. Companies posting about the topic include many that launched products, including Kylie Cosmetics, grocery store chains like Trader Joe's and apparel companies like Doc Marten's.
In addition, year-over-year, while the word eco-friendly stayed stable in engagement (both years around 1.8mln likes), the word sustainability increased 18 percent year-over-year, says Busick.
B2Cs that saw high engagement with the word sustainability also highlighted product launches and features, such as adidas Originals, Huda Beauty (whose post featured the word vegan), Monster Energy and Sephora. An exception was a  Dior post, which featured the cover image of Vogue's sustainability-themed April issue with supermodel Gisele Bündchen.
'Inclusive' Surges for B2Bs 
Most words in B2B posts related to diversity and inclusion saw decreases in 2021, likely because the George Floyd protests and other events triggered huge amounts of conversation and engagement in 2020. Yet the word inclusive saw a 69 percent engagement increase year-over-year.
Posts from B2Bs mentioning diversity or diverse had 751K likes in 2021, and those mentioning inclusion or inclusive had 851K likes.
A notable post featuring inclusive came from GE during Pride month in June, which read: "At GE, we are committed to fostering an inclusive culture, where everyone feels empowered to do their best work because they feel accepted, respected, and that they belong. While this month concludes a dedicated global moment to celebrate and focus on the LGBTQIA+ community, it's up to us to build on this momentum every day."
The post, written by GE chief diversity officer Mike Barber, "limited comments to create a safe space for the community," but still saw nearly 9K likes.