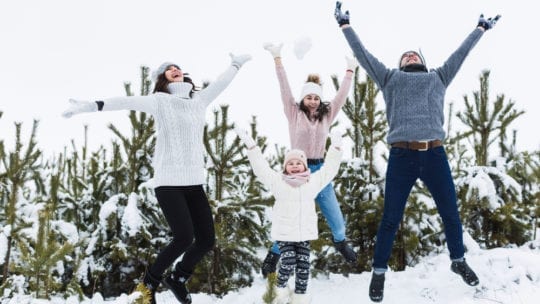 The holidays provide the perfect climate for social media marketing and engagement. Gift giving, charity giveback, promotions and sales, new product launches and the New Year set the stage for marrying creative copy with compelling imagery to inspire audiences to take action.
Here are five social media best practices that will help your business, client or organization stand out amid the holiday season flurry.
Incorporate storytelling
One of the best ways to spread holiday cheer is through a good story. Incorporate additional storytelling elements in your social media channels. Mix stories with all the promotional content you post. Invite your audience to share heartfelt sentiments as you inspire with an emotional driver carried through a theme during the holiday season. Start by sharing a blog post recapping the year's successes, talk about the impact your company has made in the community and add a group photo of your team on your channels to capitalize on the spirit of joy, thankfulness and reflection.
 Fewer words, more visuals
Your content is competing with other brands in cluttered social media feeds. Ensuring that your message sticks means avoiding wordier posts. Focus on digestible, visual content–videos and infographics are more likely to compel an audience to engage. In the end, this will increase your reach and maximize the spend you make on social networks. Your campaign may even go viral, the ultimate holiday season gift.
 Create a theme
Since your social media will be incorporating more visuals, use it as an opportunity to maintain an overarching theme.  This ensures your audience receives a consistent message throughout the holiday season and can easily identify your brand. Choose similar colors, filters for photos and designs that reflect your brand. Instagram is a great channel to establish a cohesive grid of images. Most important, weave a consistent call to action into your campaign. What do you want your audience to do? Buy, engage, learn, donate, etc. Start with the end game and design your campaign from there.
Offer promotions and giveaways
The season of giving offers a perfect time to weave special promotions and giveaways into your social media posts. Show off special deals, shipping discounts and other offers. This will move your audience to take action during the huge buying season. In addition, giveaways and other social media contests for gift cards and products will show your audience you're in the holiday spirit while encouraging engagement. Peel back the curtain on your business. Provide audiences with a behind-the-scenes look at how you're executing giveaways or promotions. Audiences want and seek out exclusive access.
 Promote your solutions
Use this as an opportunity to simplify customers' lives. Communicate how your business can help their lengthy to-do lists. If there's a specific problem your audience will face, such as print solutions for holiday cards or food catering, address these problems. Remind your customers how your products and services can help them get the job done.
Jamie Izaks is president of All Points Public Relations