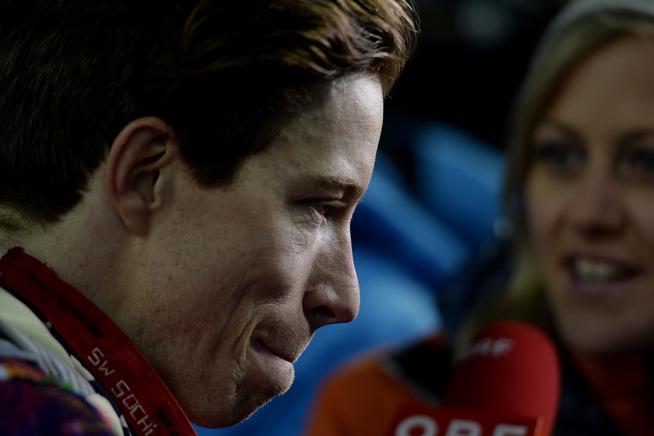 Warren Buffett said "it takes 20 years to build a reputation and five minutes to ruin it. If you think about that, you'll do things differently."
It's common wisdom in PR circles that Buffett's five-minute reference has declined to a few seconds thanks to the digital era. In the case of three-time Olympic gold medal winner Shaun White, 31, it might be 66 seconds.
That was the length of an exchange between ABC's Matt Gutman and White had during a press conference Feb. 13 after the athlete, arguably America's greatest winter Olympian, potted his third career gold medal.
The press conference, staged by the U.S. Olympic Committee (we'll address that group in a moment), lasted 13 minutes total. Male reporters asked all the questions, despite two female reporters who'd had their hands raised the entire time, waiting to be recognized, according to Christine Brennan in USA Today.
The reporter asked White to comment on media reports about his sexual misconduct with drummer Lena Zawaideh, who's played in White's rock band, Bad Things, which seems an apt name at the moment.
In August 2016, Zawaideh filed an amended complaint to a civil suit in San Diego alleging White sexually harassed her, sending her explicit and graphic images. White later admitted to sending explicit text messages, according to Brennan. You can find coverage of the allegations—warning, they're pretty bad—in Slate and Deadspin.
When the question about whether sexual harassment would tarnish his legacy arose during the press conference, White seemed a mixture of surprised and peeved.
True, he'd just competed on the world's biggest stage for his sport and triumphed—a sweet victory, as he'd overcome an earlier Olympic disappointment. His head was elsewhere. Maybe.
What, from a PR point of view, was more difficult to excuse was his word choice. He dismissed the sexual harassment reports—he and Zawaideh reached an out-of-court settlement in May—as "gossip."
"Honestly, I'm here to talk about the Olympics, not gossip," he said in response to Gutman's question. He added to the misery of his ham-fisted attempt at message bridging by trying to justify his actions instead of apologizing: "I am who I am, and I'm proud of who I am and my friends love me and vouch for me and I think that stands on its own."
At that point, PR pros had to be grimacing. The use of the word "gossip" was bad enough. Then White failed to apologize and instead tried to deflect attention to his behavior by saying he's proud of himself and that his friends admire him. Has White heard of #MeToo ? (The answer to that question is below.)
White was in far better form, PR-wise, a few hours later, during this morning's Today show. Either his PR person (he's mentioned he has a new one since the previous Olympics), U.S. Olympic Committee handlers, NBC (which is televising the games here) or all of them told White he'd need to address the gossip remark.
It was an interesting juxtaposition: the traditional next-day interview spot on Today and it's on NBC, where just months ago superstar host Matt Lauer was shown the exit after his years of sex-capades were exposed, somewhat conveniently for the peacock, right after the network's coverage of the Thanksgiving Day parade.
Lauer's replacement, Hoda Kotb, would be at the interview desk this morning, along with co-host Savannah Guthrie. The symbolism couldn't have been better.
Guthrie lobbed the slow pitch question at White. His response seemed planned, at the least.
"I'm truly sorry that I chose the word gossip. It was a poor choice of words to describe such a sensitive subject in the world today." @shaunwhite on his remarks at news conference when asked about harassment case pic.twitter.com/5q9jyCL61m

— TODAY (@TODAYshow) February 14, 2018
"I'm truly sorry that I chose the word 'gossip.' It was a poor choice of words to describe such a sensitive subject in the world today," White told Guthrie. "I'm just truly sorry. I was so overwhelmed with just wanting to talk about how amazing today was and share my experience, but yeah."
About the U.S. Olympic Committee (USOC): On the face of it, could you ask for a worse group to stage a press conference in which sexual harassment is mentioned?
Stateside, USOC is undergoing an internal investigation for sitting on its hands while Dr. Larry Nassar sexually abused female gymnasts for years. Several senators have called for USOC chief Scott Blackmun to step down over the incident. Media reports have Blackmun and USOC knowing in 2015 about Nassar's conduct. When a sports psychologist urged Blackmun, years ago, to speak out against Nassar, Blackmun allegedly responded that USOC lawyers had told him and the board "to keep our heads down and our mouths shut."
By the way, notice how the unseen moderator of White's press conference, Nick Alexakos, a spokesman for the U.S. snowboarding team, jumped in. "I think we're here to talk about the gold medal and the amazing day we had today," Alexakos said. "Thank you. So if you don't have another question, why don't we go ahead and pass the mic?"
"I'd like it to be addressed just a little bit," Gutman responded.
Alexakos started to respond, but White leaned into the microphone.
"I feel like I addressed it," he said.
He really didn't.
Seth Arenstein is editor of PR News. Follow him @skarenstein