Burger chain Shake Shack announced today it will return $10 million it received from the Paycheck Protection Program (PPP). The $349 billion federal program allowed small businesses to apply for relief during the COVID-19 crisis. It ran dry last week. With revenue of nearly $600 million in 2019, it's a stretch to think of Shake Shack as a small business.
CEO Randy Garutti and founder and chairman Danny Meyer penned a letter, which Garutti posted to LinkedIn. It explained the loan process and why the chain returned the money. The letter also paid tribute to Shake Shake's staff and outlined how PPP can run better.
"We urge Congress to ensure that all restaurants, no matter their size, have equal ability to get back on their feet and hire back their teams. We are an industry of 660,000 restaurants with nearly 16 million employees. While it is heartening to see that an additional $310 billion in PPP funding is about to be approved, in order to work for restaurants, this time we need to do it better," the letter said.
Garutti revealed that Shake Shake received capital on April 17 to "ensure our long-term stability through an equity transaction in the public market."
Though it faced public pressure, Shake Shack eventually chose to take the high road on PPP. Other large brands, such as Potbelly and Ruth's Chris Steak House, apparently will keep loans of $10 million and $20 million, respectively, much to the dissatisfaction of the public.
PR Takeaway: The Shake Shack letter is an example of how companies can reach out to audiences through brand transparency and deliver facts in a humane and empathetic way. While Shake Shack posted a long letter, it's easy to read, accessible to employees, investors, news media, brand enthusiasts and the public.
For example, in addressing employees, Shake Shack expressed its gratitude.
"Our teams have been heroic, pivoting our business to a new curbside pickup and delivery model, while keeping our teams and guests at a safe distance."
Shake Shack also did not step away from the issues the program seems to have, while making a statement on how government can improve to protect a vast and important restaurant industry. The formatting includes shorter paragraphs and bullets, which provide for easy scrolling and navigation to the letter's main points.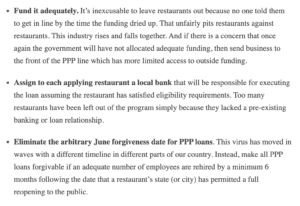 The tone of the announcement also shows the company cares. The letter has a heart, as opposed to a stuffy, all-business missive loaded with cliches—something all communicators can adhere to during this time.
"[W]e've decided to immediately return the entire $10 million PPP loan we received last week to the SBA so that those restaurants who need it most can get it now."
The decision to deploy a carefully-worded announcement likely will serve Shake Shack's reputation. Burger lovers may remember this moment and gravitate to the chain when making a decision on restaurant visits.
This article is part of PRNEWS' daily COVID-19 coverage, click here to see the latest updates.