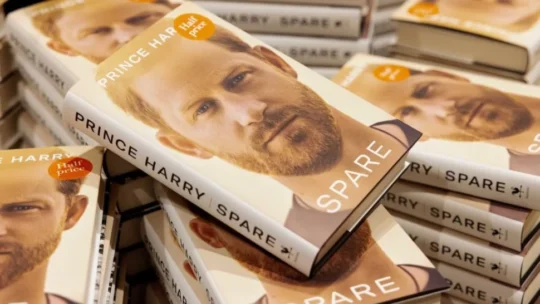 Any week recently where Elon Musk doesn't dominate the news is unusual. This week, his most newsy item had him losing a record amount of money. Speaking of money, Prince Harry hauled in a reported $20 mln initially, as did book sellers, as he and the royal family were wall-to-wall news this week as his booked launched Jan. 10. Here's a roundup of some of the week's notable PR stories.
Hamlin's well, but how's the NFL?
What happened? Could any story have had a happier ending than the discharge of Damar Hamlin from a Buffalo hospital, Jan. 11? Did Hamlin's incredible recovery boost his team? On the first play since his injury Jan. 2, the Buffalo Bills ran back the opening kickoff for a touchdown.
The communication issues: While Hamlin's discharge, we hope, ends his health scare, PR pros understand this incident could be part of a larger narrative. Perhaps for the rest of his life, anything Hamlin does becomes news.
In addition, how/if the NFL addresses similar heart/chest injuries will spur stories.
Injuries are bad PR for the NFL. It's already entwined in medical controversies, mostly about head trauma. For years, the league did its best to silence researchers establishing links between football and brain injuries.
Things were relatively quiet on that front until Oct. 2022, when Miami Dolphins' quarterback Tua Tagovailoa slumped to his knees during a game. This re-started discussions about football and head injuries.
Incidentally, some bad irony for the NFL. Like Hamlin, Tagovailoa fell to the field during a game. For many, that awful imagery was the first thing they thought of when Hamlin collapsed.
Unlike Hamlin, Tagovailoa took the field again this season. Sadly, he suffered another head blow recently and won't play during this weekend's playoff against…you guessed it, the Bills.
Homework time
PR students likely will study the NFL's handling of the Jan. 2 situation, which occurred in real-time, in front of 24 million "Monday Night Football on ESPN" viewers. Communication's role was paramount.
It was 66 minutes from the time Hamlin hit the turf, at 8:55 p.m., until the NFL postponed the game. It said nothing publicly during that time. Some PR pros believe the silence was a mistake.
Veteran communicator and sports PR pro Arthur Solomon disagrees. "There was nothing wrong with the NFL talking it over before making a statement," he says. "Too many people make statements quickly and then have to backtrack."
In addition, he says taking 66 minutes to postpone the game was not too long. "The NFL has done many things wrong. [Waiting 66 minutes] was not one of them." Covering up information about concussions was one of the wrong things, he adds.
5 minutes?
Yet more communication issues surround the incident. At roughly 9:14 p.m., ESPN announcer Joe Buck told viewers the NFL was considering resuming the game after players finished a five-minute warm-up. Buck repeated this information three more times.
However, hours after Hamlin's injury, former player and NFL EVP Troy Vincent insisted the league never considered resuming the game. He and the league repeated that view days later.
Yet, players and coaches are on record saying they were confused about play resuming. Some said the same anonymously.
Moreover, ESPN and Buck have not budged on their position that the NFL told them the game would resume. "I just know that we went with the information we were given by the league," Buck said later. He added that league officials did not call asking for a correction during the broadcast, despite his having said on-camera play would resume four times.
Solomon doesn't think Buck was lying. "Maybe he was confused about what he heard."
Though he won't say the NFL is obfuscating, Solomon notes the league's fractured history with truth. "Once you're caught [in a lie], it's hard for people to believe you," he says.
Sure sounds like a good case study.
Royal family crisis: 'no comment'
What happened? It seemed nothing else occurred this week except news about the release of Prince Harry's memoir "Spare " (Jan. 10). In addition to juicy media leaks and a "60 Minutes" interview, the book created news when it accidentally went on sale before official release.
The communication issues: Many. Do unauthorized leaks hurt sales or is any PR is good PR, which helps sales? As noted above, early sales are brisk.
Yet Otter PR crisis specialist Thomas Mustac believes the salacious leaks will "create a negative effect in some way, absolutely." Perhaps the public eventually will grow tired of hearing from Harry or won't trust what he says.
Still, Mustac admits leaks sometimes help book sales. Fans of the royals as well as haters "want the complete picture, which can only be had by reading the book yourself," he says. Since the leaks produced positive and negative stories, they "hyped the book even further" for fans and haters, Mustac says.
Another PR issue
The Royals are known for avoiding comment. The late Queen's PR approach was never complain, never explain. Indeed in Spare, Harry spends pages admiring "granny's" stoic public persona. Apparently, her PR legacy lives. So far, Buckingham Palace has remained silent about anything related to the book. In addition, the Royals continue making public appearances, bolster their image with citizens.
Yet, crisis communication normally excoriates 'no comment' as a strategy. When you remain silent, someone else provides the narrative. Even former FTX Sam Bankman-Fried, under house arrest, began conveying his narrative this week.
Indeed, as Ron Fournier, president, Truscott Rossman, told our Nicole Schuman this week, no comment is "a missed opportunity...it's a surrender and surrendering means losing. Never pass up a chance to tell your story." We'll see if the Palace heeds this advice.
Quick Hits
McDonald's: Striking a blow for corporate transparency, the Securities and Exchange Commission (SEC) hit former McDonald's CEO Stephen Easterbrook with a $400,000 fine and other penalties Jan. 9. This happened years after Easterbrook returned $105 million in a cash and stock clawback the disgraced CEO and McDonald's arranged.
Easterbrook left McDonald's in 2019 after a non-physical relationship with an employee. The burger maker subsequently found he had three additional relationships. That resulted in the 2021 clawback. Essentially, the SEC said this week Easterbrook's clawback wasn't enough.
"By allegedly concealing the extent of his misconduct during the company's internal investigation, Easterbrook broke that trust with–and ultimately misled–shareholders," an SEC official said.
McDonald's escaped an SEC monetary penalty because it cooperated during an investigation. Still, the agency said McDonald's had not disclosed enough publicly about the incident.
Neither Easterbrook nor McDonald's admitted guilt concerning the SEC charges.
Clearly, sometimes PR crises endure.
In Davos, it's the economy: Page said it will host the first reception for CCOs attending the World Economic Forum in Davos next week (Jan. 17). The CCOs are going to the right conference.
In a survey of Page CCOs, 41% saw economic uncertainty (inflation, recession and possible layoffs) as their top business risk for 2023. 32% said employee challenges (engagement, recruiting & retention, future of work) was the top risk. 25% said trust in business, government and media, political polarization, racism/DEI and misinformation was the top business risk. There were 56 respondents to the survey that was fielded in late Dec. through early Jan.
Interesting that layoffs and recruiting are top concerns. Page president Roger Bolton isn't surprised. "Our members are struggling to address these issues," he says. Today's employees, especially early-in-career staff, see the workplace "as a source of community" and have high expectations of employers. This is why CCOs "identified not just attracting, but also retaining top talent as great areas of opportunity."
In another question, 49% CCOs said stakeholder capitalism was their top business opportunity. There were 56 respondents.
To your health, PR: A bit of good news for PR from the US health and life sciences sector. In an FTI Consulting survey of 250 leaders, communication is a top priority for 2023 investment. One-third of the 35% of respondents anticipating increased 2023 budgets chose communication as a top priority for spending. Spending areas: social/digital communication (50%), conferences/events (50%), webinars/virtual events (38%), thought leadership (38%), value and access communication (38%).
Top 2023 concerns that should interest communicators include employee engagement and D&I (49%) as well as health equity (48%).
Not so healthy PR: A tip from 10 Downing Street about how not to respond to a journalist's question. The media, Labour and health unions blasted Prime Minister Rishi Sunak this week for refusing to answer a TV interviewer's question about whether or not his family has private health care or uses Britain's nationalized health service.
Considering Sunak's family's wealth is estimated in the millions, one assumes the Sunaks have private healthcare. Yet Sunak not only deflected, he poured cold water on the interviewer, claiming the question wasn't relevant. Days later, Sunak admitted the obvious–he uses a private doctor.
Media training takeaways are obvious: prepare for tough questions and avoid slamming your interviewer.
Seth Arenstein is editor of PRNEWS and Crisis Insider. Follow him: @skarenstein