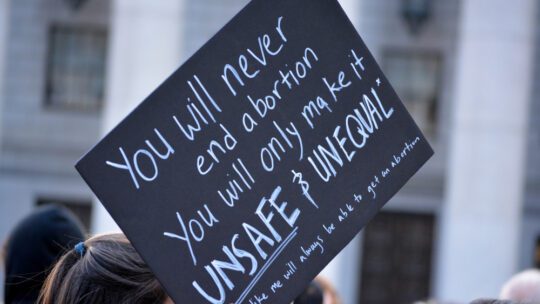 The U.S. Supreme Court overturned Roe v. Wade June 24, ending federal constitutional protections for abortions. That decision, which caused immediate public protest, leaves abortion rights decisions to the states. As of today (June 27), nine states have outright abortion bans, including Alabama, Arkansas, Kentucky, Louisiana, Missouri, Oklahoma, South Dakota, Utah and Wisconsin.
After the decision, companies that support reproductive rights centered messaging around a woman's right to have autonomy over her body. Some organizations provided information about abortion and a few companies pledged they'd cover travel costs.  
Corporate Messaging
Messaging around abortion rights often is framed as a binary issue: pro-choice or pro-life. However, few Americans see it this way, data suggests. Indeed, Pew Research Center surveys show a majority of American adults believe abortions should be legal in some cases, but illegal in others. Should this influence corporate messaging around the issue? 
Curtis Sparrer, principal of Bospar, says the debate is poorly framed. People who want to prevent abortions portray the debate as a binary question, he believes. His view is that corporate messaging should emphasize actions companies will take in support of those whose rights were stripped last week. 
"Some companies make a point that they are pro-choice and pro-women," says Sparrer. "But if they leave it there, that's going to be insufficient. Every moment has to be a time where we remind people that this is unacceptable, and we are going to take action. And that action has to be the entire political system."
Jenny Wang, VP at Clyde Group, also believes action outweighs a company's initial statement. In addition, she emphasizes internal messaging.
"I'm more concerned with how a company is messaging internally than externally," says Wang. "If companies are posting on social media, but haven't communicated well to their employees or committed to certain action, then [social posts] mean nothing."
Companies, she adds, should consider donations to organizations that help "those in need of reproductive care" or matching employee donations.
Lauren Hobart, DICK'S Sporting Goods president and CEO, provided a prime example of a corporation initiating a narrative and taking responsibility for employees' health options.
Corporate Support
When a draft of the Roe decision leaked in May companies such as Citigroup, Salesforce and Match Group pledged financial support for employees with medical expenses that included abortions. Some brands followed suit June 24.
DICK'S Sporting Goods (above) said it will provide employees up to $4,000 "to travel to the nearest location where" they could get a legal abortion.
Wang hesitates to give blanket advice on Roe's aftermath, as each company is different. Yet she contends that it is heartening to see some large companies acting as well as speaking.
"Implementing travel and medical reimbursement reiterates a commitment to employees beyond simply expressing sympathy for the pain" of the Roe decision.
For Sparrer, "travel reimbursement is a good starting point, but much more work must be done to ensure that women's reproductive rights are protected." 
Corporate support for reproductive rights is good business, he adds. Current or prospective employees might not want to live in a state or work for a company based there that does not respect their bodily autonomy. 
Yet a Gartner poll from late May found 60 percent of HR executives said they wouldn't be adding Roe-related policies. Fewer than 10 percent said their companies would pay for some or all of employees' travel costs for reproductive care. 
Corporate Action
Sparrer holds a unique position in the debate. Bospar offered a relocation plan for staff immediately after the Texas abortion ban was announced, in 2021. Under its Texas Relocation Program, Bospar paid expenses of staff wanting to leave the state. 
"We wanted to make sure that we were protecting our staff and...their concerns were heard...," Sparrer says.  
Other companies followed Bospar. The program received extensive media coverage, according to Sparrer. 
In the wake of Roe, he believes allyship for reproductive rights needs to improve. 
"To effectively mount the proper counter-talent that's going to change things, companies and people need to be absolutely crystal clear in this moment of crisis and not enough are."   
Adds Wang, "it is important that companies are aware that this is something deeply impacting their employees and that they create a safe environment for them to feel heard and supported through the issue."
Andrew Byrd is a media associate at PRNEWS