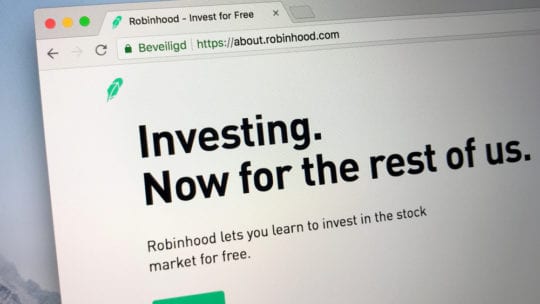 The investment management and stock trading app Robinhood has come under fire in recent weeks for its allure to young and inexperienced investors. On July 8, a New York Times report took a look at those who have lost big on the app, delving into common complaints from Robinhood users including gamification and technical glitches.
The Times article put a face to those hit hardest by the app's accessible and risky trading options, interviewing the Dobatse family in San Diego. They told the Times they lost $860,000 on the app in March. The story reads like a cautionary tale against gambling addiction, propagated by Robinhood's easy access to quick gains and its gamified interface. Employees speaking on condition of anonymity revealed that the company installed bulletproof glass at its California HQ to protect against irate users of the app. In addition, employees said the company "failed to provide adequate guardrails and technology to support its customers."
The Times story also dredged up a dark moment in Robinhood's recent history, noting that Alex Kearns, 20, a college student in Nebraska, killed himself June 12 after logging into his Robinhood account and seeing that his balance had dropped to negative $730,000. His family posted his suicide note on Twitter.
To Robinhood's credit, on June 19, co-founders Vlad Tenev and Baiju Bhatt penned a letter on the company blog sending condolences to Kearns's family and noting steps the company will take to avoid future disastrous outcomes for customers. It listed action items in service of transparency, investor education and interface improvements. The company also made a $250,000 donation to the American Foundation for Suicide Prevention.
Committing to proactive steps and making monetary donations are communications best practices in the face of such a tragedy, but it should be noted that the blog post came a full week after the June 12 suicide. As most PR practitioners know, in today's news cycle, a week can feel like a month. One wonders why the company's leaders, once press darlings for their mission-driven messaging (they've cited the Occupy Wall Street movement and the widening wealth gap as inspiration), waited so long to make a statement.
A Vox article, "Inside the risky, reckless world of pandemic day trading," mirrored the Times article. It put Robinhood in the crosshairs for tempting young, inexperienced investors. In addition, it noted the hefty profit margins the company makes on each trade, despite the appearance of "frictionless and free" transactions. Clearly, something is getting lost in translation in the communication between the app and its users. For instance, Kearns actually had a $16,000 balance in his account, not a $700,000 debt as he believed in the moments before his death, the article notes.
Running through Robinhood's press coverage this week is a pandemic-hastened flood of equity options its users are trading, per yet another article, this time from Quartz. Evidently, options trading is a short-term route to quick returns, but only if you're very lucky.
Thus, a pattern familiar to PR pros emerges—a chain of mainstream publications picking up the same story over a matter of hours, reopening old wounds and shining a light on a brand, for better or for worse. The coverage is not entirely negative: Despite likening the company to a gambling entity, the Times lays out Robinhood's lucrative business model, $8.3 billion valuation and competitive advantage against more traditional Wall Street firms. A July 8 Fortune article also leans into Robinhood's profitability.
Because this week's slew of media coverage is mixed, it could be a challenge for Robinhood's PR team to determine whether or not to let the press cycle play out without issuing statements. (As of this writing, the company hasn't tweeted since July 2, and the June 19 post about Kearns's death is the latest on the company blog.)
Allowing the media to craft the narrative of Robinhood's potentially predatory business model might be a necessary evil for the company's comms team, considering it also includes Robinhood's profitability. The narrative plays to stakeholders who care more about business value than customer satisfaction (more experienced investors; venture capital funders).
Still, if the last decade has taught brand communicators anything, it is not to underestimate consumer preference for responsible, transparent and value-driven brands. And given Robinhood's rise was based on a youthful call-to-action to reclaim personal finances from Wall Street, the company's messaging likely will not be able to straddle the fence much longer.
Considering employees are beginning to anonymously speak to the press, it might be worthwhile for Robinhood's comms team to consider the media attention, however mixed, as a simmering crisis. In the meantime, the team would be wise to put a crisis response plan into place, if not yet into motion.
Follow Sophie: @SophieMaerowitz