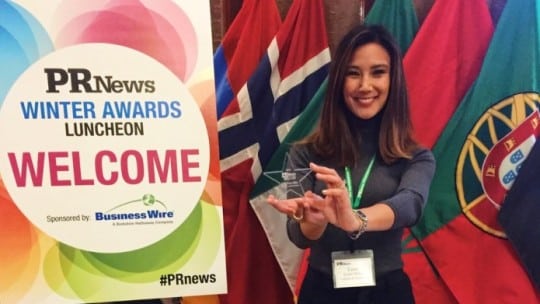 The young PR professionals behind some of the best PR and marketing campaigns of the past year were honored on Dec. 6 as part of PR News' Winter Awards luncheon, held at the historic National Press Club in Washington, D.C. At the luncheon, PR News celebrated the winners of its 2016 Rising PR Stars Awards 30 & Under awards, a group of hardworking and highly creative young PR professionals representing a diverse array of agencies, corporations, nonprofit organizations and professional associations from around the country.
When they came up to the podium to accept their awards, this year's Rising Stars were asked, "What is your dream 'You Only Live Once' moment?" Winners' responses included adventurous travel plans, acting both as Beyoncé's publicist and backup dancer and striking off solo to start one's own PR firm.
PR News also honored this year's inductees into its Hall of Fame, celebrated the 2016 Top Places to Work in PR, Diversity & Inclusion award winners and 2016 PR People Award winners.