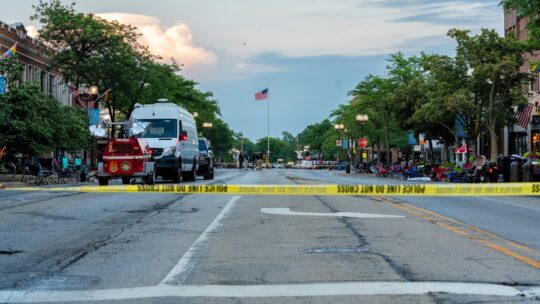 In what continues to be one of the most deadly years for gun violence in America, a usually celebratory day, July 4, turned tragic across multiple cities. 
A shooter in Highland Park, Ill., a Chicago suburb, opened fire with a high-powered firearm on a crowd watching a parade. The incident left seven people dead and nearly four dozen injured.
Another tragic event occurred in Philadelphia, when shots rang out during the city's fireworks display. Two police officers suffered gunshot wounds. 
Poor Response
As citizens looked to leadership to make sense of the incidents, unfortunate sound bytes emerged. Illinois state senator Darren Bailey spoke about Highland Park when a scheduled parade 14 miles south, in Skokie, Ill., was canceled in the shooting's wake.
The Republican nominee for governor used a tone that seemed to brush off the shooting. "Let's pray for justice to prevail, and then let's move on and let's celebrate the independence of this nation," he said. 
Bailey has since apologized. 
In Philadelphia, mayor Jim Kenney expressed frustration with gun violence late Monday. Sounding a bit like former BP chief Tony Hayward's selfish gaffe during the BP oil spill, Kenney said worrying about gun violence had sapped his desire for the job. 
"Until Americans decide that they want to give up the guns, and give up the opportunity to get guns, we're gonna have this problem," he said, before adding: "I'll be happy when I'm not…mayor." 
And last we checked, New Hampshire house majority leader Jason Osborne still had not removed a July 3 tweet encouraging the public to buy more rounds for AK-47s instead of hot dogs. 
Instead of spending $20 more than last year on your Independence Day hot dogs, lay off the calories and grab a few more rounds for your AK-47. You'll thank yourself later.

— Jason Osborne (@Osborne4NH) July 4, 2022
A Better Response
Ben LaBolt, partner, Bully Pulpit Interactive, says the statements above lack the major components of empathy and leadership. 
"From mourning parents to concerned citizens," LaBolt says, "we turn to our leaders in troubled times to understand why something happened. And what can be done to prevent it in the future."  
LaBolt mentions Illinois governor J.B. Pritzker's response as an example of a correct approach during a traumatic situation. 
"He said 'we have the right to be angry.' [And] he made clear his point of view, that we were in fact giving up our freedoms by holding ourselves hostage to people who should never have access to guns, let alone assault rifles, in the first place."
In addition, LaBolt says, Pritzker "made clear what concrete actions we can take to confront the problem." Pritzker followed his words with agile ideas for response. 
Learning from Law Enforcement
At a time when mass shootings are no longer uncommon, communities seek timely facts and information about public safety from law enforcement. Accordingly, police need solid communication plans. 
The Metropolitan Police Department of Washington, D.C.'s Office of Communications disperses internal and external information during crisis situations, says Dustin Sternbeck, the Office's director.
Internal communication helps inform staff, of course, but for the Metropolitan Police also may also include local government officials, city leadership and tertiary agencies, such as schools, he says. As such, it's important to have a list of trusted partners.  
"It's important to have trust and buy-in from some pockets of the community...you need to identify who's the best community individual to amplify critical information out to audiences," Sternbeck says. 
Similarly, it's important to identify timely information, which can be life-saving for the community.  
"What actions do you want them to take to ensure that they are not going to be put in harm's way or [what information] is essential to them?"
Sternbeck also notes the importance of building a strong relationship with media. News outlets can "reach a large number of people in a short amount of time, and tell the story," he says. "So you really look at them as trusted partners to provide key information to the community."
And even though crisis can be chaotic, getting clear information to the public in a calm, controlled manner is vital. As such, Sternbeck says it's good to pause a minute before saying anything. 
"We've got to take a step back every once in a while because you're in the moment and there's a lot of emotion," he says. "Before you go on record, before you go on the camera, just read your statement to some trusted advisors to ensure that you're not going to be making a mistake."
Asking the simple question of 'how does that sound?' to a colleague can go a long way when working in the throes of a crisis.
Nicole Schuman is senior editor for PRNEWS. Follow her @buffalogal