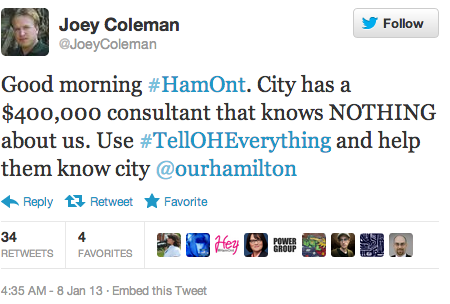 The #TellOHEverything hashtag trended when residents of
Hamilton pushed back against Dialogue Partners for allegedly
not knowing enough about the city it was campaigning for.
It's one thing when communicators misrepresent a brand, but it's a different story when they misrepresent an entire city—constituents tend to notice and defend their home turf.
The people of Hamilton, Canada's ninth-largest city that lies on the banks of Lake Ontario with a population larger than 500,000, did so last week when a communications firm's local, civic engagement campaign went awry.
According to the National Post, on Jan. 7, during the launch of the $376,000 Our Voice, Our Hamilton campaign, the consulting company, Dialogue Partners, showed it lacked local knowledge when it tweeted "what is 'HSR'" in response to a comment posted on Twitter. HSR is the Hamilton Street Railway, the city's transit system.
News broke the following day that the agency had posted pictures on its Hamilton's Pinterest page of a courthouse in Hamilton, Ohio, and of a T-shirt saying, "Hamilton pop. 354," likely representing the small town of Hamilton, Washington.
Angered by the the HSR tweet, Hamiltonians' tweets inundated the #TellOHEverything handle, with obvious Hamilton facts directed to the @OurHamilton campaign Twitter account; information that that agency would know about Hamilton if it were located there. Within 45 minutes, the hashtag was trending nationally, according to the Post.
When complaints began about "atrocious language" on the Our Hamilton website, the City of Hamilton issued a statement announcing that it had instructed the company to take down the website "due to some offensive and inaccurate content."
Although Dialogue Partners didn't respond to any media inquiries, in a Jan. 13 blog post it owned up to its mistakes and wrote that, with the Hamilton project, "things have gone really wrong, really fast. Where mistakes have been made, where people have questioned our credibility, our competence and our ability to do meaningful and effective engagement." (The firm agreed with its client to sit in silence, but wrote that silence is not the right response in this situation.)
The agency also provided 10 lessons learned from the debacle, acknowledged the challenges it experienced so far, and asked for the chance to earn back the trust of Hamiltonians. The lessons learned for PR pros? Dialogue Partners said it themselves—never underestimate the power of a group; a meaningful, inclusive process is critical and public engagement can be emotional and/or controversial and doesn't follow a linear approach.

Follow Bill Miltenberg: @bmiltenberg