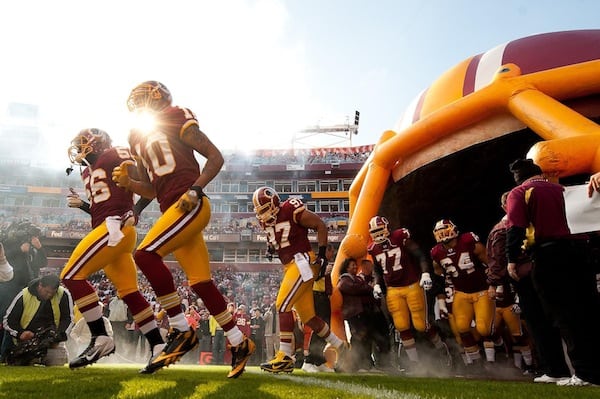 What's the best way to avoid a flood of criticism and sarcasm directed at your brand on Twitter?
That's an easy one: Look beyond your own brand on Twitter and learn from others' mistakes and crises. The Washington Redskins, for instance, might have thought twice before launching its #RedskinsPride campaign yesterday if it had paid close attention to the New York Police Department's #myNYPD campaign from last month. The NYPD asked its Twitter followers to post interactions with its police officers using the #myNYPD hashtag, which inspired the sharing of images of police brutality and led to negative global attention.
The NFL's Washington Redskins are under widespread pressure to change its team name; 50 U.S. senators recently signed a letter to the NFL asking the league to press the franchise and owner Dan Snyder to dump the Redskins name in favor of something less controversial.
On May 29, the team launched a Twitter campaign in response to the letter: "Tweet @SenatorReid to show your #RedskinsPride and tell him what the team means to you."
There has been some support on Twitter for the franchise to retain the team name, but the overall tone has been deeply negative—and that's been the perception in the media as well. The hashtag and the phrasing of the tweet read like invitations to bash the team—as was the case with #myNYPD. Some typical examples:
Worst team name in this era. Thanks for keeping stereotypes alive & well. #RedskinsPride
Stop the rationalization of racism. Change the name. #RedskinsPride
Hopefully the backlash against #RedskinsPride will show the owner how out of touch Dan Snyder is
Cannot believe this exists in 2014. Change the name. #RedskinsPride
Hey @Redskins . I think you need a new PR strategy!
#RedskinsPride ?? How about #RacialSlurPride #changethename
In all fairness the @Redskins should have to call themselves the Washington Racists for the next 82 years. #RedskinsPride
#RedskinsPride Is Probably The Worst Hashtag Ever
As a lifelong skins fan, I've come to the belief that a slur that offends any can't truly honor a group's heritage
If you haven't seen the responses to the @Redskins recent #RedskinsPride campaign, just search the hashtag. Braindead organization
Having the top trending hashtag is not always a good thing. In the case of the Redskins organization, #RedskinsPride could serve to galvanize even more pressure to change the team name. In a 140-character medium, every character needs to be put under a microscope and, for brands, a crisis strategy should be in place for every Twitter campaign under consideration.
Follow Steve Goldstein: @SGoldsteinAI