Is the glass half full for communicators? The just-released PR News Salary Survey shows PR pros seem a satisfied group in terms of the money they make for the work they do.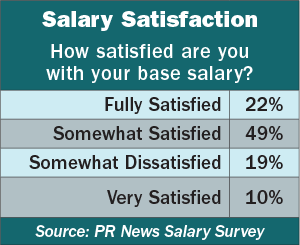 Nearly 30% said they took home a base salary of $110,000 or more in 2017. About 50% said they made a base of $90,000 or less. These figures track closely with those reported in the previous edition of our annual survey. The biggest gainers in 2017 were on the nonprofit side of the business, though their compensation still trails their peers in for-profits and agencies. [Note to Subscribers: The PR News Salary Survey can be found in the Exclusive Research section of the PR News Essentials page. In addition, we'll be providing more analysis of this survey in our next edition.]
While it's difficult to compare salaries between sectors, the U.S. Bureau of Labor Statistics reported the median wage in the U.S. during Q4 2017 was $44,564. For those in professional, management and related occupations, the average salary was $64,220. Wages were up 0.9% year over year. By this standard, PR pros are justified in being happy with their lot (for example, see Average Base Salary of Brand Communicators table below).
Looking at raises, the survey shows three of four PR pros received a bump-up in 2017. This also is consistent with the 2016 survey's findings. Also consistent is that most raises were 3% or less.
Here's where the half-full glass seems to come into play. 22% of the nearly 900 PR pros in the survey said they are "fully satisfied" with their salary (see table, above, at left). Another 49% said they were "somewhat satisfied." How, though, can somewhat satisfied be defined? Similarly, how to read the 19% who said they were "somewhat dissatisfied"? The question, of course, is what combination of base salary, bonus pay, soft benefits and other intangibles will make each member of those groups fully satisfied? It's a question good CEOs, chief communications officers and HR pros grapple with daily.

Money's Not Everything
Several clues may be found in the responses communicators provided to questions about the most-important soft benefits (see table at right). It's important to note maternity leave (57%) and flexible work schedules (47%) were mentioned often, too.
Traditional Skills Still Lead
Last week we reported exclusively on The Society for New Communications Research (SNCR) of The Conference Board study indicating the push for measuring communications data and using it to arrive at operational insights was not as advanced as it seemed (PRN, February 27, 2018).
One piece of evidence to advance that thesis was the skills companies said were most useful for communicators. Companies told SNCR the most sought-after skill was writing; near the bottom of the list was "mathematical/statistical competence," skills likely to apply to working with data.
As the table below shows, writing tops our survey's skills list, too, though we asked the question differently, seeking skills most useful for advancement. Similar to SNCR, measurement is down the list, grouped in "secondary skills."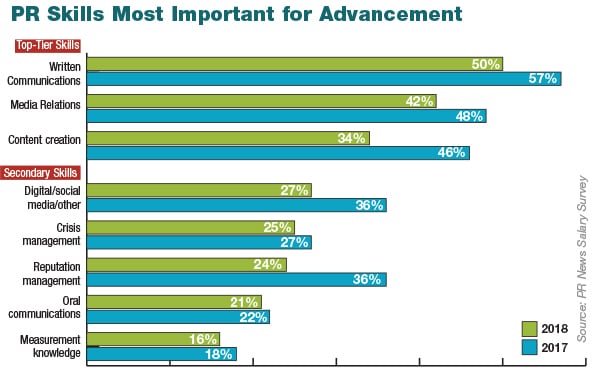 NOTE: This content appeared originally in PR News, March, 6, 2018. For subscription information, please visit: https://www.prnewsonline.com/about/info