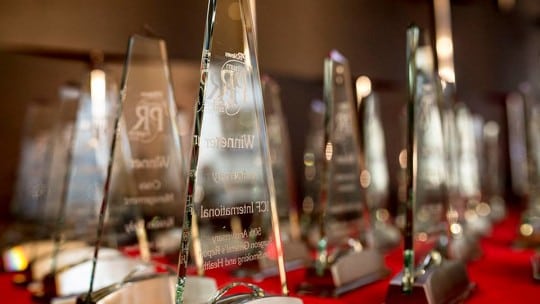 The role that PR and marketing professionals are asked to play is constantly expanding, requiring mastery over many aspects of communications—such as live video, measurement, data analysis, SEO and social listening—above and beyond traditional skills like crisis management and media relations.
This nonstop evolution in creativity and versatility will be celebrated at PR News' annual Platinum PR & Agency Elite Awards luncheon, which praises the best communications programs and teams of the past year.
To reflect today's ever-changing skill set, we've added several new categories to this year's awards to spotlight the top campaigns on Snapchat, Instagram and YouTube, as well as advances in content marketing, visual storytelling, digital communications and live streaming. We'll announce the winners and honor all of the finalists for the 2017 Platinum PR Awards at our luncheon Sept. 14 at the Grand Hyatt in New York City.
We'll also be inducting six campaigns into PR News' Platinum Hall of Fame, which honors communications campaigns that can serve as sources of inspiration for years to come.
The 2017 Platinum PR Awards luncheon will be co-hosted by TV personality Ryan Serhant of Bravo's hit series "Million Dollar Listing." Serhant, who has been featured on the series since its inaugural season in 2012, is more than just a real estate pro. In 2007, he landed the role of Evan Walsh on the soap opera "As the World Turns," a character he played for two seasons. He also starred in Noah Baumbach's 2014 feature film "While We're Young" alongside Ben Stiller, Naomi Watts and Amanda Seyfried.
The winners of PR News' 2017 Agency Elite Awards will also be announced at the Sept. 14 luncheon in New York.
2017 Platinum Hall of Fame Inductees
ALS Association – ALS Ice Bucket Challenge
American Greetings and MullenLowe – World's Toughest Job
Bayer Corp. – Making Science Make Sense
Home Depot Foundation – Celebration of Service
The Lustgarten Foundation – Let's Win!
Taco Bell – Social Media Blackout
2017 Platinum PR Awards Finalists
PR Professionals of the Year
Rowan Benecke, Burson-Marsteller
Kristin Cahill, GCI Health
Jon Harris, Conagra Brands
Janice Kapner, T-Mobile: Un-carrier Communications
Ryan Nawrocki, Maryland Transit Administration
Dan Simon, Vested
Pam Slay, Crown Media Family Networks
Jon Sullivan, Aflac
Dana Taormina, JConnelly
Katherine Watson, Northside Hospital
Josslynne Welch, Litzky Public Relations
Ayme Zemke, Beehive Strategic Communication
CEO of the Year
Dan Amos, Aflac
Paul Comfort, Maryland Transit Administration
Sean Connolly, Conagra Brands
Maura Corbett, Glen Echo Group
Large PR Firm of the Year
Burson-Marsteller
FleishmanHillard
Ruder Finn
Midsize PR Firm of the Year
DeVries Global
GCI Health
Hunter Public Relations
MWWPR
North Strategic
PAN Communications
PMK*BNC
Spectrum
Small PR Firm of the Year
Arketi Group
Bospar
Candor
Crafted Communications
DEVENEY
Gavin
Henson Consulting
INK Communications Co.
JPA Health Communications
Kite Hill PR
Moxie Communications Group
Murphy O'Brien
rbb Communications
Walker Sands
Warschawski
Marketing Team of the Year
City of Centennial, Colorado
Evite
Pearle Vision
Valley Forge Tourism & Convention Board
PR Team of the Year
Aflac
Burson-Marsteller - U.S. Technology Team
Chobani - Communications Team
City of Centennial, Colorado
Consumer Technology Association
Hallmark Channel - Network Program Publicity Team
Hampton by Hilton
The Salesforce - Dojo Get to Know these PR Black Belts
Southwest Airlines - Communications Team
T-Mobile - Un-carrier Communications
UN Foundation
Voya Financial - Corporate Communications team
Anniversary
Arsht Center, WOW Factor, rbb communications – Adrienne Arsht Center for the Performing Arts of Miami-Dade County
CME Group – Products of Progress Campaign
CropLife International – Table for Twenty: Celebrating 20 Years of Plant Biotechnology
Edelman – Dove Beauty Bar's 60 Years of Care
Genentech and FleishmanHillard - 40 Defining Moments
GCI Health – Celebrating the Unsung Heroes of the Multiple Sclerosis Community
Grey – Find Your Park/ Encuentra Tu Parque
Kirvin Doak Communications and Blue Man Productions – Blue Man Group 25th Anniversary
Litzky Public Relations – Play-Doh Marks 60 Years with Unprecedented Media Coverage
NewYork-Presbyterian – Reflects on 9/11
TCDRS – 50th Anniversary
Annual Report
The Association of Junior Leagues International – A Light in the Dark: 2015/2016 Year In Review
Deloitte – 2016 Global Impact Report
Ferrovial – Integrated Annual Reporting
Hotwire PR – Engage, Interact and Inspire: Bringing the New Teacher Center's Annual Report back to Life
IBM – You, with IBM
Inner-City Scholarship Fund – "Most Likely to Succeed"
OCC – Innovation, Resiliency and Excellence
Octapharma AG - Annual Report 2016
PepsiCo 
Blog
American Medical Association – Creating a News Destination for America's Physicians
The Coca-Cola Company – Coca-Cola Journey
Creation – MS: No Filter
DEVENEY – Changes the Blogging Game
HP Inc. – Reinventing the HP Newsroom
Humana – How blogging helped us tell Humana's story and lift our brand during uncertain times
Pavone – Turkey Hill Dairy - Ice Cream Journal 
Branding
Bank of America with Burson-Marsteller– Cutting Through the Clutter – Elevating Bank of America to the Industry Fintech  Leader
Cohn & Wolfe – Sharpie: Launching a Brand From 20,000 Feet
Cohn & Wolfe – Stop Smears, Spread Joy with Paper Mate InkJoy
Current Marketing – Brita: Drink Amazing
Fast Horse – Hi-C Ecto Cooler Makes a Haunting Return to the Delight of Millennials
Food Lion – "How Refreshing" - New Ad Campaign Elevates Brand While Engaging 65,000 Associates
Hunter Public Relations – LACTAID Milk Helps Normalize Dairy Sensitivity with No More #DairyEnvy Campaign
Newlink – Banco Cuscatlan
PwC – Asian Financial Forum 2017 Knowledge Partnership
Uniomedia Communications – Soproni – 100% Hungarian!
Weber Shandwick – Mobil 1 Virtual Showdown with Tony Stewart
Cause-Related Marketing
Alzheimer's Australia - You Are Not Alone, Dementia Awareness Month, September 2016
Cohn & Wolfe – Tom's of Maine #LessWasteChallenge
Cone Communications – 2016 Lindt Easter Campaign in Support of Autism Speaks
Deutsche Telekom AG – Sea Hero Quest
Cigna – Away from Blame: Cigna's initiative to fight the U.S. opioid epidemic
Jersey Mike's Subs –  Month of Giving
McLean Hospital – Deconstructing Stigma: A Change in Thought Can Change A Life
The Motherhood and United Nations Foundation – Shot@Life Campaign Host "Blogust" Relay to Donate Vaccines for Children in Developing Countries
PJ Lhuillier Group of Companies – Cebuana Lhuillier Disaster Resilience Campaign
Planet Fitness & Edelman – The Judgement Free Generation
Weber Shandwick – The Alphabet of Illiteracy, Project Literacy
Community Relations
Comcast Heartland Region One of First Companies to Aid Flint Community
Flowers Communications Group – Black McDonald's Operators Association's Food for the Body and Spirit
Food Lion – "Holidays Without Hunger" Creates Emotional Connection While Nourishing Communities
Gage – Minnesota Valley National Wildlife Refuge 40th Anniversary
Mastercard – Girls4Tech
Molina Healthcare, Inc. – Molina HOPE Coat Drive
Planet Fitness & Edelman – The Judgement Free Generation
Porter Novelli, BBDO and Mastermind Marketing on behalf of Bayer – Feed a Bee 2016
ServiceMaster – We Serve Day
US Postal Service – Dog Bite Prevention Campaign
Content Marketing
Amendola Communications – He Said/She Said: Clients Create Credibility for the Health Catalyst Story
The Coca-Cola Company – Coca-Cola Journey
Current Marketing – Liquid-Plumr's "Thankful to be Clog Free" Thanksgiving
InterDigital - Creating the Living Network
Marina Maher Communications – J&J Takes Over #JPM17
PepsiCo – Bringing PepsiCo's Food and Beverage Portfolio to New Heights: Game Day Grub Match
rbb Communications – Guilt-Free #MomsEscape with Dreams Resorts & Spas
Rpr Marketing Communications – Neutrogena Sun #MimicMommy Campaign
SOKO – Netflix: Xuxa and the Missing Child
Southwest Airlines – Inspiring the Next Generation: Lilly's Day at BWI
Stein IAS – Cliché Killers
Crisis Management
AIA – Social Media Crisis
Maryland Transit Administration – Winter Storm Jonas
Medtronic Creates Global Reputation Management Program Following $50 Billion Acquisition
Montieth & Company – The Panama Papers and Nazi-Looted Art
SABC Pension Fund – Pencil me In
Southwest Airlines Turns to Live During Crisis
Syncrude Canada Ltd. – Fort McMurray Wildfire Communications
Washington Metropolitan Area Transit Authority – SafeTrack
CSR Campaign
Bacardi-Martini – Bacardi Good Spirited
Cohn & Wolfe – Tom's of Maine #LessWasteChallenge
Dell Inc., PPR Worldwide and BWR – Dell's Ocean-Bound Plastics Packaging Program
Edelman – FY16 Citizenship Report:The Stories We Love to Tell
FirstEnergy Corp. – The Switch Is On - FirstEnergy's Commitment to Clean Energy
HP Inc. – Campaign to Aid in Global Refugee Crisis
PMK BNC – Columbia Sportswear OutDry Extreme ECO Jacket Launch
Strategic Communications Africa Limited – The Ghana Garden and Flower Show
UPS, MSLGROUP and Cone Communications – Focusing and Amplifying UPS's Sustainability Story
Digital Communications
Blonde 2.0 – Livia - a painfully good campaign
Creation – MS: No Filter
DeVries Global – Pantene Dad-Do: Fostering the Next Generation of Strong Women
Finn Partners – Make Email Great Again
Food Lion Feeds – Meal Madness
GCI Health – Inspiring the Multiple Sclerosis Community to Rise Above MS
Hormel Foods – Food Truck Frenzy
HormelFoods125.com
HP Inc. – Digital Activations at HP Global Reinvention Week
Hunter Public Relations – Mrs. T's Pierogies Inserts Itself into the Pop Culture Conversation
Johnson & Johnson – Silicone Seguro
Mastercard – LAC Innovation Forum 2016
National Restaurant Association Educational Foundation. – National ProStart Invitational: Creating the Buzz for #NPSI2017 with Gossip Genie and Portland PR Ltd.
NTT DATA acquires Dell Services
Pavone – Herr's - Ed Goes to Nottingham
PepsiCo – Bringing PepsiCo's Food and Beverage Portfolio to New Heights: Game Day Grub Match
Porter Novelli – Carpe PM: Seize the Afternoon with Almonds
RF|Binder – Insight Dialogues presented by The Rockefeller Foundation
Roush Fenway Racing – SunnyD NASCAR Launch
Tata Consultancy Services – Digital Empowers
Diversity & Inclusion Campaigns
APCO Worldwide & Jesuit Refugee Service – Lampedusa: Concerts for Refugees
Case Foundation – Faces of Founders
Edelman – Dove Love Your Hair
Food Lion – Supporting Diversity While Partnering with our CIAA Schools to Fight Hunger
HP Inc. – Bringing HP's Culture of Diversity and Innovation to Life
HP Inc. – Reinvent Mindsets: Let's Get In Touch
Pérez Art Museum Miami – PAMM Pride Night & Screening: "Moonlight"
Porter Novelli – Study Melbourne presents My Melbourne: empowering international student voices
SAP and PAN Communications – Bring Business Beyond Bias
Education Program
Blue Planet Public Relations – Raffles College of Design and Commerce, Sydney
Procontent – Płuca Polski
Employee Relations
American Medical Association – Creating a new digital workspace and communications program for AMA employees
Bacardi-Martini – No Straws Pledge
Cohn & Wolfe and Landor – Janssen Brave - Driving a Cultural Transformation
Conagra Brands – The Internal Launch of Conagra Brands
Food Lion – "How Refreshing" - New Ad Campaign Elevates Brand While Engaging 65,000 Associates
General Motors – Electrifying Employee Engagement
General Motors – Employee Discourse Meets Racecourse
Inland Empire Health Plan – Discover Wellness Campaign
Marina Maher Communications – J&J Unites 53,000 Employees to Reach More Patients. Restore More Lives
MilliporeSigma – Integration Communication
MSLGROUP – Re: Sources: Putting the Service Back in Shared Services
PG&E – Keeping GHG-Free Energy Flowing From Diablo Canyon Power Plant Through 2025
PJ Lhuillier Group of Companies – Cebuana Lhuillier Isang Bangka Campaign
Event Marketing
Adobe – Summit 2017
Biodesign Institute at Arizona State University – Science Exposed: Making Science Come to Life through the Arts
Conagra Brands and Edelman – The Dining Room by Marie Callender's
Dell Inc. and PPR Worldwide – Perception is Reality: Winning the CES Coverage Race to Increase Sales
GOLIN – Humana Bring the Parks to You
Havas Formula – Panda Express & General Tso's Chicken – American Originals
Hill + Knowlton Strategies – Invictus! Sharing the Inspiring Stories of Wounded Warriors
Hormel Foods – Jennie-O Turkey Store Make the Switch Campaign
Mathematica Policy Research – Pi(e) Day on Capitol Hill
Microsoft with Burson-Marsteller – Microsoft at The National 2016 Political Conventions
Northrop Grumman – Quad Cup
PwC – Asian Financial Forum 2017 Knowledge Partnership
SAP – All Aboard the Internet of Things Express with SAP and Trenitalia
Tourism Australia – The World's 50 Best Restaurants 2017, Melbourne, Australia
External Publication (print or online)
Asian Art Museum – Drawing Rama
Cherokee Nation and Cherokee Nation Businesses – Anadisgoi Magazine
Cherokee Nation and Cherokee Nation Businesses – Where the Casino Money Goes
ExxonMobil – Energy Factor
Genentech and FleishmanHillard – 40 Defining Moments
Havas PR – Agile PR: Expert Messaging in a Hyper-Connected, Always-On World
Hormel Foods – Inside Hormel Foods magazine
Karma Agency – Frontline Research & Learning Institute: The Line
MullenLowe – Futures Magazine 2016
Wynn Las Vegas – Wynn Magazine Celebrates Wynn Palace Opening with Commemorative Edition
Facebook Communications
AbelsonTaylor – Sunovion 'My Epilepsy Hero' Campaign
Aflac – Leaving Our Duckprints
APCO Worldwide – Mobilizing Seniors for Medicare
C-4 Analytics – Canvas Ads Bring More Clicks
DEVENEY – Bayou Bar Crawl
Food Lion Feeds – Meal Madness
GCI Health – TECFIDERA Leads the Social Conversation on Relapsing Multiple Sclerosis
Hormel Foods – Food Truck Frenzy
IBM – Facebook Communications
Molina Healthcare – 2016 Community Champions Facebook Challenge
Financial/Investor Relations
PJ Lhuillier Group of Companies – Cebuana Lhuillier Financial Inclusion Campaign
Strategic Public Relations Group – China Animation (1566.HK) - Ready to Impress the World
Strategic Public Relations Group – China New Town Development (1278.HK) - A New Phase to Success
Strategic Public Relations Group – Yingde Gases: Justice Prevails
Thor Industries with Lambert, Edwards & Associates – Thor Industries/Jayco M&A Communications Support
Global PR Campaign
Cohn & Wolfe – vs.MS, a Global Sanofi Genzyme Initiative
Finn Partners – IEEE Public Visibility
Edelman – TRESemmé Public Relations Activity for New York Fashion Week Fall/Winter 2017
Powell Tate/Weber Shandwick – World Thrombosis Day 2016
Tourism Australia – The World's 50 Best Restaurants 2017, Melbourne, Australia
Zeno Group – Spin Master's Global Hatchimals Launch
Influencer Communications
Aflac – Holiday Helpers
Citizen Relations – Search for #TheNextMrClean
Cohn & Wolfe – Tom's of Maine #LessWasteChallenge
Edelman – Dove Beauty Bar's 60 Years of Care
Edelman & United Entertainment Group – TRESemmé's Influencer-Led Approach to New York Fashion Week Fall/Winter 2017
GCI Health – Bringing ReAl Talk to the RA Community
High Road Communications – Huawei Fit Launch
Jackson Spalding – #ToyotaTop10
Rpr Marketing Communications – Neutrogena Light Therapy Acne Mask Launch
SOKO – Netflix: Xuxa and the Missing Child
UN Foundation – Girl Up
Uniomedia Communications – The "One day without information technology" challenge – BECOME AN IT SPECIALIST!
Weber Shandwick – ActionAid UK, #BrutalCut
Weber Shandwick – Influencers Hijack Ageist Hashtags
Weber Shandwick – Launching a new smartphone by strapping it to a 10' rocket
Weber Shandwick – Mix Mania
Zeno Group – Spin Master's Global Hatchimals Launch
Instagram Campaign
Ferrovial – #UrbanPeek Instagram campaign
Hilton – Curio Collection
RFI Studios – Cleveland Hustles
Wynn Las Vegas – Kygo's Instagram Video to Announce Residency at Wynn Las Vegas
Internal Publication
Peppercomm – Wilbur-Ellis' WilCon Trader Magazine
SAP North America – At-a-Glance Newsletter
Tiffany & Co. – Northern America Communications: The Northern 
Live Streaming Campaign
Adobe – Think Tank at Adobe Summit
IBM
Juniper Networks – Facebook Live Ask-The-Expert Campaign
Travelzoo – St. Patrick's Day Facebook Live Event
Yahoo – Toyota Music Moves You Live Streams on Tumblr + Yahoo
Marketing Communications
Asian Art Museum – Priceless Pork Belly
Bank of America with Burson-Marsteller – Bank of America: Get More from Your Budget with Cash Back
GCI Health – America's Diabetes Challenge: Get to Your Goals
Goodwill Industries International – #SUITUP4HALLOWEEN
Hormel Foods – Hormel Chili 50 ingredient chili for Super Bowl 50
IW Group, Inc – ARITAUM - Introducing Korean beauty to North America
Lippe Taylor – KYBELLA: Live Chin Up
Matter – La Brea Bakery - Thanksgiving Heroes
NTT DATA acquires Dell Services
PAN Communications – From Horizontal to Three-Dimensional: SAP's Approach to Target a Tech Audience
Stuart Weitzman – Do It Right
Tata Consultancy Services – Digital Empowers
Ticketmaster & Edelman – Real Tickets for Real Fans
Walker Sands – Make Tech Her Story
Weber Shandwick – HealthCare.gov: Data-Driven Integrated Marketing Campaign
Weber Shandwick – More Than an Anti-Aging Cream... POND'S Rejuveness Is #AntiAgeLimits
Media Event
Canopy by Hilton – Reykjavik City Centre
Cone Communications – Eastern Bank Join Us For Good
Consumer Technology Association
Dell Inc. and PPR Worldwide – Perception is Reality: Winning the CES Coverage Race to Increase Sales
Diffusion PR – How Diffusion Helped Mobileye Emerge as an Industry Leader with the First Self-Driving Car by 2021, in Four Days or Less
energi PR - #POMChallenge
Evans Hardy + Young & Idaho Potato Commission – Big Idaho Potato Truck in NYC
Kiterocket – Increasing Traction in China
Maryland Transit Administration – Baltimore Ravens' Joe Flacco Endorses MTA
Powell Tate/Weber Shandwick – Infrastructure Report Card: Solutions for America's Infrastructure
Under Armour – NBA MVP Stephen Curry
Vested for Investopedia – Anxiety Index 
Media Relations
AbbVie – My IBD Game Plan
Bank of America with Burson-Marsteller – Small Business Owner Report
Citizen Relations – Febreze's Halftime Bathroom Break
Conagra Brands and Edelman – Pi Day by Marie Callender's
DEVENEY – Emeril's Meril Restaurant Opens with a BAM!
Fish Consulting – Mr. Rooter's Bathroom Astrology
Hunter Public Relations – LACTAID Milk Helps Normalize Dairy Sensitivity with No More #DairyEnvy Campaign
Kivvit – A Campaign for Justice on Nazi Stolen Art on Moral Grounds
March Communications – A Systematic Approach to Rapid Response and News Hijacking
MSLGROUP – Building Holiday Cheer With The Home Depot
MSLGROUP – Spring Forward with The Home Depot
Northside Hospital & FleishmanHillard - Northside Hospital's Growth Story Survivors
Northwell Health – The Return
PMK*BNC – American Express Shop Small For 2X Rewards
Powell Tate/Weber Shandwick – Launching a Generation Beyond
Vanguard Communications and the American Psychological Association
Waldorf Astoria – Driving Experiences
WE Communications – Winning an Uphill Battle: The Windows 10 Update Campaign
Weber Shandwick – Mexico City: Rising to the Top
Weber Shandwick – Mix Mania
Multicultural Campaign
The Axis Agency – Pine-Sol Makers of Home
Cohn & Wolfe – Colgate Optic White "Designer Smile"
Cohn & Wolfe – Colgate-Palmolive's Hispanic Heritage Month's Haz La U Program
Flowers Communications Group – #NoStereotypes Reframes Hurtful Beauty Biases
Gift of Hope – Lasting Legacy
Havas Formula – Con TurboTax Puedes (With TurboTax You Can)
Hormel Foods – Cooking & Culture
SAG-AFTRA Unidos – Ending the Double Standard for Spanish-language Performers
USA Track & Field – RunJumpThrow
Weber Shandwick, APartnership, and Gilead Sciences – BE ABOUT IT: Breaking the Silence on Hepatitis B in the Asian American Community
On a Shoestring Campaign
Adam Ritchie Brand Direction – T.R.I.P. Through The Multiverse
Gilbert, Arizona – Can't Stop the Feeling Parody Video
Guiding Eyes & Civic PR – Guiding Eyes for the Blind Names Guide Puppies After Boston Marathon Winners
Henry Schein, Inc. - 15th annual Give Kids A Smile program
Hofstra University – #HofDebate16
International Medical Corps – The Things We Carry
Marina Maher Communications – J&J Takes Over #JPM17
McCabe Message Partners – Shout. Run. Tell. Teaching Children the Protect
The Motherhood & United Nations Foundation– Shot@Life Campaign Host "Blogust" Relay to Donate Vaccines for Children in Developing Countries
UN Foundation + SocialGood
Online Press Room/Media Center
Cherokee Nation and Cherokee Nation Businesses – Anadisgoi.com
Cisco – The Network
CME Group – Media Room Transformation
Podcast and/or Videocast
CME Group – Futures Radio Show Podcast
CRAFT – Conversations with Bill Kristol
Maryland Transit Administration – WTTZ-FM 93.5 Podcasts
NFP – Benefits Compliance Podcast
Press Release
American Osteopathic Association – A Wild Ride: Integrated Campaign Promoting Journal Research Rockets Brand to 4.4 Billion Impressions
CareerBuilder – What Cities Would Survive a Zombie Apocalypse?
CNN EN ESPANOL – CNN VEINTE
Current Marketing – Burt's Bees Plant-Based Protein Shakes
MLGW – Utility Scam Alert
PG&E – Keeping GHG-Free Energy Flowing From Diablo Canyon Power Plant Through 2025
SiteMedia Ltd. – Pooh - The First Bionic Cat
Pro Bono Campaign
Breakaway Communications – Portraits of Love: Creating a "Template" for Successful, Replicable, Highly-Focused PR around a Multi-City Event
Glen Echo Group – #RSFIndex - Reporters Without Boarders 2017 World Press Freedom Index
InkHouse – Sister March: Building a Movement
Public Dialog – The role of corporate communication- Research campaign
Product Launch
Barbie and Weber Shandwick – Barbie: Ticket to Play
Cohn & Wolfe – Sharpie: Launching a Brand From 20,000 Feet
Cone Communications – Lindt Excites Consumers with a New Fall Favorite: LINDOR Pumpkin Spice Truffles
DeVries Global – Milk Makeup: The New Makeup Line Changing the Face of Beauty, Literally
Fast Horse – Hi-C Ecto Cooler Makes a Haunting Return to the Delight of Millennials
Havas PR – The Barnacle: Giving The Boot the Boot
Ketchum – Mastercard Cashes In On the Next Generation of Payments
The Drone Racing League - The Sport of the Future
O'Reilly DePalma – Howie Mandel Leads the ActiClean Patrol to Launch a New Self-Cleaning Toilet
Weber Shandwick – Challenging Smartphone Incrementalism: Moto Z Family & Moto Mods Launch
Public Affairs
AbbVie – "Get in the Know about ME in EndoMEtriosis" Campaign Launch
American Society of Anesthesiologists
APCO Worldwide – Mobilizing Seniors for Medicar
Barbie and Weber Shandwick – Barbie: Ticket to Play
Centers for Disease Control and Prevention, Abt Associates, Hager Sharp, Emergent Element – Zika Domestic Readiness Campaign
Cone Communications – ReThink: Why Housing Matters - Challenging the Misperceptions of Public Housing
Coyne PR and Pacira Pharmaceuticals, Inc. – Choices Matter Campaign Combats Gateway to the Opioid Epidemic
Davies – E.ON Twin Forks
Gage – Minnesota Valley National Wildlife Refuge 40th Anniversary
McLean Hospital – Deconstructing Stigma: A Change in Thought Can Change A Life, presented by McLean Hospital
Microsoft and Burson-Marsteller – Microsoft at the 2016 Iowa Caucuses
National Retail Federation - Stop the BAT Tax
Public Communications Inc.
SAG-AFTRA Unidos – Ending the Double Standard for Spanish-language Performers
SKDKnickerbocker – Forgotten Face of Homlessness
Trout Unlimited – Public Lands: Best. Idea. Ever.
Washington Metropolitan Area Transit Authority – SafeTrack
Public Service Announcement
Elias World Media & EvolveMKD – Understanding Parkinson's Little Known Symptoms
EVINS – "The Driving Game"
Finn Partners – No More Mystery: Finn Partners' Georgia Campaign Helps Parents Find Quality Child Care
Landis Communications Inc. – Global Alzheimer's Platform: Advancing Brain Health
Powell Tate/Weber Shandwick – CDC Know More Hepatitis
United Way Worldwide – Join the Fight
Rebranding/Repositioning
The Association of Junior Leagues International – We Are The Junior League
Axon
Citizen Relations – Mr. Clean, the Undisputed Winner of the Super Bowl
Citizen Relations – Search for #TheNextMrClean
Driving a Household Name into the 21st Century
HP Inc. – Reinventing For The Future
Hunter Public Relations – PowerBar's Clean Start
IBM and Text 100 – Cognitive Creativity
Intel Corporation – Experience Amazing
Ketchum – Mastercard Cashes In On the Next Generation of Payments
LINKS WorldGroup – Cayman Islands Department of Tourism - Reconnecting Latin America
Parker Sanpei – International Chardonnay Symposium
Zebra Technologies & Burson-Marsteller – Seeing the Black & White in a World of Grey
Research & Measurement
Aflac & Hill+Knowlton Strategies – Aflac's 2016 Open Enrollment Survey
AMN Healthcare – 2016 Predictive Analytics Survey
Edelman Intelligence – Barilla Leverages Research & Measurement to Drive Passion for Pasta
Edelman Intelligence – My Starbucks Rewards: Rewards Program Refresh
Weber Shandwick – HealthCare.gov - Data-Driven Integrated Marketing Campaign
Satellite Media Tours
Aflac
Bank of America with Burson-Marsteller – Get More from Your Budget with Cash Back
Elias World Media – Forevermark Oscars Diamond House
Hill+Knowlton Strategies – Four Monks Cleaning Vinegar: Fresh Fall with Ali Fedotowsky
Philips Lighting North America – Philips Times Square Ball
Travelzoo – St. Patrick's Day
Snapchat Campaign
AT&T with FleishmanHillard – Entertainment, Where Everything Can Happen
Cisco – WeAreCisco
R&R Partners – DJ Khaled
Weber Shandwick – A Stain Reaction
Social Media Campaign
Bayer Bee Care – Feed a Bee
Cisco – WeAreCisco
Cooney Waters Unlimited – Showcasing the Inspiring Story of a Fashion Blogger-turned-Parkinson's Disease Advocate to Engage a Facebook Community Dedicated to Parkinson's
Current Marketing – Drink Amazing
Hormel Foods – Food Truck Frenzy
IBM x Marchesa – The Cognitive Dress
Lambert, Edwards & Associates – North American International Auto Show
MSLGROUP – Celebration of Service: Doing More for Veterans on Social
National Association of Manufacturers – 2017 State of Manufacturing Tour
Northside Hospital & FleishmanHillard – Breast Cancer Awareness Week – Honoring fighters and remembering survivors
RFI Studios – Cleveland Hustles
WE Communications – Microsoft C+E New Product Announcement Motion Graphics Campaign
Weber Shandwick – Mix Mania
Speeches
KDalyCo Media Strategies – "Brewing Success"
Roush Fenway Racing – Mark Martin NASCAR Hall of Fame Speech
Trade Show/Event PR
Hormel Foods – Justin's is Nuts for Bees!
HP Inc. – drupa 2016, Dusseldorf, Germany
Las Vegas Convention and Visitors Authority – Las Vegas Hosts Final 2016 Presidential Debate
Litzky Public Relations – Media Buzz Drives Ballots for 2017 Toy of the Year Awards
Rogers & Cowan – AARP 2016 Movies For Grown-ups Awards
Sharp Communications – Coverings 2017 National Tile Day
Tumblr
Publicis Health Media – Healthysexual
Publicis Health Media – Help Stop the Virus
Twitter Campaign
AbelsonTaylor – Sunovion Pharmaceuticals 'My Epilepsy Hero' Campaign
Aflac – 59th Annual GRAMMY Awards
Food Lion Feeds – Meal Madness
Weber Shandwick – Hellmann's #Strangewich
Video Program
Cooney Waters Unlimited – Showcasing the Inspiring Story of a Fashion Blogger-turned-Parkinson's Disease Advocate through Video to Engage the Parkinson's Community
Health First – It's a Nurse
Hormel Foods – Cooking & Culture
Makovsky – A Tribute to Heroes in the Global Campaign Against Violent Extremism
National Retail Federation - Stop the BAT Tax
Octapharma AG – It's in our blood
Old Spice and Citizen Relations – 1-800-PROVE-IT Infomercials
SAP – The Faces of SAP
Turner – Walking Legg
United Nations Foundation – Nothing But Nets Launches Virtual Reality Film, "Under The Net"
Weber Shandwick – "Refocus" On Mobile Innovation with Motorola
Visual Storytelling Campaign
American Heart Association – Eva Is Why
Blue Chalk Media & OSBA – The Promise of Oregon: Year Three
Blue Chalk Media & SEE International – A Chance to See Again
Hill + Knowlton Strategies – Invictus! Sharing the Inspiring Stories of Wounded Warriors
International Medical Corps – The Things We Carry
Loyola University New Orleans – Streetcar Stories: A Loyno Web Series
McLean Hospital – Deconstructing Stigma: A Change in Thought Can Change A Life
Weber Shandwick – ActionAid UK, #BrutalCut
Website Marketing
CLS Strategies – Academy of Model Aeronautics - Generations of Flight Campaign
HormelFoods125.com
RevHealth – Don't Toy With Pinworm
Word of Mouth/Viral Campaign
Hormel Foods – SPAM Museum goes global - How the SPAM Museum word of mouth efforts brings people to Austin, MN
Kohnstamm Communications – Beech-Nut Engages Real Moms to Introduce 'Real Food for Babies'
UP TV – "Growing Up McGhee" Viral Photo Re-creation 
Wow! Campaign Award
Adobe – Emotion Chambers Activation
Blonde 2.0 – Livia - a painfully good campaign
BMLPR & Villa Italian Kitchen – #AlternateFacts Pizza
CerconeBrown – Beautiful, Naturally Mobile Boutique
Cohn & Wolfe – Sharpie: Launching a Brand From 20,000 Feet
Delucchi Plus at StreetSense – Downtown Silver Spring | OUTBOX
Deutsche Telekom AG – Content Factory – More than just a newsroom
General Motors – Electrifying Employee Engagement
Hill + Knowlton Strategies – ANA Takes Off With Experience Class
Hunter Public Relations – PowerBar's Clean Start
KFC – Extra Crispy Sunscreen PR Campaign
Makovsky – A Tribute to Heroes in the Global Campaign Against Violent Extremism
ServiceMaster – The ServiceMaster Experience,
US Postal Service – Dog Bite Prevention Campaign
Weber Shandwick – ActionAid UK, #BrutalCut
YouTube
Cone Communications – Lindt Invites Refinery29's Lucie Fink to Become a Chocolatier for a Day
FGL Sports Ltd. – Sport Chek: Pillar vs. Drone
Old Spice and Citizen Relations – 1-800-PROVE-IT Infomercials
Wynn Las Vegas – Steve Wynn Welcomes Amazon Echo to Wynn Las Vegas