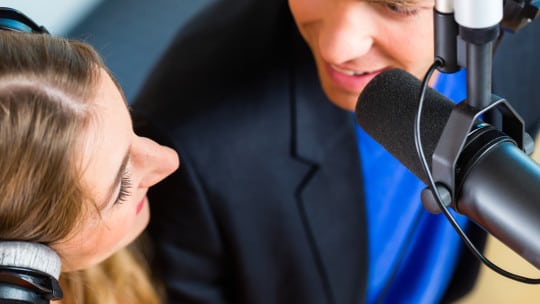 To podcast or not to podcast? With apologies to Shakespeare, many PR professionals are asking themselves that question in today's digital world. Some wonder if it's worth the time, effort and money to produce a podcast when no one knows for sure how many people would actually listen.
But people are listening as the popularity of podcasts continues to grow. Edison Research's 2016 Podcast Consumer report finds about one-fifth of Americans have listened to a podcast in the last month, more than double the number in 2008. That amounts to roughly 57 million people. And expect those estimates to get even more reliable. Nielsen plans to measure podcast listenership starting next year, a move that will give advertisers stronger evidence their spots are being heard.
As you think about making the podcast plunge on behalf of your organization or client, consider the following three benefits:
Branding/Marketing
A podcast is an extension of your organization's branding and marketing efforts. After all, you have a website, don't you? And no doubt you use a variety of social media channels to tell your organization's story and build your fan base, including Facebook, Twitter, Instagram and Snapchat. A podcast gives you an opportunity to reach people through even more platforms, such as iTunes, Stitcher, TuneIn and SoundCloud.
A podcast also allows greater depth, whether you're talking about key issues or launching new products. A bonus: you can turn the interviews you conduct during your podcast into social media content or blog posts for your website, or any other site that can boost your organization's visibility.
An example: The New Yorker Radio Hour, which extends the magazine from print, web and live events.
Thought Leadership
Podcasts give you control over positioning your organization and its executives as thought leaders in their field. You can design the podcast to show off your staff's expertise and become a trusted source among an interested audience. But remember to put your audience and their needs first. You'll attract and keep listeners when you focus on content that will educate, engage and entertain them.
At the same time, having a podcast might make it easier when you pitch the media. Reporters always are looking for experts who can explain issues in a clear and concise manner. Don't hesitate to point to your podcast as proof you are the right organization and have the right expert(s) to interview. Reporters would rather talk to a "known quantity" than take a risk on someone with the right credentials but who's a horrible speaker.
Examples: Stanford University's eCorner Podcast Series, which features interviews with entrepreneurs, and the Annie E. Casey Foundation's CaseyCast, which focuses on issues like child poverty.
Relationship Building
One of podcasting's greatest appeals is its intimacy. The majority of people listen on their mobile devices with their earbuds or alone in their cars, meaning it's a true one-on-one event. Distractions are less likely, giving your organization a better chance to connect with your audience.
Also, think of a podcast as "radio on demand." Unlike radio, listeners who download a podcast can hear the program any time and as often as they want from start to finish. That can be an advantage for both your organization and for potential advertisers.
Have some fun with it, too. You could tape your podcast live in front of an audience. Or ask your podcast listeners to suggest topics and guests for future shows. Make the experience as interactive as you can by integrating social media, contests and swag. This can build loyalty and goodwill.
An example: Scriptnotes, which features two screenwriters and includes questions from the audience, swag and humor.
How to Get Started
Once you've convinced your organization or client to launch a podcast, you'll need a quiet room and at a minimum three pieces of equipment if you decide to produce the podcast in-house: microphones for the host and guests, headphones and editing software. Keep in mind you have a wide variety of choices, and equipment varies in cost and quality. Here are a few basic recommendations to get you started:
Microphones: A simple and easy way to record is by using a USB mic that plugs right into your computer. Among the most popular are the BlueYeti and Audio-Technica ATR 2100.
Also, consider broadcast industry-standard mics like the Electro-Voice RE20 or the Shure SM7B. (Note: Both also will require an audio interface or mixer.)
Headphones: One of the best and most popular is the Sony MDR-7506.
Editing Software: A free option is Audacity. Or consider Adobe Audition, which is part of Adobe Creative Cloud's offerings.
If you don't want to go all in at first, do a demo or pilot show. PR professionals already have the skills to think through messaging, the most credible messengers and the target audience for a podcast. What might be new and challenging is the audio experience.
Steve Orr Media founder Steve Orr is an award-winning broadcaster who helps clients become more effective speakers, as well as create and produce podcasts.