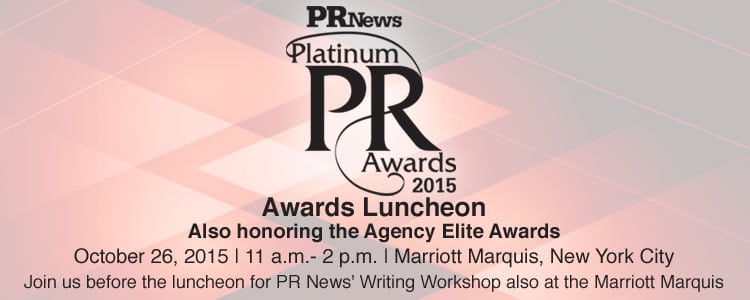 PR News Event Program Advertising Options
Ad Close: October 9
Materials Due: October 12
View the Platinum PR & Agency Elite Finalists 
You are invited to be a part of a special promotional package recognizing the corporations, agencies and nonprofits large and small who took chances, made tremendous strides and understand the power of public relations. PR News is offering you a unique messaging opportunity that includes an ad in the awards event program distributed to 200+ awards luncheon attendees.
Reach more than 140,000 communications professionals!
Your message will reach hundreds of thousands of communicators through an integrated package that includes print and online exposure. This four-color event program will be distributed to over 200 top PR and communications professionals at PR News' Platinum PR & Agency Elite Awards Luncheon on October 26, 2015 at the Marriott Marquis in New York City and will be referenced by executives and their teams year round.
Deadline to secure your spot is October 9
Reserve your space today by contacting Lindsay Silverberg at 301-354-1716; lsilverberg@accessintel.com