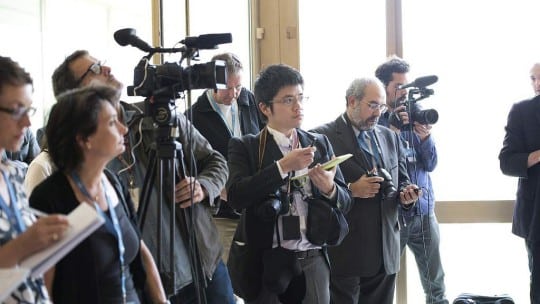 'Build relationships with journalists' is one of the phrases you hear often in PR. Take it seriously. Whether you're trying to sell content or position your company, as PR pros we need to maintain a level of professionalism. We also need to make sure that journalists can trust the content and information we provide. 
From outreach strategies, to press releases and prospects, making sure every detail is perfect can drive you crazy. Yes, there's a massive gap for errors. Fortunately, there also are simple tasks you can perform to limit the stress of outreach and close the gap on human error. Below are some everyday tips and tricks to help you limit the embarrassing hiccups.
Language Mistakes
Grammar and spelling count. True, we're in a fast-moving world, but a study shows 11 percent of complaints from journalists centered on language errors that communicators make in pitches. You can imagine, after the 100th email of the day with a spelling mistake, it can drive even the most sane content producers slightly loopy.
A massive pet peeve of journalists is the common spelling or language mistake, especially as writing is something they do on a daily basis. It not only shows a lack of interest, but also preparation. If the journalist is taking the time to read your pitch, you should ensure it's professional and concise.
Tips
Microsoft spell check always is a winner with long documents, but Grammarly, an online extension, also is a perfect tool to ensure your spelling and grammar are on point. 
Another trick is to walk away from your current environment. Then read your press release, email or any other press material aloud. This way you are able to listen to the tone, structure and flow - highlighting any possible errors that you may have  missed.  
Getting the [Insert Journalist Name Here] Wrong
This mistake can either pop up during the prospecting stage or when you're setting up your outreach. It's happened to us all. From messing up the autofill to writing down the wrong name, it's the one error that you constantly will see popping up on content providers' Twitter rants.
The same study noted above found 12 percent of journalists were annoyed with the wrong name mistake. Using the wrong name shows a level of disrespect and carelessness.
A simple tip: Test email before sending it. If you use outreach platforms like Buzzstream or Vocus, there will most likely be a preview function. Use it. 
Another trick is most of the time, journalists' names will be in their email addresses. Cross referencing with their email addresses or double-checking those that aren't can help avoid embarrassing emails.  
Outreaching at Inappropriate Times
Something that keeps dodging many of us: Journalists are people. In addition, they actually have lives.
Whether you're working in a traditional or digital environment, contacting journalists at inappropriate times is a mistake. It should carry with it the social taboo that we apply to friends and family who drop in unannounced or contact us too late at night.
Avoid Weekends
Unless the journalist is a weekend reporter, try to avoid emailing during the weekend - they're not at work and don't need to be disturbed. In addition, they might read your email on Saturday and forget about it by Monday morning.
Since arriving on site unannounced is taboo, send the journalist an email first. Ask if it would be possible to drop something off, make an appointment or if they could  discuss an article or campaign over the phone. This not only makes you look considerate of their time, but also allows them to pick a time that they would be able to give you 100% of their attention and respect.
 Your Story is Way Too Irrelevant
Another mistake is sending a pitch that's not relevant to the journalist's niche or even the publication's. This far outweighs the mistakes mentioned above. This can be partially due to a lack of research, but it is something that as PR pros we need to improve.
A key factor when pitching is time. We're all pressed for it and working in PR is stressful. Still, take the time to research, learn and understand your target journalists. Doing so relates back to the maxim mentioned in the first line of this essay: it will help you build relationships and trust. 
A PR pro's relationship with a journalist should be mutually beneficial. While we hope for and expect coverage, we also need to respect journalist's needs and time and ensure we're developing quality, worthwhile stories. 
Jess Fairfax is a digital PR manager at Kaizen