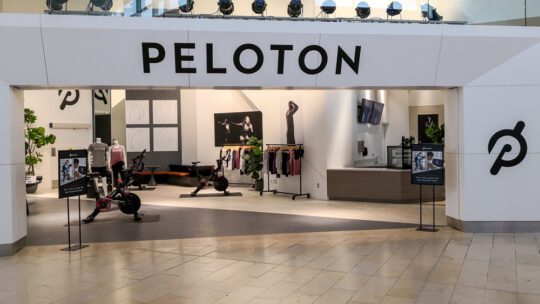 It is a challenging time to be a communicator at Peloton, to say the least.
The high-end stationary bike company faces a scrutiny from stakeholders after activist investor Blackwells Capital's chief investment officer Jason Aintabi published an open letter excoriating Peloton and its chairman, founder and CEO John Foley. In the letter, Aintabi, whose company owns less than five percent of Peloton, demanded Foley be fired for a number of poor choices at the company, in addition to calling for the company to be sold. The letter was addressed to Peloton's board of directors, circulated by wire service and rapidly picked up by the media, which has been covering Peloton's fall from grace since its pandemic sales hit an apparent peak.
In addition to its shareholder woes, Peloton is trending for a scene in the season premiere of hit SHOWTIME show "Billions" on Jan. 24 in which a character suffers a heart attack after using the company's stationary bike. Casual viewers and journalists alike experienced déjà vu given HBO's "Sex and the City" spinoff, "And Just Like That," featured a main character having a heart attack while using the machine only a month ago. This follows pitched legal battles surrounding the product's safety: several publicized injuries that occurred on Peloton merchandise in addition to an infant death.
Now, the company faces a PR battle on multiple fronts—defending the company's ability to make sound financial decisions, as well as the legal challenge of responding to any entity that targets the company in the media.
The company alleged in a tweet that it did not give permission for its IP to be used in the "Billions" episode.
We get TV shows want to include @onepeloton to get people talking, but to be clear, we did *not* agree for our brand or IP to be used on @SHO_Billions or provide any equipment. As the show itself points out, cardio-vascular exercise helps people lead long, happy lives.

— Peloton (@onepeloton) January 23, 2022
Handling the Social Media Front
Andy Gilman, president and CEO, CommCore Consulting Group, thinks the company made the right move—at least on the Twitter front. "The response to the 'Billions' and 'Sex and the City' episodes has been clear and direct," he notes. "They [Peloton] were right to point out the positive message of cardio-vascular exercise."
While the company could go down the rabbit hole of myriad responses to their statement, Gilman points out "there is no need to engage with every comment and tweet. Peloton should protect its brand by continuing to monitor the comments and the media world for other stories and memes that are not authorized."
Internal Struggles
Still, Gilman—like Peloton's shareholders—sees the much larger crisis as one of Foley's leadership. Peloton's stocks declined 24 percent on Jan. 20 after CNBC reported on internal documents stating the company would be halting production of some products. Layoffs are also anticipated and by some accounts have already begun.
"The activist investor letter is the much bigger issue, following the steep decline in stock price," Gilman argues. "It is specific and has a number of allegations that impact the management, finances and ongoing operations. That requires a team of senior management, finance and legal experts."
Hours after the report, Foley denied that production would fully halt, referring to any shifts in production as "right-sizing" and saying "rumors that we are halting all production of bikes and treads" were false. This defensive media response has Gene Grabowski, partner, kglobal, agreeing with Aintabi's call for the CEO to step down.
"[Peloton] must replace its CEO with an experienced business professional with a reputation for listening to consumers," Grabowski advises. "That CEO should be visible on social media and on cable and network news programs, describing the company's new approach and improved products and services."
Swallowing Its Pride
Much of Peloton's woes come down to sheer pride, Grabowski says. Peloton's big lift during lockdown created over-confidence that the market could sustain high quantities of its luxury goods. "It mistook a fad for a long-standing business model. Then it compounded the error by displaying arrogance in the face of complaints and reports of injuries."
And, "just as the company sought to widen its market beyond the upscale professionals that are its core customer, it stonewalled when accidents involving their treadmills led to reported serious injuries, taking far too long to recall the equipment and fix the design. Social media and the news media did the rest, severely damaging the reputation of the company."
In addition to swapping out the CEO, Peloton should "hire accomplished professionals who truly care about their customers and who can collaborate in a culture that encourages real conversation and expression of different points of view," adds Grabowski.
Despite the stationary bikes and treadmills filling warehouses and burning a hole in Foley's proverbial wallet—perhaps necessitating an urge to promote those products further–Peloton "must stop advertising and marketing for a period of about three months and embark on a totally new communications campaign geared toward rebuilding its support among millennials and young professionals…who can afford to buy the equipment and classes," Grabowski argues. "Advertising at this point in the crisis is a waste of money until that trust is rebuilt."
If Peloton's leadership is, as Aintabi and Grabowski attest, irredeemable, then it follows that a change in senior management is warranted. Otherwise, it may be time to follow Aintabi's other suggestion: sell to a more competent bidder.
Sophie Maerowitz is associate director, event content and a writer for PRNEWS. Follow her @SophieMaerowitz.