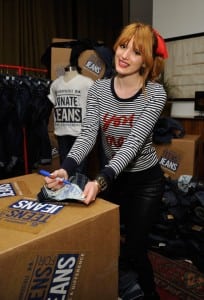 One out of three homeless people in the U.S. is under the age of 18, which translates to 1.7 million homeless teenagers in this country. Eliminating teen homelessness is a lofty but near impossible goal. Nonetheless, nonprofit DoSomething.org wanted to provide for this large swath of the population in some way. The nonprofit found that the first item homeless youth request on arrival at a homeless shelter isn't a basic necessity, such as food or toiletries, but blue jeans. However, homeless shelters have a hard time obtaining the item because of the cost.
DoSomething.org recognized the demand for denim, but the sheer size of the endeavor made it clear that a corporate partner would be necessary.
"We needed a strong brand with a brick-and-mortar presence," said Naomi Hirabayashi, CMO at DoSomething.org. "And a brand that was also popular with our target demographic." From there, the nonprofit made a list and began cold calling retailers, finally connecting with Aéropostale, a robust teen brand with household name recognition that was a perfect fit for the program. With a partner in tow, the DoSomething.org team created the following objectives:
1) Craft a call to action that's simple yet effective.
2) Go to where teens populate—the Internet. The goal was to provide information and steps to take on how to help homeless youth via a streamlined, engaging website.
3) Secure a celebrity spokesperson for the campaign and use the influence of additional popular teen celebs to spread awareness about the cause via events, the media and social channels.
From these goals, Teens for Jeans was born. The mission? A large portion of the U.S. homeless are teens and they need jeans, so bring slightly used jeans to any Aéropostale store to receive a discount on a new pair of jeans and enter to win a scholarship and other prizes. The result has been a six-year, ongoing campaign that's collected and distributed 3.5 million pairs of jeans to homeless teens in need.
RESEARCH AND DEPLOY
Teens for Jeans used myriad techniques in order to come up with a multi-pronged approach to clothe America's homeless teens. These techniques included research, social media campaigns, celebrity endorsements, leveraging household brand name recognition, incentives and sponsored events.
Here a several of the PR initiatives DoSomething.org and Aéropostale have deployed:
1) Putting together and distributing "action kits" that contained flyers, posters and stickers to any school that signed up.
2) Creating a centralized microsite, TeensforJeans.com, where participants can access additional information, including incentives for schools that collected the most jeans.
3) Showcasing the campaign via window and floor displays in Aéropostale stores and offering a 25% discount to anyone who donated jeans.
4) Distribution of Teens for Jeans donation bags and buttons to ramp up awareness in Aéropostale stores.
5) A mobile component so that participants can sign up for the program on their cell phones.
6) Scholarship money as an incentive for participation in the campaign.
Hirabayashi credits the grassroots nature of several initiatives as part of the sustaining force behind the Teens for Jeans campaign. "We try and give all of our young people the resources the host their own events," she said, which creates legions of active advocates for the cause.
CASTING A WIDE NET
Annual success is determined largely by data and survey analysis. At the end of the year the nonprofit does a final count of jeans collected at Aéropostale stores and compares it to reported data from the Teens for Jeans website. The last step is analyzing the media impressions generated through media donations and PR tactics.
Here are a few of the results of this ongoing campaign:
• In 2012, collected more than one million pairs of jeans and got 12,000 schools to run drives
• Generated more than 380 million impressions in 2012.
• Garnered media placement in many high-profile publications, web properties and broadcast venues such as E! Online, The Huffington Post, Life & Style, Time Out New York, VH1's Big Morning Buzz Live and The Wall Street Journal, among others.
• Attracted celebrity support from Kristen Bell, Chloë Moretz, Hayden Christensen, Chace Crawford and Paul McDonald, among others.
"The Teens for Jeans campaign continues to raise awareness of teen homelessness," said Scott Birnbaum, senior VP of marketing and ecommerce at Aéropostale. "Over the past six years, our store associates, DoSomething.org and local community partnerships have positively impacted the lives of millions."
THE BIG MO
One way DoSomething.org has kept the momentum going is through its kickoff events. "It's an exciting way for our members to celebrate and have fun," said Hirabayashi.
She stressed that, in addition to mingling with celebrities and taking in musical performances, partygoers also brought jeans to the event, making it the events both fun and charitable.
With more than 3.5 million jeans donated since 2007, Teens for Jeans is undeniably making a difference. PRN
CONTACT:
Naomi Hirabayashi, nhirabayashi@dosomething.org.
Naomi Hirabayashi

3 Tactics to Sustaining a Successful PR Campaign
▶ Offer something unique and specific.
This campaign offers young people a way to take action on a cause they care about and that meets them where they are and works for their world. It's not just a clothing drive and it's not just an anti-poverty campaign; it's the largest jean collection drive by young people in the US. That makes it stand out for the media, our industry and our members.
▶ Kick off with an event.
The last two years we've kicked off Teens for Jeans with a party in L.A. featuring celebrities who are passionate about the cause; musical guests and amazing young people who participate in the campaign. Everyone joins in at the event to help donate and pack jeans for local homeless youth. It's a hands-on, intimate and meaningful experience for the talent while the event news and photos serve as strong PR assets at launch.
▶ Profile real people.
It's not just about celebrities; some of our strongest press coverage has come from our own young people who participate in the campaign. Spend time to find inspirational and substantive stories from your own organization that can fulfill a strong human interest angle at the national level and fulfill the hometown pride at the local level.
Naomi Hirabayashi is CMO of DoSomething.org
This article appeared in the July 15 issue of PR News. Subscribe to PR News today to receive weekly comprehensive coverage of the most fundamental PR topics from visual storytelling to crisis management to media training.