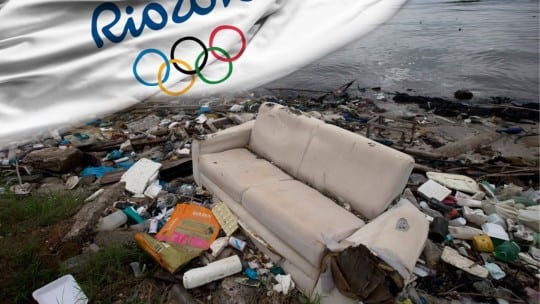 Olympic events take place on world's biggest stages. That means for all of the beautiful moments of sportsmanship (and there are many), there is the potential for athletes to face public relations issues, including full-blown crisis, taking the attention away from what they (and their teammates and sponsors) are there for: the competition. 
We've seen it all this summer: from the Russian doping scandal, to Lilly King's already-legendary sparring with Russia's Yulia Efimova, to Mark Cavendish's crash, to the ever-emerging Ryan Lochte saga,  the types of issues athletes can contend with runs the gamut. 
What's more, athletes are always on stage and they carry a tremendous amount of responsibility by representing not only themselves but also their sponsors (and their sponsor's customers), their sport, their teams and their countries, which means they have much to lose when things go awry.
The process of overcoming difficult circumstances to ultimately succeed is a natural one for competitors: they know better than anyone how to improve, push themselves, and prepare for battle with the fiercest of opponents. 
I believe that athletes can apply those same skills to handle public relations issues. To survive a scandal, athletes must be transparent, sincere, take responsibility for their actions and communicate with messages that will reach and resonate with all of their various audiences, from fans to the media to the brands that pay them (and the consumers of those brands). Thus athletes and the organizations associated with them must always have a crisis communications playbook at the ready. Following are some key plays:
1. Have a plan, have a team. All athletes—and the brands associated with them—need to have a plan in place that looks at potential scenarios and vulnerabilities. While it's impossible to anticipate every possible crisis situation, having a plan in place and a team that can help navigate the most complicated scenarios is the key to being able to react quickly and effectively. That team should include both legal and communications professionals. 
2. Tell the truth. Athletes must tell the truth, take responsibility where warranted, be accountable for their actions and be sincere in their communications. The world is watching, and that world includes their sponsors and their sponsors' customers, along with fans, teams, home nations and more. Remember that the truth will always come out, so it is imperative to own the story from the beginning and to be honest, sincere and accountable. People will be forgiving, but not if they feel they've been lied to or misled.
3. Don't hide. Evasion creates an assumption of guilt, and any athlete who takes this route will quickly lose control of his or her own narrative. Develop a crisis plan ahead of time with a clear process that includes whom to call and when. This advance planning will help shorten the response time (critical in a 24/7 news cycle) and set the tone for future communications.
4. Keep sponsors in the loop. It's critical for athletes to maintain an open line of communication with sponsors in difficult times and include them in the decision-making and communications process. Whether organizing a press conference or making an announcement on social media, sponsors need to know about it.
5. Get your facts straight. What's worse than saying nothing at all? Saying the wrong thing. The need to move quickly during a crisis does not outweigh the need to get things right, so take the time that is needed to fact check before making statements.
6. Listen. A crisis can evolve and grow and change quickly, especially one that extends over a period of time. Monitoring social media and traditional media for sentiment will help athletes and brands continue to navigate the situation.
In today's digital age and 24/7 news cycle, a crisis can snowball into a full-blown scandal in the blink of an eye, resulting in the loss of public trust and millions of dollars in sponsorship and endorsements. Athletes spend their lives preparing for every event and every performance, and they should apply that same level of preparation to their communications planning.
Marya Pongrace is director at integrated communications agency Peppercomm and former communications director for a top professional cycling team. Follow her on Twitter: @mpongrace