[Editor's Note: In the Young Voices series, PRNEWS profiles new communicators who discuss the industry, skills and what they wish they'd known before beginning work, among other things. If you'd like to suggest a communicator for this section, (fewer than 10 years of PR experience), please contact: Nicole Schuman ([email protected]) or Seth Arenstein ([email protected]). Today's profile is Olivia Olson, a media coordinator at Ketchum in NY. See the previous article in this series.]
As the Editor's Note, above, says, this Young Voices series profiles "new communicators," or those with fewer than 10 years' experience, which some might argue isn't necessarily a new communicator. By nearly any measure, though, Ketchum's Olivia Olson is new. She began her PR career in mid-December 2020, not long after graduating from college.
As you might guess, Olson has never seen Ketchum's offices or met the majority of her colleagues in person. The interviews for her position as a media coordinator were virtual.
Some people bemoan experiences the pandemic has robbed from them. Olson is not one of those people. While job hunting in the thick of the pandemic, she found many communicators were generous with their time.
"I definitely don't think people would've been as receptive to my many LinkedIn messages and emails" if they were not working from home because of the pandemic. "That was a silver lining," she says.
Though she admits her job-search was "long," her "system" was successful. It also shows, in part, why Ketchum was interested in her. She's scrappy.
Tenacity Pays
After targeting PR positions she desired, Olson used Rocketreach to find those companies' email format. "I sent email, after email, after email, hoping someone would respond…I got lucky. People were sympathetic" to a young person looking for work during the pandemic's record economic downturn.
Her 'pitches' resulted in several informational interviews. "They opened up a lot more doors…than I would have imagined," she says. Even when an interview didn't result in a job offer, "I got to talk to so many different people in the PR industry."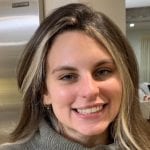 Moreover, Olson learned that a data class she took en route to an integrated marketing certificate in college, at Northwestern, was valuable. Several people she interviewed mentioned the importance of data-driven storytelling and pitching. She keeps in touch with some of the contacts she made during her search.
Organized and Collegial
Those interviews taught Olson, 23, one thing that she uses daily in her job. "Organization and prioritization skills are equally as important as communication skills," she says. "Working on so many different accounts and doing so many things, it's important to have a good organization system."
In addition, the interviews increased Olson's comfort level asking experienced people questions. That's helped since she's working on a range of accounts, from air purification to biotechnology and packaged goods. Gaining knowledge in so many fields has prompted a lot of study and reading, but there's also a personal element.
"I find it helpful to have a 'buddy' on accounts…someone that you're comfortable saying, 'I'm confused here. Would you mind chatting me through this when you have a moment?' I find this super-helpful when I'm feeling like I'm out of place a bit…I think I've done this on every account I'm on."
In addition, these personal connections lead to having more friends. "And who doesn't want more friends?"
An admitted "people person," Olson says she's found briefings from Ketchum's top leaders very helpful to learn about "culture and values." In addition, she's learned a lot about the industry via Ketchum's Workplace link, where colleagues post intelligence and relevant articles, such as one discussing Spotify's acquisition of Betty Labs, a rival of Clubhouse.
Still, Olson says she's eager to get to the office. She wants to meet and learn from colleagues. In addition, she believes many young communicators want the opportunity to prove themselves. "We're do-ers and we're really ready to hit the ground running…and catch up on experiences we missed."
On the other hand, this group of young communicators knows a return may include difficult lessons. Olson believes she and other young PR pros want industry leaders to know the pandemic "has...made us very resilient…we want to get back to work and receive feedback. We're ready to go and will take criticism as it comes."
Seth Arenstein is editor of PRNEWS and Crisis Insider. Follow him: @skarenstein