About 80,000 New York City workers returned to the office May 3, per a decision from Mayor Bill de Blasio, but many are unhappy with the mandate. The Mayor faces a communication reckoning around the City's return-to-work policy, signaling that corporate leaders and communicators will face similar issues as employees return to work in person.
Grassroots Group Highlights Inequity
A grassroots group, City Workers For Justice, says the move is inequitable, particularly for those unable to secure childcare during work hours. Hundreds of city workers and supporters attended a May Day rally where speakers detailed fears about workplace safety, while arguing that a remote workplace is a productive one.
The grassroots group, which formed in the wake of George Floyd's murder, is laser focused on equity in the workplace, with a stated mission of "dismantling racism and building racial justice within City institutions."
The mayor has argued that a recent $200 million investment in building improvements—as well as the fact that 180,000 city workers are fully vaccinated—will keep workers safe. City employees are not convinced. Opponents of the return-to-office mandate are taking to the press and social in an attempt to hold off reopening until at least September.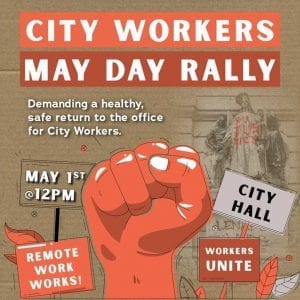 News Coverage Ups The Stakes
At the May 1 rally, employees argued that older buildings' ventilation systems are unsafe despite upgrades, with one employee saying it will be hard to breathe in a mask at his desk all day. Still others claim mass transit poses an unnecessary risk.
Recent analyses and studies say otherwise.
Protesting city employees emphasized a lack of access to childcare in their external communication, with one 11-year old boy offering a quote at the May 1 rally on behalf of his mother.
"I'm gonna be alone. I might get into trouble or danger, and she can't help me because she has to go to work," a CBS affiliate reported.
Data: Moms Struggling to Balance Work and Childcare
With most schools and daycare centers yet to re-open full time, it is easy to argue that the burden of returning to work is disproportionately impacting parents. The case is true particularly for mothers; a Moody's analysis for the New York Times found that women with young children have seen the sharpest decline in workplace participation as compared to their male and child-free counterparts.
Potentially correlating to these childcare challenges, women also are less likely to respond positively to workplace reopening communication. 63 percent of working women felt their company was transparent about their return to work policy, as compared to 73 percent of male employees, says a February 2021 survey of 1,000 staffers from Vyond and True Global Intelligence.
Similarly, 61 percent of men said leadership at their company is doing well communicating with employees, while only 55 percent of female employees agreed.
Given the impact on mental health of balancing work and childcare, it is unsurprising that perceptions around companies' provision for mental health also are split along gender lines. While 60 percent of men believe their company is committed to employees' mental health needs, only 52 percent of women agree.
Shifting Internal Communication Channels
So, how can companies ensure back-to-workplace communication addresses equity concerns? The Vyond survey indicates a focus on media-as-message, to start.
Instead of using email and company blogs to communicate in-person work policies, the survey suggests a stronger preference among remote employees for video and audio messages (52 percent).
And if video or audio missives are offered live, companies should consider providing an on-demand viewing option: 56 percent of employees said they preferred watching executive announcements on their own time, rather than at the broadcast time.
If shifting employee perception and overhauling internal communication channels seems like a monumental undertaking, the good news is that the effort should not fall solely to communicators, says Andy Gilman, president and CEO of CommCore Consulting Group.
"Getting back to work will require the combined talents of external and internal communications, HR and logistics," he argues.
Ongoing Employee Concerns
In reference to concerns about workplace ventilation, Gilman reminds PR pros that even pre-COVID-19, "indoor air quality and health and safety issues have always been present."  He advises employers to provide "factual and emotional proofs" for staff to feel more comfortable on return. In other words, facts and figures are helpful, but only if they tie to empathic messaging. How might employers better acknowledge the childcare conundrum for working mothers, for example?
In addition, buy-in is crucial, Gilman notes.
"It will…be helpful to include all levels of staff in the decision-making for return to work," he says. Perhaps it's time for newer employee resource groups (ERG)–formed in response to calls to address racial and social injustice last year–to place more emphasis on parenting and childcare.
Public figures like de Blasio and executives at top brands likely will continue to face backlash around return-to-work policies, so having a communication plan is paramount. Gilman points out that communicators may need to ready themselves for claims that employees taking to social media and the press are not doing so in good faith. He predicts PR pros will soon have to confront authenticity of employees' safety fears, as compared to the joys of working from home, like "the flexibility and the time [saved on] commuting."
Sophie Maerowitz is senior content manager for PRNEWS. Follow her @SophieMaerowitz.