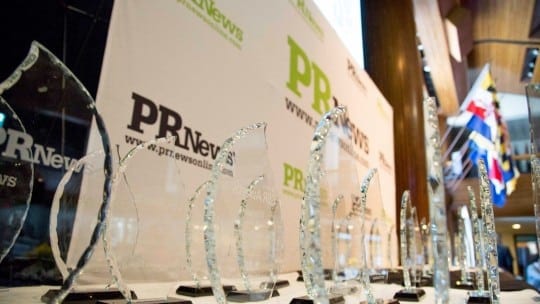 Hunger prevention, hurricane relief, academic scholarships: These are just a few of the worthy causes spotlighted by the 2018 PR News' Nonprofit Awards finalists.
PR News' Nonprofit Awards—which benchmark and celebrate the past year's top nonprofit communications campaigns and the storytellers behind them—are announced at an annual luncheon in Washington, D.C., along with the winners of PR News' CSR Awards. This year, PR News' CSR & Nonprofit Awards Luncheon will be held March 20, 2018 at The National Press Club.
The luncheon will feature a keynote speech by Bob Filbin, chief data scientist at crisis intervention nonprofit Crisis Text Line, and a former driving force at DoSomething.org.  Filbin, one of the Chronicle of Philanthropy's 40 Under 40 and a notable speaker at SXSW, will speak on how communicators can turn data into action at their own organizations, driving involvement, action, funding and media interest for social responsibility programs and nonprofit initiatives.
Here's the full list of PR News' 2018 Nonprofit Awards finalists:
Nonprofit Communicator of the Year
Monique Morrow, The Humanized Internet
Kelly Stone, CompTIA
Nonprofit Team of the Year
America's Promise Alliance
goDigital - DC Public Library
Advocacy Campaign and Lobbying Efforts
Advocating for Access to Care: Frontline Physicians Unite - – AOA, AAFP, AAP, ACOG, ACP & APA
Campaign to Expand Full-Day Kindergarten in New Hampshire - Save the Children Action Network
Don't Lose Sight of Children: Saving Pediatric Health Care and the Affordable Care Act - Children's Hospital Los Angeles
Infantile Spasms Awareness Week 2016 - McCabe Message Partners
NACE International
Park Champion Initiative - National Recreation and Park Association
This Is Hunger - MAZON: A Jewish Response to Hunger
Annual Publication or Brochure
2017 Report to the Community - Golden Gate National Parks Conservancy
Children's Health Takes Pediatric Health Care and Welfare Beyond
Foundations for Transformation: 2017 American Cleaning Institute Sustainability Report - American Cleaning Institute and CooperKatz & Co
"Passport to Downtown Manhattan", Educational Alliance's 2016 Annual Report - Educational Alliance
Blog
Building Better Lives in Guatemala - Counterpart International
IU Health News Hub - Indiana University Health
Professionals Blog - Milton Hershey School
Word on Benefits Blog - International Foundation of Employee Benefit Plans 
Branding/Re-Branding
Jhpiego
Nutrition International – GMMB
Valley Forge Tourism & Convention Board
Zenith Education Group Introduces a New Path to Skills-Based Education - ECMC Group
Corporate/Nonprofit Partnership
Ascension Chess Program Empowers Students in the Face of Adversity – FleishmanHillard
Home is the Key 2017 - Porter Novelli Atlanta
Maggiano's/Make-A-Wish - Brinker International, Inc. 
Crisis Management
American Association of Critical-Care Nurses
Castle View Elementary School Crisis Communications - Riverside Unified School District
Digital PR and Marketing
goDigital - DC Public Library
Meet Me at the Park Earth Month Campaign - National Recreation and Park Association 
Employee/Internal Communications
2020 Vision - Milton Hershey School
"Balloon Beat" Rises Above the Industry Standard - Children's Health
Event PR
Ann Arbor SPARK
Making My Daughter's Death Count: The Launch of the Heather Heyer Foundation - The TASC Group
External Publication or Report
2017 Global Estimates on Modern Slavery – Edelman
Foundations for Transformation: 2017 American Cleaning Institute Sustainability Report - CooperKatz & Co
Power Up Hong Kong - Annual Report 2015/16 – Hong Kong Tourism Board
Fundraising and Philanthropy Communications
Home is the Key 2017 - Porter Novelli Atlanta and Habitat for Humanity
Turning Points: 2016 - Kenneth Rainin Foundation 
Marketing
goDigital - DC Public Library
Hurricane Harvey Appeal - CompTIA 
Media Relations
Fund It, Fix It, Make It Fair: The Campaign to Improve Public Transit and Defend Transportation Workers' Rights in the DC Metro Area - The TASC Group
Nurses Week/Diapering That Nurtures Campaign – AWHONN
Putting a Spotlight on Teen Mental Health and Suicide Prevention - JED Foundation and Makovsky
Member Communications
Medicaid Matters for Children: Pediatrician Engagement to Protect Children's Health Care - American Academy of Pediatrics
SkinSerious - McCabe Message Partners PR
Natural Disaster Communications
Hot Topic: Disaster Communications - Charity Navigator
Hurricane Harvey Response: How Children's Health Responded to One of the Largest Disasters in Texas History 
PR on a Shoestring Budget
Follow Your Beer - National Beer Wholesalers Association
Hot Topic: Disaster Communications - Charity Navigator
Know the Risks - The MetroHealth System
Making My Daughter's Death Count: The Launch of the Heather Heyer Foundation - The TASC Group
SkinSerious - McCabe Message Partners PR
Tragedy to Triumph - One Boy's Story - Indiana University Health
Public Affairs/Issues Management
Center for Presidential Transition - Partnership for Public Service
Fund It, Fix It, Make It Fair: The Campaign to Improve Public Transit and Defend Transportation Workers' Rights in the DC Metro Area - The TASC Group
Global Perspectives on Tax Reform - Tax Analysts
Putting Patients Before Politics in the National Health Reform Debate - American Medical Association
Public Service Announcement
Join the Fight - United Way Worldwide
The Lisa Colagrossi Foundation: Shedding Light on Brain Aneurysms - Ogilvy
Social Media
#HANGRY campaign - Share Our Strength – No Kid Hungry
Princeton HealthCare System
Recruiting Donations and Volunteers to Help Toronto's Homeless for Project Winter Survival - Spark Growth
Social Responsibility Campaign/Initiatives
Count It! Lock It! Drop It! Campaign - BlueCross BlueShield of Tennessee - MP&F Public Relations
Earth Focus Summer of the Environment - KCETLink Media Group
Greater Boston Food Bank: Hunger Action Month 2017 - Agency 451
#I'm not a good teacher# for promotion of ICPJS – Ogilvy
Life Service Award - National Beer Wholesalers Association
Oxygen to Fly - Children's Miracle Network Hospitals
Project Sunshine - Effect Burson Marsteller
School in Movement Program- Better on the Move Campaign - ARCOR Foundation
Video and/or Podcast Program
#I'm not a good teacher# for promotion of ICPJS – Ogilvy
Latino Education and Economic Progress: Running Faster but Falling Behind Video - Georgetown University Center on Education and the Workforce
Love Tremendously Hope Exceedingly - Red Couch Stories
Nothing but Nets Launches Virtual Reality Film, "Under the Net" - United Nations Foundation 
Web Site
org - CompTIA
National Center for Complex Health and Social Needs - McCabe Message Partners
edu - Purchase College, SUNY
The Safe Cheesemaking Hub - American Cheese Society