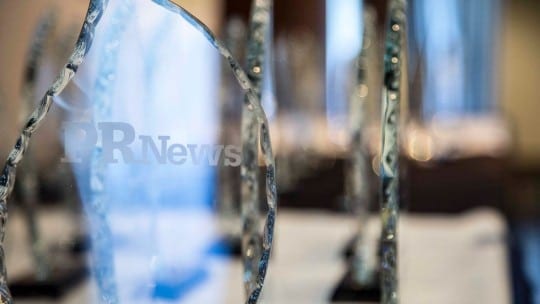 Each year, PR News honors the top corporate social responsibility campaigns, and the brands and communicators behind them, at its CSR & Nonprofit Awards Luncheon at Washington, D.C.'s historic National Press Club. CSR Awards finalists represent the very best in corporate responsibility initiatives, with each campaign making a visible difference on the local, national or global level.
Out of hundreds of entries, CSR Awards finalists were chosen for their ingenuity and creativity, strategic approach and measurable impact. Entrants were judged on strategy, research and execution in categories including best social media campaign, best sustainability campaign and top employee relations program. From environmental protection to disaster relief to gender equality, these campaigns and communicators have enacted positive change that will be felt for years to come.
PR News will announce and celebrate the winners and honorable mentions of its CSR Awards March 20 at its annual CSR & Nonprofit Awards Luncheon at the National Press Club in D.C. Below, the finalists for PR News' 2018 CSR Awards:
Agency CSR A-List
APCO Worldwide
Burson-Marsteller
Cone Communications
Edelman - Business + Social Purpose
FleishmanHillard
G&S Business Communications
Nebo
RF|Binder
VOX Global - Helping our clients lead with purpose
Weber Shandwick
CSR Professionals of the Year
Alison DaSilva, Cone Communications
Carmen Ferrigno, Saint-Gobain
Catherine Hernandez-Blades, Aflac
Jane Madden, Burson-Marsteller
Gwen Migita, Caesars Entertainment
Stephanie Morris, Dini von Mueffling Communications
Ewelina Samchalk, PepsiCo, Inc.
Annual Report
2016 Corporate Responsibility Report - Raytheon
Clorox 2017 Integrated Annual Report - The Clorox Company and CRI
Annual update on our 2020 Legacy of Good Plan - Dell
2016 iHeartMedia Impact Report
Beyond the Game - National Football League
Blog
21st Century Fox Social Impact Blog - 21CF
Curating content with a focus on travel for good - Intrepid Travel
Cause Branding Campaign
Battle of the Sexes Donation Campaign - 21CF
Multipliers of Prosperity - MetLife
Now You See Us: Elevating the Raytheon Brand to Arizona State Leader Communities - Raytheon Missile Systems
Red Nose Day – Walgreens
Sioux Honey Share a Little Sweetness Tour - Bozell
Talking Paintings Exhibiton - Turk Telekom 
Community Affairs
AkzoNobel Human Cities Initiative North America
Curiosity Cube Sparks Scientific Curiosity Across the United States - Havas PR with MilliporeSigma
The Great Pantry Makeover: 60 Pantries for 60 Years - Food Lion
Hacking Human Behavior - MetLife Inc.
Honeywell Educators at Space Academy - Honeywell Hometown Solutions
Read to Succeed - KPMG
Teva Pharmaceuticals - Teva Tov
We Still Believe - Food Lion Feeds
WWE
Walgreens Combats Opioid Abuse Epidemic
Corporate-Community Partnership
Changing the World Together - Moxie & Delta Air Lines
Honeywell Hometown Solutions & Safe Water Network: India
Latin Code Week - SAP & JA Americas
Summer City Fitness Presented by BlueCross BlueShield of Western New York
Corporation (less than 25,000 employees)  
Bayer North American Bee Care Program - Porter Novelli, BBDO, Mastermind Marketing
No ducking the disconnect: Aflac gets serious about corporate perception gap - Aflac, FleishmanHillard and KWI
WWE
Corporation (more than 25,000 employees)
Bringing People the Benefits of Digitization Through CSR - Cisco
Cyber in the workforce - Raytheon
Doing Well By Doing Good - ManpowerGroup
Oracle Corporate Citizenship
Thermo Fisher Scientific
Zero Hunger │ Zero Waste - The Kroger Co.
CSR on a Shoestring
AbbVie and Illinois Science & Technology Institute STEM Mentor Challenge
Medela Cares
Moore Pride @ Work with YouthBuild USA - Benjamin Moore & Co.
Diversity Communications
Business Powered by Diversity - HP Inc.
CEO Action for Diversity and Inclusion - PwC
Creating a National Movement to End "The Talk" and Racial Bias - P&G + MBIB "THE TALK"
Voicing the Unique Health Care Needs of the African-American Community -Ascension
Employee Relations
Engaging Employees in GoodWorks@TU
The Great Pantry Makeover: 60 Pantries for 60 Years – Food Lion
Save The Dream Scholarship Program - Huhtamaki, Inc.
Teva Community Partnership Program - Teva Pharmaceuticals
We Still Believe - Food Lion Feeds
Environmental Stewardship
Before the Flood - 21CF
Global Stewardship at Work: 2015-16 GRI Report - California State Teachers' Retirement System
H2Love: Making Conservation a California Way of Life - Metropolitan Water District of Southern California
Zero Hunger │ Zero Waste - The Kroger. Co
Media Relations
#ClickWithCompassion – Dini von Mueffling Communications
Creating a National Movement to End "The Talk" and Racial Bias - P&G + MBIB "THE TALK"
Eastern Bank Join Us For Good Campaign Launch - Cone Communications
Evan PSA - Dini von Mueffling Communications
The Joy in Childhood Foundation Brings a "Day of Joy" to New York - RF|Binder
Leading the Way in Responsible Tourism – Intrepid Travel
Samsung Solve for Tomorrow - Allison+Partners
TurfMutt "High Paws" The Living Landscape - Four Leaf Public Relations
Nonprofit/Corporate Partnership
AdVenture Capital - SAP North America
Celebrating Charles E. Taylor Day - JetBlue/Together We Rise
Changing the World Together - Moxie & Delta Air Lines
Dream Big: Engineering Our World - Bechtel Corporation
The Great Pantry Makeover: 60 Pantries for 60 Years - Food Lion
Honeywell Hometown Solutions & Safe Water Network: India
Las Vegas Sands Tackles Homelessness in its Hometown
The Pandora Christmas Workshop - Essencius
Ready, set, share! Johnson & Johnson Ignites Global Moms Relay for Family Health - M Booth
Shred Hate Campaign – ESPN
Philanthropy Communications
The Great Pantry Makeover: 60 Pantries for 60 Years - Food Lion
Pfizer Uses "Individual Voices" to Bring CSR Programs to Life - GCI Health on behalf of Pfizer
Providing Energy, Improving Lives during Hurricane Harvey - Phillips 66
Ready, set, share! Johnson & Johnson Ignites Global Moms Relay for Family Health - M Booth
We Still Believe - Food Lion Feeds
Pro Bono Campaign
FH4Inclusion - FleishmanHillard
Sister March: Building A Movement - InkHouse 
Social Good
Aflac Holiday Helpers Give $50,000 to Families in Need
FH4Inclusion -FleishmanHillard
Food for Good – PepsiCo, Inc.
Freedom from Hunger Drive – Valley Forge Tourism & Convention Board
Las Vegas Sands Tackles Homelessness in its Hometown
LIFG Veterans #HonorOurFuture – LinkedIn
Meltwater Entrepreneurial School of Technology 2017 Pan-Africa Expansion – VSC Consulting
Merck for Mothers, All for Mothers – Marina Maher Communications
New Life, New Hope: Barangay Ilang Resettlement Project– Holcim Philippines, Inc.
The Toy Movement - Spin Master
Weight Watchers Launches Project L.I.F.T. Live Inspired, Fight Together. – M Booth
WWE
Social Media Campaign
Before the Flood - 21CF
#DreamBigPrincess Global Photography Campaign - Disney
Merck for Mothers, All for Mothers - Marina Maher
Shred Hate Campaign - ESPN
Social Media Communications
Convenience Cares - OTM Partners and NACS
#HertzHelps: Social Media for Disaster Relief - Brickfish & The Hertz Corporation
Merck for Mothers, All for Mothers - Marina Maher Communications
The Power to Do Good - Aflac
Stakeholder Engagement
Inclusion Plus: A Global Competition for Social Ventures in the Financial Inclusion Industry - MetLife
Road to Recovery: Emerging from the Storm - Henry Schein, Inc.
TXM for Texas - Elizabeth Christian Public Relations
Sustainability/CSR Report - Steve
The Coca-Cola Company
Everyone has the power to 'do good' - Aflac
Experian
Foundations for Transformation: 2017 - American Cleaning Institute
JetBlue
PepsiCo, Inc.
PerkinElmer
We're Moving Forward - Capital Power
Video Initiatives
Doing Well By Doing Good - ManpowerGroup Sustainability Week 2017
Greatness Lives Here - Mercedes-Benz USA
Home Sweet Home: Doing Good While Doing Well - Church Pension Group
Thermo Fisher Scientific
Topgolf In Focus: Hurricane Harvey
Volunteer Program
AbbVie Gives Back: Week of Possibilities
Franchising Raytheon's MathMovesU Day - Raytheon Missile Systems
The Great Pantry Makeover: 60 Pantries for 60 Years - Food Lion
National Corporate Partner of Volunteers in Medicine - Teva Pharmaceuticals
Smile Generation Serve Day 2017 - Pacific Dental Services
Teva Tov - Teva Pharmaceuticals
Thermo Fisher Scientific
The Toy Movement - Spin Master