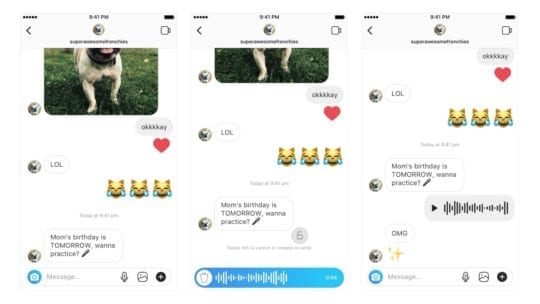 This week, Instagram announced the addition of new features in Direct messaging and for its influencer community that communicators should keep their eyes on.
Direct Voice Messaging
In a Dec. 10 post on Twitter, Instagram announced that users can now send voices messages via the Direct messaging platform in the app. Audio messages can be up to one minute long and can be sent in private and group chats.
Starting today, you can send voice messages in Direct. Talk the way you want to be heard, whether by whispering what you're up to or shouting a compliment. pic.twitter.com/3rkdQneNXO

— Instagram (@instagram) December 10, 2018
Comparatively to other social platforms, including parent company Facebook, Instagram is late to the voice messaging game. The Verge reports that "voice messages are quickly becoming the preferred method of communication on messaging platforms like WeChat and WhatsApp, and [this] addition may be a welcome feature for some users."
And Joshua March, CEO of consumer-engagement platform Conversocial told Adweek, "Adding voice messaging support to Direct chats is reflective of Instagram's growth to become a comprehensive and possible stand-alone messaging platform." He also pointed out the potential for brands to get involved in voice messaging once Instagram introduces business messaging in 2019.
This signals yet another move toward voice tech for brand communicators and marketers, and could add another level of accessibility for some users. But is also being hailed as the potential "end of Instagram" as the app includes more features of other platforms.
Creator Accounts for Influencers
An exclusive report in The Hollywood Reporter on Dec. 11 revealed Instagram's beta testing of creator accounts for influencers, which will "give the app's high-profile individuals specialized tools." Though influencers are abundant on the platform, until now they did not enjoy a customized experience on Instagram, causing some influencers to create business accounts for themselves to enjoy more additional features than the average user.
Instagram product manager Ashley Yuki told The Hollywood Reporter that this change is part of an effort to recognize influencers as "an important part of our community," and that "we want to make sure that Instagram is the best place, and the easiest place, to build fan communities and also build [creators'] personal brands."
The features being tested currently include new growth analytics capabilities around increases and decreases in followers, direct messaging filters for creators to better manage their inboxes and new labels to designate how (and if) they want to be contacted. The plan is to roll out the features to the wider influencer community next year.
Specific creator accounts could help change the game, since Instagram is home to so many high-profile influencers who have been craving exclusive features. Communicators who engage and work with Instagram influencers can potentially use these new additions to their advantage, especially making use of the data insights in branded partnerships.