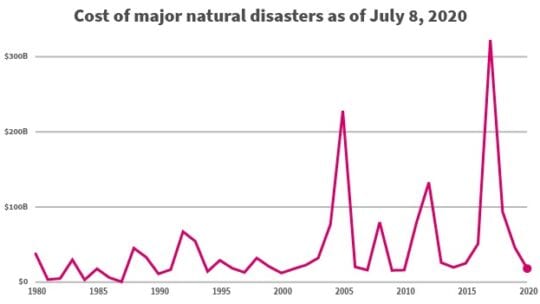 If we've learned anything from 2020, it's that preparedness matters. Whether it's stockpiling supplies or developing a crisis map or plan. The adage, 'If you fail to plan, you plan to fail,' rings ever true. 
One of September's designations is "National Preparedness Month." Hosted and launched by ready.gov, a section of the U.S. Department of Homeland Security, it serves as a reminder and promotes community and disaster planning. 
As COVID-19 continues to spread, and the nation faces wildfire and hurricane season, the timing is on point to spread a message about the importance of creating plans and revisiting past ones to allow for the most up-to-date information and process. 
Natural disasters have proved some of the most costly, according to USAFacts. "Natural disasters have cost the United States more than $1.79 trillion since 1980, with 25.7 percent of that just from the last three years." Tropical cyclones remain the costliest, causing $954.4 billion in damages since 1980, and averaging $21.2 billion per event. This not only debits government coffers, but those of businesses and citizens within affected areas. 
If anything, these numbers showcase the utmost importance of communication, and being able to get citizens information prior to and during a disaster. National and local organizations are taking advantage of National Preparedness Month to do just that, and provide families with necessary content to catalyze prep.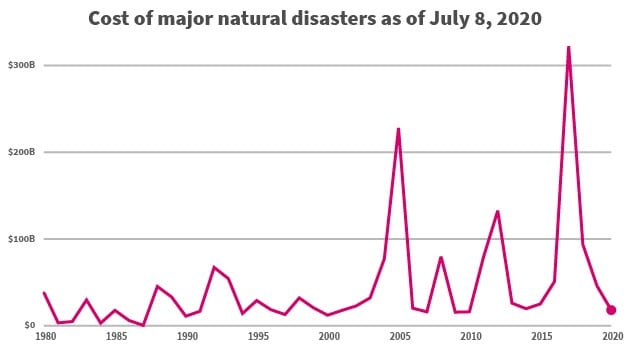 National Messaging
On a federal level, FEMA is running point for ready.gov's preparedness campaign. This year's theme, "Disasters Don't Wait. Make Your Plan Today." is simple, yet accentuates the urgency of disaster preparedness. 
Lea Crager, FEMA's Ready Campaign director, mentioned the importance of messaging to prompt people to action.
"Preparedness can make a huge difference in disaster recovery, but it can be difficult to motivate people to think about disasters before they're faced with one," Crager said. "Giving people scenarios to think through can help make the process more active and engaging. If you had to evacuate your home, where would you go? If you lost power, how would you charge your cell phone? Thinking these scenarios though helps people think about what they need to do to be prepared."
The ready.gov site provides four weeks of action planning throughout the month, allowing citizens to create preparedness plans. They include, "Make a Plan," "Build a Kit," "Prepare for Disasters," and "Teach Youth About Preparedness." Crager accentuated the importance of getting the entire household involved, especially children, which can lessen the scariness of a situation.
Children "can be great advocates for preparedness in their household," she said. "Just like you do fire-drills at school, you need to practice for disasters at home too. Directing preparedness media to children and engaging them in the process helps empower them. It makes threats like hurricanes and fires a little less scary. The same can be said for adults! Making messaging about empowerment rather than nagging or shaming can be really effective." 
Ready.gov also makes sure to share multimedia resources, including video and social media, to get preparedness messages across in a concise, engaging way. 
"Reading about the dangers of a storm surge isn't as moving as listening to a survivor talk about how scary it was while watching footage of strong waves," Crager said. 
Sculpting the Message
As PR pros know, not every message should be delivered in the same way. In the area of preparedness, some organizations focus on children and families. Others target first responders or medical professionals. For the month, the Red Cross is aiming to reach older adults. 
New research from the Red Cross Scientific Advisory Council and the American Academy of Nursing shows older adults are more vulnerable and experience more casualties after a natural disaster compared to other age groups.
"During National Preparedness Month, we are recommending that everyone, especially older adults, plan and get ready for emergencies," said Stephanie Rendon, manager, media relations, at American Red Cross National Headquarters. 
Rendon said the campaign's objective is to encourage the public to ask older adults in their lives if they need help preparing and responding to disasters. 
"Older adults may have more chronic conditions and medication concerns, be more dependent on assistive devices like walkers, eyeglasses and support from caregivers," Rendon said. A preparedness plan helps people to be a part of their support network.
Rendon said Red Cross messaging is also focusing the importance of learning first aid and CPR skills. This can be done online. Red Cross CPR classes typically are offered in-person, but many have moved to remote platforms due to COVID-19. The Red Cross is also reminding the public about the need for volunteer donors, since severe weather can impact on the collection of lifesaving blood products due to cancelled blood drives and decreased donor turnout. 
In addition to online information distribution through its website and social channels, the Red Cross is utilizing a system of satellite teams throughout the country to get out the message. 
"We are...leveraging the power of our teams...to share preparedness tips with their communities through local media," Rendon said. 
Nicole Schuman is a reporter for PRNEWS. Follow her @buffalogal