Video is now king on social media, and live streaming has emerged as a crown jewel, a powerful way for brands to reach and engage a larger audience in real-time.
Most of the major social media platforms—including Twitter, Instagram and YouTube—offer live-streaming capability and more are moving toward it. But over the course of 2016, Facebook Live emerged as one of the most effective ways for communicators to reach the largest audience possible in real time.
One of the earliest and most successful adopters of Facebook Live is NASA. Its broadcast of a SpaceX rocket launch April 8, 2016, was viewed by more than 393,000 unique users, garnering around 54,000 likes, 73,000 comments, and 14,000 shares.
But if you think you need a NASA-size budget to produce a Facebook Live event, think again. For that first rocket-launch broadcast, NASA used nothing more than a mobile phone pointed at a television screen.
"I don't think it has to be high tech, you don't need a lot of equipment," says John Yembrick, social media manager in NASA's office of communications. "That's what the idea of Facebook Live is, it's an authentic feel, that's what people are looking for. Trying to make it a high-quality TV production just isn't necessary in my view."
At the recent PR News webinar Use Facebook Live to Broadcast Your Brand Story and Grow Your Audience, Yembrick offered several best practices to optimize a live-streaming broadcast. Here are four tips to keep in mind:
Timing Is Everything
The optimal time for a Facebook Live stream is about 20 minutes, Yembrick says, though the amount of time people actually spend on the stream is a fraction of that. Around 70% of NASA's audience never get past the 30-second mark on a Facebook video and 94% never make it past 120 seconds.
In short, you have to remember that attention spans are short. "Not a lot of people tune in for a long period of time to these things, so the way you frame them and how concise you frame them really matters," Yembrick says. "Nobody is going to watch Facebook Live for an hour."
It starts from the word go. The first 10 seconds of the stream are the most critical in terms of grabbing attention, so the beginning should be extremely visually compelling, not just a collection of logos or talking heads.
"You want to get people hooked as quickly as possible," Yembrick says. "We don't have a long opening, we just go right into it and I think that's key."
Think Muted
It's important to keep in mind that most viewers never get around to un-muting the stream. In fact, two-thirds of the videos watched on NASA's Facebook and Twitter pages never have the sound turned on, and about 39% of its YouTube videos are muted on mobile.
"People don't un-mute their content, so you want to make sure that your visuals are spot-on to get people interested," Yembrick says. "Think: Is all the information being talked about on audio also available visually?"
As such, when you begin your broadcast, it's nice to have a countdown on the screen to alert viewers (even if you're not launching a rocket). And it's best to caption the audio if possible.
Timely Promotion
Since you don't have a lot of time to catch people's attention, the write-up for your Facebook Live event is key. "Think about, if you were scrolling, what would make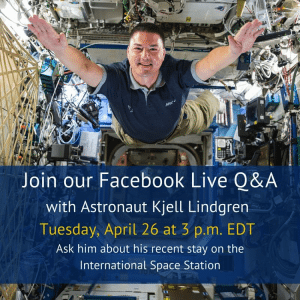 you stop and watch?" Yembrick says.
NASA doesn't limit the promotion of its Facebook Live events to Facebook alone—it promotes them on other social media platforms as well. But you shouldn't give too much advance notice: The key is to promote in a timely manner.
"I think doing a promotion a week in advance doesn't make much sense," Yembrick says. "We'll do it 24 hours before, and then the day of, we'll try to do a couple of promotions leading up to it. Promoting it as close to the actual event as possible makes more sense."
Optimize for Mobile
One of the most important considerations when planning a Facebook Live event is to think about how it will look on a three-inch screen. The majority of NASA's social media posts, 61%, are viewed on a mobile device, meaning a big portion of the audience will never see the stream on a desktop.
Mobile is also the easiest way to broadcast on Facebook Live—all that you really need is a mobile phone on a tripod. But that presents another challenge—how strong is your connection?
"Make sure you have a strong WiFi or 4G connection," Yembrick says. "If your connection is weak, the 'go live' button will be grayed out."
Follow John: @yembrick
Follow Jerry: @Jascierto