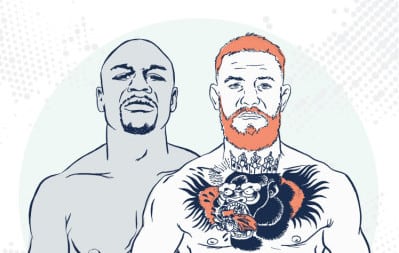 Communicators spend many of their waking hours thinking of creative ways to break through the clutter and get their messages heard. For a few, this concern makes an appearance during their dreams, too.
This likely is not the case with communicators and marketers who have the pleasure of promoting the match between undefeated, un-retired boxing champ Floyd Mayweather Jr., 40, and mixed martial arts king Conor McGregor, 29. Two of the biggest names in fighting will meet Aug. 26 in a pay-per-view bout from Las Vegas. (Really, could it be held anywhere else?) While not always tasteful, PR and marketing for the match has been tremendous.
Gone are the days when sullen, taciturn pugilists touted their bouts in front of a small crowd of poorly dressed, ink-stained wretches, aka the boxing press. The publicists for Mayweather and McGregor staged an extensive promo tour (more on this below). They can thank Muhammad Ali for being the father of boxing PR and marketing.  Maybe they should thank Ali for something else, too. It was Ali's fame that legitimized the mixed fighting match when he battled Japan's Antonio Inoki, a wrestler and kick boxer, back in 1976.
A PR pro's dream, Ali was not only a great boxer, but handsome, articulate and talkative. Indeed, in a recent survey of boxing hype, the NY Times excluded Ali from its rankings of the best boxer-promo artists. "From "float like a butterfly" to his nonpareil interviews with Howard Cosell, no one could sell a fight like Ali. It just wouldn't be fair" [to include him], the article's writer, Victor Mather, wrote.
Ali brought boxing PR to great heights with his brand of braggadocio. In fairness, though, the competition was slimmer. Ali boxed during the pre-social media era and before the rise of cable and satellite television. There wasn't as much media competing for eyeballs.
When cable TV began to make its mark, though, credit WWE wrestling with a PR assist in that it showed fighters could also be great promoters and spokespeople. WWE is a show and its emphasis on fighters who were athletic but also articulate and unafraid of the camera spawned, among others, today's top-paid actor, Dwayne "The Rock" Johnson.
Even President Trump was a cog in WWE's PR machine. Ten years ago, in March 2007, Trump squared off against WWE chief Vince McMahon in WrestleMania 23. Well, not really. The so-called Battle of the Billionaires pitted a Trump-designated wrestler, Bobby Lashley, against McMahon's pick, Umaga. The future president and McMahon agreed that the loser would allow the winner to shave his head in the ring. Trump's wrestler won, but not before Trump and McMahon took a few swings at each other.
Besides being a good stunt, what's that got to do with the subject of hype?  A press conference was held at NY's Trump Tower in 2007 featuring McMahon and Trump hyping the hair-raising fight. It was a routine presser, Q&A etc. But at some point the two principals (I mean McMahon and Trump, not the wrestlers) got into an argument that progressed to, yes, a fight. The two, large men took swings at each other, knocked over the dais, glasses and chairs flew. Handlers separated them and they were hauled off. Your writer was just a few rows from the action, but I was fooled. It looked very real.
Skip to the present and you can see how far boxing PR has come. As we noted above, to push the bout, publicists for Mayweather-McGregor staged a four-city, four-day media tour. In place of a few beat writers noting the proceedings, 10,000 fans crowded into Staples Center in Los Angeles on the first stop to watch what essentially was a dressed-up press conference, complete with colored lights, fancy clothes (McGregor has a line of menswear) and musical entertainment from Aloe Blacc. (Hey, PR pros, want to revive the press conference? How about adding entertainment to the mix?)
Still, Mayweather and McGregor did not disappoint. McGregor was his highly quotable and sometimes profane self, dropping blue language as easily as he drops his opponents. Mayweather did well, too, raising the stakes, literally. After absorbing a whale-load of McGregor bluster, Mayweather pulled a $100 million check from his pocket and said he's a 9-figure fighter; McGregor's only a 7- or 8- figure fighter, he added. As the Times article noted, McGregor returned serve, making  a quip about Mayweather needing money to pay his taxes.
While it's true that things have gotten ugly, with McGregor, who is white, uttering what some saw as racist remarks at Mayweather, who is black, it's difficult to know if this, too, is not just part of the hype. If it is, boxing PR has gone too far.
Follow Seth: @skarenstein