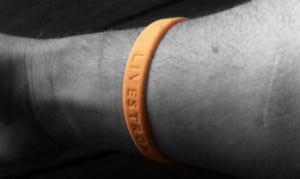 In 2004, the partnership between Nike and Livestrong seemed picture perfect. But that relationship came to an end earlier this week, another casualty in the fallout resulting from Lance Armstrong's revelation that he used performance-enhancing drugs to win his seven Tour de France titles. Armstrong had already stepped down as chairman of the foundation—and was then ousted from the foundation's board—but the Livestrong brand appears to be inseparable from the tainted bicyclist.
It's a cautionary tale for Livestrong and its communications team, and the upshot is that no matter how much work you do to distance yourself from an individual who personifies what you are, it might simply not work. Ever.
Livestrong was founded by Armstrong in 1997, and its cancer-fighting work lives on independently. But it repeatedly has had to deal with Armstrong. At least five of the foundation's press releases on its website from 2013 deal with Armstrong, and possibly more, if leadership and board changes announced this year are related to Armstrong as well. His once-essential impact is now a major negative—think the Second Life charity and Jerry Sandusky.
The Nike decision is only the most recent. Nike stood by Tiger Woods, The New York Times noted, and gave admitted dog-killer Michael Vick an endorsement after he served jail time for dog fighting, but the sportswear giant apparently drew the line at doping. Nike said it will stop manufacturing Livestrong apparel at the end of the year, but will fulfill its financial obligations to the cancer charity through 2014, as previously agreed.
In happier days, Nike helped raise more than $100 million for Livestrong, primarily through the now-iconic yellow bracelets sold for $1.
In addition, Livestrong has been trying to distance itself as much as it can from the beleaguered Armstrong—who himself is facing dozens of lawsuits—with a campaign promoting the buzzword "StillStrong," intended to remind people that the charity is still operational and providing key services to cancer patients. Armstrong has been almost completely erased from the charity's website—the only vestige of him on the site is under the "Our Founder" section.
This might be a case where the brand and persona are inseparable, and no amount of proactive PR work can differentiate the two.
Follow Lucia Davis: @LKCDavis