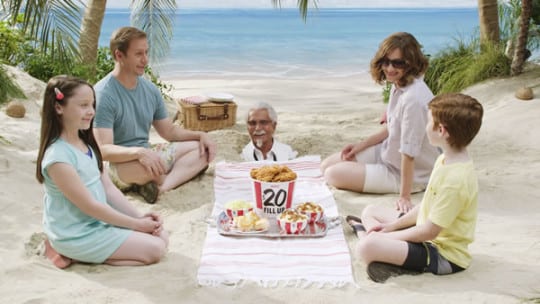 KFC ran out of chicken in Britain earlier this week, closing over half of its 900 U.K. locations Monday in a move that will likely keep some stores closed throughout the week.
But KFC got out ahead of the issue and practiced the tried and true "acknowledge, align, assure" mantra—a go-to blueprint for brands needing to engage in efficient, actionable conflict resolution.
The company explained that the shortage was caused when it switched contracts from food-distribution specialist Bidvest to a larger company named DHL. But the company has resisted the urge to shift blame or pivot, instead getting out in front of the closures and directing hungry customers to a new website that acknowledges the crisis, aligns with its base and assures them that KFC is working on a quick fix.
KFC acknowledged the shortage, and the new supplier relationship, by attributing the issue to "teething problems" on behalf of DHL. This sort of humor fits the brand's lighthearted messaging strategy and allows them to align with their base.
Similarly, the website's header opens with a joke: "The chicken crossed the road, just not to our restaurants..."
The brand also acknowledged and aligned with its team members by giving them a shout-out on the website, another example of KFC's refusal to shift blame. Finally, KFC assured its customers that these restaurant closures, limited menus and shorter operating hours are a reminder that they refuse to compromise in quality.
It also offered a straight apology. "We know that this might have inconvenienced some of you over the last few days, and disappointed you when you wanted your fried chicken fix—we're really sorry about that."
As of early Tuesday, 470 U.K. KFC locations remained closed.
"We anticipate the number of closures will reduce today and over the coming days," KFC, owned by Yum! Brands Inc., said in a statement Tuesday. "However, we expect the disruption to some restaurants to continue over the remainder of the week, meaning some will be closed and others operating with a reduced menu or shortened hours."
British labor union GMB was quick to emphasize how KFC's move from Bidvest to DHL, despite the more competitive rates, is not in the best interest of the brand.
"Bidvest are specialists—a food distribution firm with years of experience," GMB national officer Mick Rix said in a statement. "DHL are scratching around for any work they can get, and undercut them...KFC are left with hundreds of restaurants closed while DHL try and run the whole operation out of one distribution centre. Three weeks ago, KFC knew they had made a terrible mistake, but by then it was too late."
KFC did not immediately respond to PR News' request for further comment. But by following the steps of acknowledge, align, assure, the brand keeps both customers and investors calm during a trying time.
Follow Justin: @joffaloff