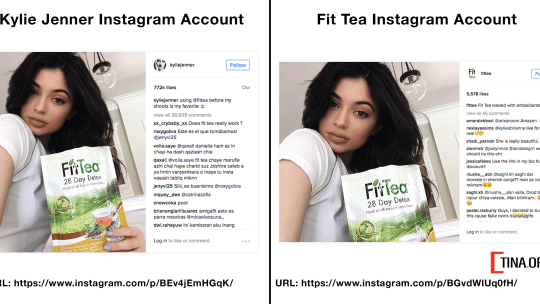 Talk about an all-star team: On the list of Instagram accounts with the most followers, Kim Kardashian is #3. Her half-sister Kendall Jenner is #7. Khloe Kardashian, Kylie Jenner and Kourtney Kardashian follow close behind at #9, #10 and #14, respectively. Their average follower count is 16,172,896 people. That's a lot of eyeballs on the pictures posted by the tastemaker clan, which translates to a lot of money that stands to be made when one of them agrees to plug a product in a post.
The problem is that according to Federal Trade Commission (FTC) guidelines, such posts must carry a "clear and conspicuous" disclosure that they are in effect paid advertisements; starting a post with #ad, for example, would suffice. But a letter sent Aug. 17 to the Kardashian/Jenner family and their sponsors alleges that the celebrities in question routinely "engaged in deceptive marketing campaigns" by failing to disclose their relationships with companies paying them for endorsements.
The sender of the letter, Truth in Advertising, Inc., is a nonprofit watchdog organization whose stated mission is to "[empower] consumers to protect themselves and one another against false advertising and deceptive marketing." On Aug. 22, Truth in Advertising posted the letter publicly and expanded on it in a blog post. It points out that sponsored social media posts can earn Instagram celebrities hundreds of thousands of dollars, and that the FTC has started to take action against those who fail to disclose.
In the July 18 issue of PR News Pro, we discussed some of these notable cases, including Warner Bros. getting in hot water when PewDiePie and other online influencers failed to disclose sponsorship for coverage of the video game Middle Earth: Shadow of Mordor, and a previous case wherein Lord & Taylor failed to disclose it paid for an article and photos in online fashion publication Nylon.
The PR professionals who speak about influencer campaigns at our events and webinars have emphasized this again and again: If you are paying someone to mention you in social media posts, you have to make sure their disclosure is in line with FTC rules. Yes, it takes some of the zing out of a post when it starts with #sponsor or #ad, but to do otherwise is to risk calling down the wrath of the federal government—and it's the brand that will be in trouble, not the influencer, so you have to make sure this requirement is spelled out in any contract with an influencer and emphasized verbally.
Those FTC guidelines again: https://www.ftc.gov/tips-advice/business-center/guidance/ftcs-endorsement-guides-what-people-are-asking. Do the smart thing and follow them.
Connect with Ian on Twitter: @ianwright0101