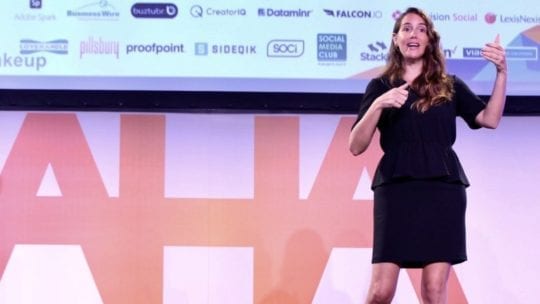 Social media killed Jaime Primak Sullivan's job.
After working for 14 years as a publicist (now president of Bridge and Tunnel Entertainment), Twitter came along and provided a direct connection between fans and celebrities.
Her daily email inbox became filled with "requests to comment on the comments made on my client's comments" on social media. She saw the writing on the wall and took a U-turn, creating her own TV show, "Jersey Belle," based on a move to Alabama after marrying her beau, and selling it to Bravo.
Primak Sullivan looked to promote the show and connect with viewers, and found Twitter to be the avenue, following the lead from past clients. But in 2014, Bravo TV blew up on the platform due to the success of the "Real Housewives" franchise. Primak Sullivan found the atmosphere to be aggressive and outlandish.
"Twitter was not a safe space," she said.
Primak Sullivan wanted fans to get to know the real her, and if you want to do something right, sometimes you just have to do it yourself. She pulled out her cell phone and recorded a video of herself in her pajamas, drinking coffee, talking about everyday things. A producer was born.
"Consistency was #1 reason my content took off.... because FACEBOOK noticed!"@JaimePrimak 2mil watch Facebook show weekly!

Consistency easiest thing for everyone to do yet thing most of us overlook! #SSU2019 pic.twitter.com/wTvMm13d8c

— Brian Fanzo ???? iSocialFanz (@iSocialFanz) May 8, 2019
Primak Sullivan pivoted to a different platform: Facebook. Before Facebook Live, Meerkat or Instagram Stories had seen wide adoption, she uploaded the video to her page. Eight people watched the video.
"I told my husband, I'm famous! This is me! Not edited!" Primak Sullivan said. "I did it again next day, at the same time, and 20 people watched. I'm Meryl Streep! People left comments. Over time, they knew what to expect. Just me, talking about things that affected my life."
Primak Sullivan's efforts on Facebook paid off, climbing to 30,000 viewers each morning and winning 2 to 3 million viewers in the hours and days after publishing.
"What I found was consistency was the most important thing I did for #cawfeetawk," she said. "I showed up every single morning. You know who noticed? Facebook."
The platform requested she test Facebook Live, dubbing her one of the first Facebook video stars. Primak Sullivan decided to expand her brand to Instagram, where her content allowed for a more irreverent, "Jersey" part of her personality, different from her "straightlaced" Facebook content.
"People know what to expect with me," she said. "I've been doing #cawfeetawk for 4 years and never missed a morning. I've shown up for people in death, a Delta plane crash (at LaGuardia Airport, when the plane went off runway), and I still showed up."
Primak Sullivan knows the most important part of showing up is developing trust with your audience. It's one of the reasons people head to social media.
"All consumers want of your product is to feel seen," she said. "That's why people are screaming on social media all the time. They want you to say, 'I'm so sorry you had that experience.'"
The Jersey Belle developed another Facebook video series to show a different side of herself to fans called "Cooking in Cast-Iron." On top of her multiple series and three children, she often gets asked, "How do you do it all?"
"No one has ever asked my husband that question," she said. "We both travel, both have kids, both have businesses. And I don't. No one does it all, it's not humanly possible. Some days I'm super engaged with my kids, and I miss 168 emails. Work-life balance is nonsense. It doesn't mean you are failing. Some days you are successful in your work life, and your personal life suffers."
"'Did you ask my husband/boyfriend that question?' That's how you answer that question."